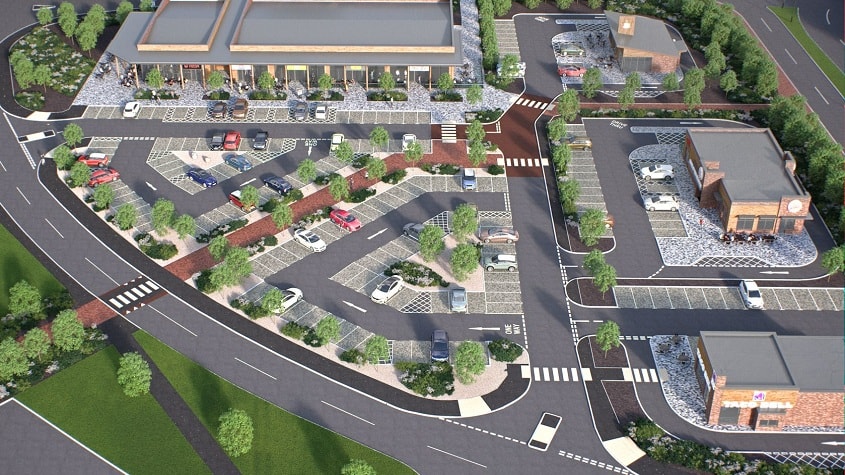 Willmott Dixon is aiming to extend its track-record for building award-winning projects in Doncaster after being appointed by Doncaster Council for a £7.7m mixed-use scheme called the Herten Triangle.
The company's National College for High Speed Rail in Doncaster recently won four awards, including the accolades of 'Best Educational Building' and 'Winner of Winners' at the South Yorkshire and Humber LABC (Local Authority Building Control) Excellence Awards.
Now the company's new-build commercial skills have been tasked with building a new retail park in the town, creating five restaurants and three drive-through units that will be home to a host of big names including Costa, TGI Fridays, Taco Bell, Burger King and Dunkin Donuts.
The site was originally planned to be developed by a private sector developer, which was unable to make the project viable and attract the national restaurants needed for the area. The council then stepped in and have brought the project to fruition which will create more than 200 jobs and bring in more business rates for the borough.
Procured through Scape Group's Major Works framework, Willmott Dixon is working with DLG Architects and Rex Procter & Partners as project manager, with completion set for Spring 2019.
Mayor Ros Jones:
"This scheme is great news for Doncaster and really shows that our proactive and forward thinking approach to regeneration and job creation does pay dividends for the borough. Since this scheme halted under the private sector developer we have been working hard with the industry to ensure this project is completed. In just over a year we have been able to completely turn this on its head, brought in the national and international providers and ensured this can be developed."
Anthony Dillon, managing director inthe North for Willmott Dixon:
"We are excited about starting work on Herten Triangle. Our recent work in Doncaster, which includes the new award winning National College for High Speed Rail and building over 100 new homes, is helping to drive growth in the region and we'll be looking to further this by ensuring wherever possible that our project spend is with companies based in and around Doncaster."
Also in Doncaster, Willmott Dixon is continuing its relationship with the council's housing arm St Leger Homes with a contract to build 41 units in Conisbrough and 25 homes on Warde Avenue in Balby. The homes will be a mix of two, three and four bed houses and two bed bungalows.
The project will be completed by the summer of 2019 and are being delivered through a partnership between Doncaster Council, St Leger Homes, Homes England and Willmott Dixon. So far Willmott Dixon's residential specialists have built 180 homes in the town.