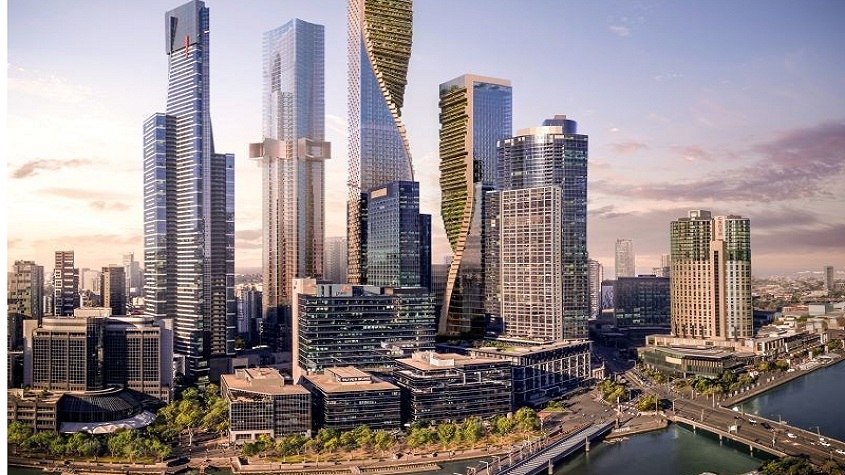 From designs submitted by six of the world's leading architecture firms for their latest development in the heart of Melbourne, Beulah International announced that UNStudio's proposal has been selected as the winning design.
Ben van Berkel: "We are truly delighted that our design has been selected as the winning proposal for this very exciting project! For our proposal to be selected by Beulah – such a forward-focussed developer – and from entries by such an exceptional group of our peers is a true honour. From the outset we worked with a fantastic team of cultural placemakers, sustainability consultants, landscape designers, artists and engineers to achieve a fully integrated design. This truly is a great result for everybody involved!"
Green Spine
UNStudio's design proposal for Southbank by Beulah is integrally organised by one Big Detail: a 'Green Spine' of vertically networked platforms, terraces and verandas. This multifaceted spine is created by the splitting open of the potential single mass at its core, thereby forming two separate high rise structures and causing them to reveal the almost geological strata of their core layers.
In addition to providing the towers with a twisting, sculptural silhouette, the Green Spine is an architectural element that incorporates a multitude of functions in one fluid gesture. It extends the Southbank Boulevard and the public realm upwards and acts as the key organisational element of the building with respect to programme, culture, landscape and sustainability. In addition to housing a variety of amenities, all programmes are linked to the Green Spine.
A host of programmes, including recreation, retail, offices, residential, hotel and exhibition spaces are integrated into the vertically stepped public infrastructure – an infrastructure that is formed by indoor-outdoor spatial frames that embed nature, public space and culture.
UNStudio's proposal was motivated by the concepts of togetherness joint ownership and open access for local residents and the wider community. The mixed-use podium was therefore created to not only be accessible and tailored to the users of the building, but also for the people of – and visitors to – Melbourne. To this end, the podium and its public rooftop park are reserved for public use.