Dubai's hardware and tools trade was valued at AED5.07 billion in 2016, with the USA, China, Italy, Germany, and India, the Emirate's top five trading partner countries of construction-related equipment and machinery for the year.
According to figures released by the Dubai Customs today (22 May), Dubai imported AED3.6 billion worth of hardware and tools last year, while exports and re-exports into neighbouring countries were valued at AED1.467 billion.
The USA maintains its position as Dubai's number one trading partner country, with hardware and tools trade between the two valued at AED808 million last year – 18 per cent of the total figure. China was next, with AED757 million worth of trade (15 per cent), followed by Italy (AED433 million), and Germany (AED357 million).
India also snuck into the top five, with the South Asian powerhouse trading AED 276 million worth of hardware and tools with Dubai in 2016. Together,the top five countries accounted for 52 per cent (AED2.631 billion) of all Dubai's hardware and tools trade in 2016.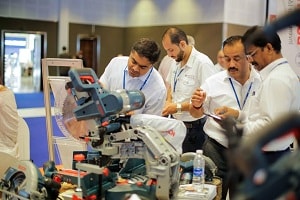 Plenty of manufacturers from these countries are also among the 166 exhibitors out in force at Hardware + Tools Middle 2017, which opened doors for the 18th time today at the Dubai International Convention and Exhibition Centre.
The annual three-day event is the region's only exhibition dedicated to tools, hardware, materials and machinery, representing a broad spectrum of segments within the construction and technical industries.  It was opened by His Excellency Mattar Al Tayer, Director General and Chairman of the Board of Executive Directors at the Dubai Roads and Transport Authority.
"Hardware + Tools Middle East is an ideal interactive business development and trade platform for international brands looking to gain traction in the wider MEA region," said Ahmed Pauwels, CEO of Messe Frankfurt Middle East, the organiser of Hardware + Tools Middle East.
"A new development this year is the Tool It! Challenge, where we've invited contracting and fit-out firms, construction companies, or workshop owners, to nominate their most skilled technicians for an intensive test of will, as they grind, drill, and cut their way to glory among industry peers.
"The competition features 48 technicians and comprises three categories: Woodwork Routing, Screw Driving, and Metal Working. We wanted torecognise and reward the hard working men that are a crucial component of any successful project,while at the same time underline the importance of having top quality dependable tools in order to ensure the safety of the worker and the workplace," added Pauwels.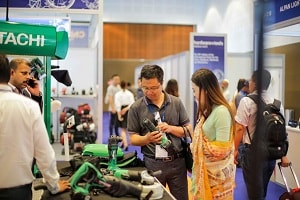 Among the headline exhibitors this week at Hardware + Tools Middle East 2017 are Bosch Power Tools and Wiha from Germany, Hitachi Power Tools and Nitto Kohki from Japan, and US-headquartered manufacturer 3M.
Central Motors & Equipment (CC&M) is the exclusive UAE distributor of Bosch Power Tools, and is launching its latest range of German manufactured equipment aimed at contracting and fit-out firms, construction companies, or workshops across the region.
"The UAE is a global investment hub in the Middle East, with tremendous developments underway which require professional and durable tools to ensure the high standards of projects the country is undergoing is maintained," said Ismaeel Hassen, CM&E's General Manager.
"We bring to Hardware + Tools Middle East 2017 the expertise of Germany's Bosch Power Tools with CM&E's customer-focused vision and decades of experience in the market. Plus, we cater to a wide range of clients from large corporations with our professional tools to individuals with the DIY array; as a result, this platform is pivotal for us to expand our network and raise further awareness about our line of business."
Japanese manufacturer Hitachi is one of world's leading power tool manufacturers, and a debut Hardware + Tools Middle East exhibitor.  Ichiro Komagata, General Manager of Hitachi Koki Gulf Branch, said the company is launching its Brushless Range of Demolition Hammers, Brushless Cordless Drive Drill and Brushless Rotary Hammer Drill.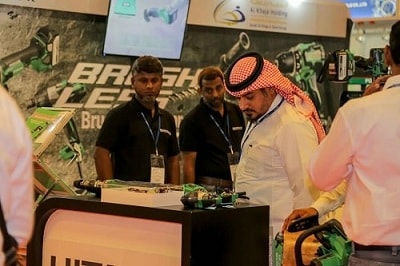 "The Middle East and Africa is important to us as we're focusing on emerging markets, where the potential opportunities for business growth and expansion is tremendous," said Komagata.
"The GCC market is also bound to bounce back from its correction phase and we're optimistic that the doors will soon be wide open to a world of greener pastures.  We're striving to be ready to kick off before the doors open up in future."
Hardware + Tools Middle East 2017 returns with the Expert Zone, a one-stop destination showcasing the latest technology and solutions fromthe most established brands in the business.More information is available at www.hardwaretoolsme.com.
Hardware+Tools
Hardware+Tools is the Middle East's only dedicated event for tools, hardware materials and machinery.  Industry  professionals  involved  in  the  supply  of  equipment  to  or  the design, construction, build or specification of commercial or residential developments understand the importance of keeping up to date with new products, services and technology in the field.
Hardware+Tools Middle East is the perfect platform to meet new contacts, discuss new trends and technological developments, keep up to date with industry knowledge and source new products and solutions. The next edition will take place from 22-24 May 2017 at the Dubai International Convention and Exhibition Centre. Show website: www.hardwaretoolsme.com
Messe Frankfurt
Messe Frankfurt is the world's largest trade fair, congress and event organiser with its own exhibition grounds. With some 2,400 employees at 30 locations, the company generates annual sales of over €640 million. The Messe Frankfurt Group has a global network of 30 subsidiaries and 55 international sales partners, allowing it to serve its customers on location in 175 countries. Messe Frankfurt events take place at approx. 50 locations around the globe. In 2016, a total of 138 trade fairs were held under the Messe Frankfurt umbrella, of which more than half took place outside Germany.
Thanks to its far-reaching ties with the relevant sectors and to its international sales network, the Group looks after the business interests of its customers effectively. A comprehensive range of services – both onsite and online – ensures that customers worldwide enjoy consistently high quality and flexibility when planning, organising and running their events. The wide range of services includes renting exhibition grounds, trade fair construction and marketing, personnel and food services.  With its headquarters in Frankfurt am Main, the company is owned by the City of Frankfurt (60 percent) and the State of Hesse (40 percent).
For more information, please visit our website at: www.messefrankfurt.com
About Messe Frankfurt Middle East GmbH
The portfolio of events for Messe Frankfurt Middle East includes Automechanika Dubai, Automechanika Jeddah, Automechanika Riyadh, Beautyworld Middle East, Hardware+Tools Middle East, Intersec, Intersec Saudi Arabia, Leatherworld Middle East, Light Middle East, Materials Handling Middle East, Materials Handling Saudi Arabia, Paperworld Middle East, and Prolight + Sound Middle East.  The subsidiary also organises a series of conferences and seminars including the BOHS Worker Health Protection Conference, the Business in Beauty Summit, the Light Middle East Conference, Smart Traffic Middle East, and Future Mobility. For more information, please visit our website at www.messefrankfurtme.com
Gareth Wright, Samah Mousa
Dubai, UAE                                 
Tel: +971 4 3894 573               
Gareth.wright@uae.messefrankfurt.com
Samah.mousa@uae.messefrankfurt.com