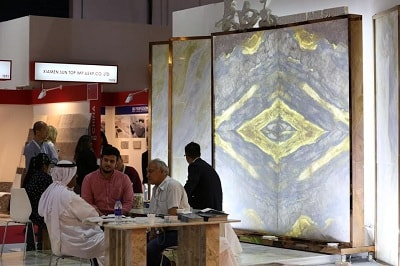 Some of the world's most lucrative stone products – currently showcased at the 3rd edition of Middle East Stone 2017 at the Dubai World Trade Centre are experiencing increased demand from GCC buyers, according to suppliers.
More than 300 exhibitors representing 26 countries have been showcasing the latest materials at the Middle East and North Africa's largest annual for the natural stone, marble, granite and ceramics community since Monday.
As it draws to a close, concluding today (Thursday 25th May 2017), exhibitors have expressed increased demand from the thousands of GCC-based visitors that have attended the four-day event for more "exotic", "luxurious" and "rare" stone materials from countries including Turkey, Brazil, Italy, Portugal, China, India, Greece and North America.
Ali Khalil Onessi,Sales Manager at UAE-based SunItalia – one of the largest wholesalers of marble and granite in the region with over 300 varieties currently available – commented: "Our most popular products at Middle East Stone this year have been 'Santorini' granite and 'Botanic' – a unique quartzite. These are exotic materials from Brazil, which produces some of the world's best granite, and has proved exceptionally popular for us here in Dubai this year."
SunItalia's 'Botanic' stone has emerald green tones, representing one of the design industries most popular colour palettes for 2017. A trend highlighted in detail at the event's co-located INDEX Design Series, also concluding on Thursday. Cream, white and grey were other colours highlighted by exhibitors as being in popular demand this year.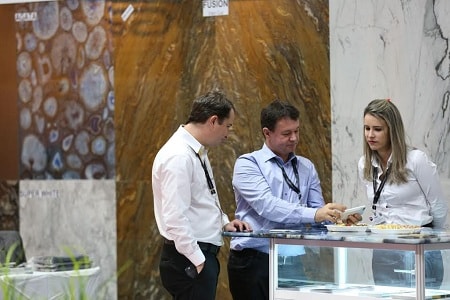 Serhan Erol, Partner at Aseel Marble – the biggest Turkish marble supplier in the Middle East – commented: "Turkish materials are currently in high demand in the GCC. Turkey currently holds 40% of the world's marble reserve and what makes it so lucrative is that new materials continue to be discovered there with different features and colours, all the time. Our most popular product is 'Crema Uno®'– our quarry is the only one in the world which has this specific type of marble and it is appealing to the GCC market who favour modern design."
Italian giants, Mapei Construction Chemicals – world leader in the production of adhesives and chemical products for building – celebrating its 80th year in business and 10th year in the Middle East, also commented on business being rife at the expo. Vince Robinson, Specification Consultant at Mapei, said: "This is our first year exhibiting with Middle East Stone. The quality of visitors is superb with strong enquires from GCC buyersover the last couple of days."
Other major suppliers at the event include sponsors GLAZE Granite & Marble Trading, SunItalia, and LATICRETE alongside Fino International, Polycor, Callache Stone Quarries Inc., Grani Marmo Classic Stones Factory LLC, Services & Trade Marble LLC, Al Emadi Stones, RSG Stones, S.N.I.C, Quartzforms, Naturelmar, RevealRox, Fortune Enterprise, Sabta Granite and Marble Trading, Arwani Trading Company LLC, US Diamond Tool LLC, amongst hundreds of others.
Meanwhile, at LATICRETE-sponsored The Stone Conference, more than 30 global expert speakers from the likes of Deloitte, HOK, Perkins+Will, Cavendish Maxwell, and several others have been sharing insights into the latest industry developments and trends with 20 CPD-certified sessions.
At Tuesday's talk on 'Forecasting the future challenges and opportunities for the industry over the next 12-18 months' experts from Mott Macdonald, SSH and Clyde & Co identified GGC countries UAE, Kuwait, Bahrain and Saudi Arabia in particular – as major construction growth areas.
With Kuwait described as "one to watch", talk of Dubai's ever-growing cultural scene and mega-events on the horizon, and Saudi Arabia highlighted as an "exciting" market in the wake of the Saudi Vision 2030 National Transformation Program – steady growth for the GCC construction market was forecast.
The final day of Middle East Stone 2017 will take place Thursday 25th May 2017 at the Dubai World Trade Centre (11am-6pm). For more information, please access: www.middleeaststone.com
For more information, contact Euan McLelland, PR Manager at Middle East Stone on +971-4-445-3720, or email euanmclelland@dmgeventsme.com
About dmg events
An international exhibition and publishing company, dmg events produces market-leading exhibitions and conferences for the global energy, construction, coatings, hospitality and interior design industries.
dmg events is a wholly-owned subsidiary of the Daily Mail and General Trust plc (DMGT) an international portfolio of information, media and events businesses listed on the London stock exchange.
dmg events Middle East, Asia & Africa
Founded in 1989, dmg events has operated in the Middle East since 1995 and owns many leading brands including The Big 5 portfolio of construction events, INDEX – the Middle East's largest event for the interior design industry and The Hotel Show, the longest running and most important event for the hospitality industry.
Headquartered in Dubai, UAE and with satellite offices in India, South Africa and the UK, dmg events Middle East, Asia & Africa organizes over 45 events across the Middle East, Africa, Asia, North America and Europe.For more information visit www.dmgeventsme.com
About DMGT
DMGT manages a diverse, multinational portfolio of companies, with total revenues of almost £2bn, that provide businesses and consumers with compelling information, analysis, insight, events, news and entertainment.  DMGT is also a founding investor and the largest shareholder of Euromoney Institutional Investor PLC and ZPG Plc.For more information visit www.dmgt.com