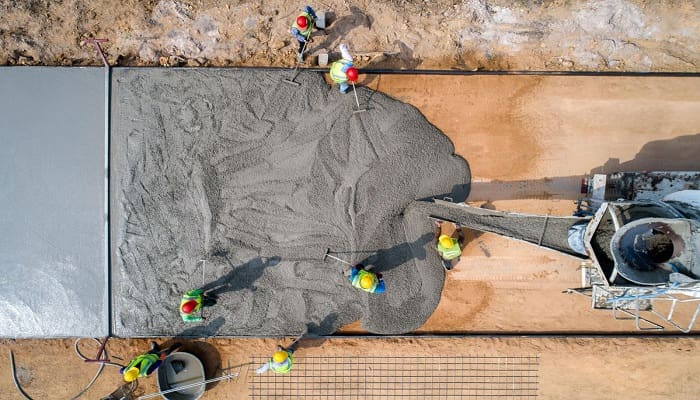 Converge, a leading concrete material and operations optimisation company, and DEWALT, a leader in total jobsite solutions, announced a strategic partnership to help decarbonise construction through Converge's revolutionary AI-based platform, ConcreteDNA, powered by data from DEWALT's new wireless concrete sensor, the DEWALT Signal Sensor. Concrete is one of the most widely used materials in the world, with global production reaching over 10 billion tons per year. However, the manufacturing process for concrete is highly energy-intensive and generates up to 8%* of all man-made carbon emissions.
ConcreteDNA interprets real-time data from the DEWALT Signal Sensor allowing users to observe compressive strength gain of concrete, and to predict when it will reach critical strength through advanced AI and local weather data. This allows concrete professionals to begin work sooner as users can directly measure hardening rather than relying on estimation, and in addition, to tailor the exact amount of cement needed in the mixture which helps reduce unnecessary carbon emissions.
With deep insight into the strength of the material, lower embodied carbon concrete mixes can be produced without sacrificing performance or safety to meet jobsite deadlines.
"We are thrilled to be partnering with global tools leader DEWALT to tackle one of the biggest challenges facing the construction industry and indeed the planet today," said Converge CEO Raphael Scheps. "By working together, we believe we can bring a suite of innovative solutions to North America that allow contractors to build up to 30% faster, and drive concrete decarbonisation to build the future more efficiently, safely, and sustainably."
"At Stanley Black and Decker, we are committed to sustainability and innovation across all job sites and trades to modernize for the next generation of work," said Deb Geyer, Chief Responsibility Officer, Stanley Black and Decker. "By partnering with Converge, DEWALT is helping to tackle the challenge of decarbonising concrete and bringing a total solution to the DEWALT ecosystem of concrete tools."
Converge and DEWALT will showcase the DEWALT Signal Sensor, ConcreteDNA, and other developments at World of Concrete in Las Vegas, between the 16th-19th of January 2023.