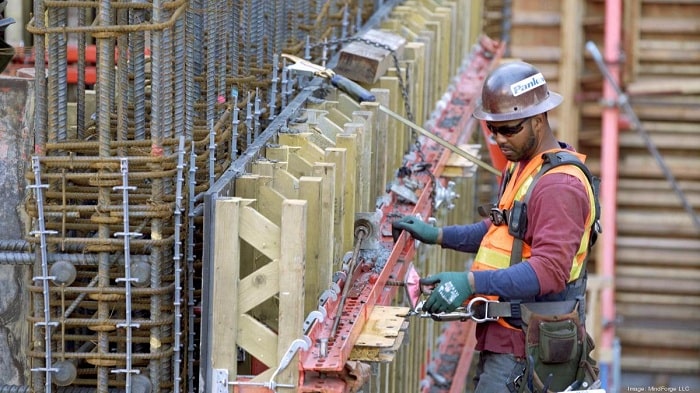 Bob Lester had been planning for a big 2020. Now, with the advent of the coronavirus pandemic, things might look different.
"We were set for more expansion this year before it slowed down, and now we're tightening our belt," said Lester, president of Dura-Seal, a Columbus asphalt and concrete sealant contractor.
One customer backed out of a $1 million capital expenditure because it wasn't sure how to navigate the current environment. Another decided to re-bid $400,000 in work next year when it had a stronger cash flow.
The uncertainty has knocked a few holes in Dura-Seal's schedule, but Lester is confident in the long term. People aren't going to stop maintaining roads, after all.
In the meantime, his company has developed a new set of sanitation procedures. As an infrastructure company with essential status, it's continued to operate under Gov. Mike DeWine's stay-at-home order, but it's limited its crews to two people to a vehicle, made extensive use of hand sanitizer and now has a daily cleaning schedule for trucks and equipment.
"We're hoping everything gets reopened and going again in the next few months and people's confidence comes back," Lester said.
For the past several years, Central Ohio's development spree has meant steady construction work. Last year brought the region's most construction starts in the decade.
Construction companies are now adjusting to the new normal of the pandemic and related restrictions, the full impact of which still remains to be seem.
Brett Meyer, senior vice president of Gilbane Building Co., said his company is embracing practices like temperature checks and social distancing at project sites. Gilbane is the region's busiest commercial construction company, according to Columbus Business First research, with $500 million of Central Ohio projects awarded in 2018.
"We are trying to keep things going and adjust the best we can," Meyer said. "As far as the safety concerns, we are taking things to another level but that's not without impact. Some things have not been as easy to implement."
Some elements of construction work, like hanging a sheet of drywall or installing a window or ductwork, require two people to be close together.
Large job sites aren't that hard to mandate social distancing, but many parts of construction also require two people to be close together, such as hanging a sheet of drywall, or installing a window or duct work. Subcontractors in these jobs will have to adjust to life with more protective gear, Meyer said.
Erin Thompson, vice president of the Columbus region for Messer Construction Co., said his company has seen most of the current work moving ahead unscathed, albeit with these stringent practices for distancing and cleanliness. It's the second-busiest contractor in the city with $360 million in projects awarded in 2018.
"Some of our projects have been temporarily suspended, but none of our projects have been cancelled," Thompson said. "We are still actively pursuing projects in central Ohio, but we know timelines can and will change in these circumstances."
Those projects that are seeing delays right off the bat are tending to be public infrastructure, Meyer said, which makes sense. Governments are reeling from projected loss of tax revenue from the economic shut down, while the Ohio Department of Transportation and other infrastructure agencies predict financing shortfalls in the short term because fewer people driving means less gas tax revenue.
But other markets, like residential construction, haven't yet seen the same kind of disruption, Meyer said. After all, people are still moving to Columbus.
The shift in how people work, though, has also meant some new technology has been more widely accepted in the industry.
Stokes McIntyre is president of MindForge LLC, a Columbus-based subsidiary of the International Risk Management Institute Inc. The company, started in 2017 to bring e-learning and communications to the construction industry, which is notoriously a tough nut to crack in the tech world. In Covid-19's social distancing, he said the concept has a renewed life.
Covid-19, he said, just accelerates the adoption of technology like this, because companies don't need to have so many people congregate for instructions and new guidance. The rapid-fired set of new regulations rolled out for social distancing and workplace cleanliness are a good example. These companies can't dawdle when considering a new way of work because they face fines for failing to implement safety precautions quickly.