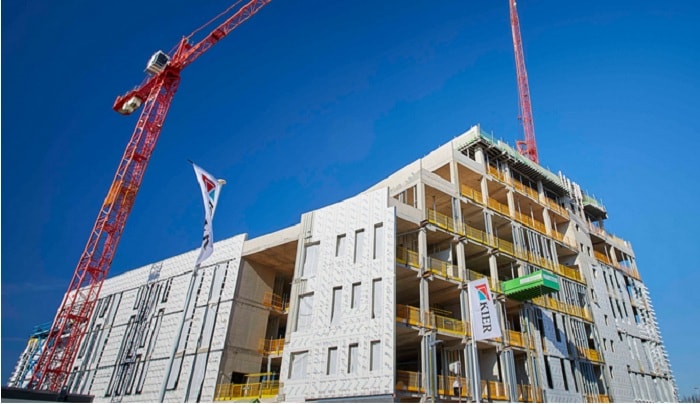 Kier, a leading infrastructure services, buildings and developments & housing group, and Bournemouth University have recently celebrated the Topping Out for the landmark £30.5m Bournemouth Gateway Building.
Bournemouth University's new Chancellor, Kate Adie marked the completion of the building's concrete frame and was joined by guests including the High Sheriff of Dorset, Deputy Lieutenant Mr Peter Harvey, Mayor and Mayoress of Bournemouth and MP Conor Burns.
The building, based in Lansdowne is now taking shape, following the complex installation of 20m+ one-piece steel columns, work has now begun on glazing the atria.
Once complete, the Gateway Building will provide over 10,000m2 of teaching and research facilities for the Faculty of Health and Social Sciences (HSS) including seminar rooms, a lecture theatre, library, catering facilities, office accommodation and specialist skills facilities.
Trevor White, operations director for Kier Construction Southern said: "We're proud to be working with Bournemouth University as we deliver this important building. It is fantastic to be involved with a project which will provide much-needed education and research facilities for both the University and local community.
"Kier has a longstanding heritage in delivering excellence in the education sector and we will draw on this expertise to deliver a facility that helps train the medical staff of the future."
The building will also act as the host for a range of state-of-the-art technologies designed to underpin research and support student learning, including an MRI scanner, ultrasound equipment, mock operating theatre and ambulance simulation suite.
Jim Andrews, Chief Operating Officer at Bournemouth University, said, "It is brilliant to see the building take shape, and we are looking forward to completion. It will become a hub of activity for education, research and practice as BU continues to invest in the future and a key part of our investment in health, social care and medical sciences. We thank Kier and all members of the project team for their continued work to make this building all it can be."