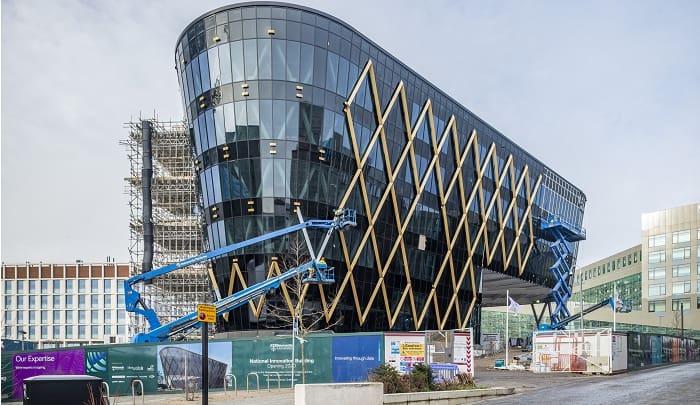 Seven of our sites have been shortlisted for a Considerate Constructors Award for 2019.
The project teams will find out if they have achieved a Gold, Silver or Bronze award at a series of ceremonies taking place in March. The sites that will be receiving awards are:
Rushford Court, North Road, Durham
A significant student accommodation development on the site of the former county hospital. The £20.5 million project involved demolition, refurbishment, and new build which blended existing heritage buildings with modern designs. The former hospital site is an outstanding example of how to sympathetically regenerate older buildings with modern construction techniques.
Waterside Campus for Northampton University
This is our largest project to date and transformed a 58-acre brownfield site. Several new buildings within extensive grounds alongside the River Nene offer exemplary learning and working environments that will act as a beacon of regeneration for the whole community.
Completed on-time and on-budget, the £123 million project delivered seven buildings covering academic, administration, and leisure needs. The existing Engine Shed, a Grade-II Listed building, underwent an extensive and sympathetic renovation. The public realm area blended paving, car parks, pedestrian routes and communal areas with landscaping including 20,000m² of turf and 1,000 new trees.
Hotel Indigo, Manchester
Hotel Indigo is a new-build, boutique hotel located in Manchester adjacent to Victoria Station, Manchester Arena and the National Football Museum.
The hotel consists of 187 bedrooms, 163 are built within a new 15-floor, reinforced concrete, cylindrical structure and 24 bedrooms are in the restored, Grade II Listed City Building.
Facilities include a gymnasium, café, brassiere and communal bar and lounge areas.
The £21 million project was a challenging build due to the close proximity of the new structure and existing City Building facades, major road network and new tram lines.
New Era Square, Sheffield
A £38 million major mixed-use development of three linked accommodation towers – 21-storey, nine-storey and seven-storey. These provide 423 student bedrooms, 14 high floor apartments, retail units, small business units and an oriental supermarket.
National Innovation Centre for Ageing and Data, Newcastle University
The National Innovation Centre for Ageing & Data (NICAD) is the third Newcastle University building to be located on the Science Central site in the centre of Newcastle. When completed the centre will be the home to the University's teams for both Innovation for Ageing and Innovation for Data. The Ageing team will work with research specialists, businesses and the public to facilitate the commercialisation of key products, services and technologies to help people live better and longer lives. The Data team likewise will work with partners in industry, the public sector and academics to work on opportunities offered by the explosion in digital data.
The £30m project is currently under construction and its unique triangular design makes it distinct and highly identifiable. When complete in October, it will be a vibrant landmark on the Science Central park.
Meteor Centre, Derby
Construction of a new Costa Coffee Drive Thru and two retail units on the existing Meteor Centre retail park in Derby. The £3 million project was completed last year.
New Wakefield Street, Manchester
Our New Wakefield Street development in Manchester is being built for Unite Integrated Solutions – a client with whom we have an excellent relationship having built previous schemes for them in Liverpool, Coventry and Sheffield.
We started on site in January 2018 for the demolition phase of the project – clearing an existing warehouse and nightclub. Our contract is to design and construct a 603-bed student accommodation scheme, including inside communal spaces, study areas and full domestic facilities. The scheme provides 17,181m2 of accommodation spread over 33 floors, with a mix of studios and cluster accommodation. The £37 million project will be completed in August 2020.