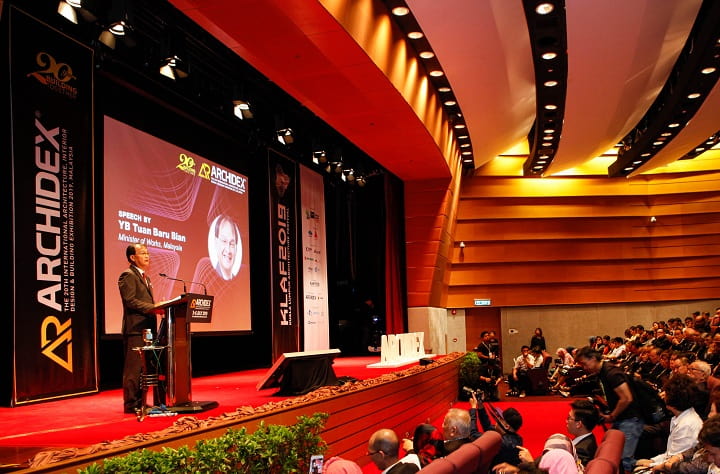 The 20th edition of the annual International Architecture, Interior Design & Building Exhibition (ARCHIDEX) was officially opened at the Kuala Lumpur Convention Centre by the Minister of Works, Malaysia, Yang Berhormat Tuan Baru Bian.
Primed to be larger than ever, the four-day exhibition (happening now till 6 July) explores the latest industry trends and innovations — taking up all 10 halls of the convention centre, covering 24,000 sqm space which is an increase of 20% exhibition space from last year, with over 1,400 exhibition stands by 600 exhibitors locally and internationally.
Jointly organised by the leading Malaysian trade and lifestyle exhibitions organiser, C.I.S Network Sdn Bhd (C.I.S), and Pertubuhan Akitek Malaysia (PAM or the Malaysian Institute of Architects), a sizable 35,000 turnout of professionals and trade visitors from over 70 countries is expected.
Bridging professionals and various representations of high-quality materials from Malaysia and the world, delegates and visitors can expect to explore exhibits from more than 20 countries and four country pavilions from China, Korea, Singapore and Taiwan.
Keeping the excitement level high, participants are also encouraged to join in a range of concurrent professional networking events, conferences, forums, workshops and business matching programmes that have been lined up to support building businesses and promote the sharing of knowledge aimed to encourage inclusiveness in all facets of architecture towards designing better sustainable living for the future.
"We are proud that this platform serves as a bridge to share the latest of innovation and technologies as we move towards building this industry for our future generation of architects leading to the expansion of mutually beneficial business trades" said C.I.S President Dato' Vincent Lim.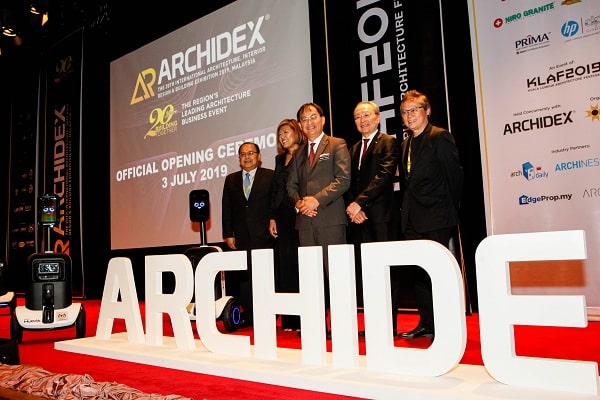 ARCHIDEX's appeal lies in the ever-growing range of conference and forums. This year, the exhibition will see 62 local and international renowned speakers presenting at least 56 powerful and thought-provoking sessions in DATUM:KL (International Architecture & Design Conference) organised by PAM, the Focus Forum, The Forum @ PAM Tomorrowland Pavilion, Biz @ ARCHIDEX, and others.
An addition to this year's exhibition is the Innovation Hall with its main attraction being the PAM Tomorrowland Pavilion. The Pavilion is a must-see for anyone who wants to peek into what tomorrow brings and to explore the possibilities in architectural and urban design for the future.
"The Pavilion showcases the complex relationships within the rapid development of robotics, programming, artificial intelligence, augmented and virtual reality, big data, block chain as well as other disruptive technological developments that will alter the paradigm and reshape our built environment" Lim added.
YB Tuan Baru Bian said: "Together with the DATUM conference, ARCHIDEX also acts as a focal point to build, nurture and strengthen ties among current and future professionals towards advancing the built environment industry as a whole. Without a doubt, this event serves as a strategic platform to showcase and facilitate greater exchange of ideas, supporting the best and brightest innovations catering to the ever-evolving demands from the market.
Continuously leading the industry, ARCHIDEX regularly works with exhibitors to feature the latest products, trends and innovations. Among the concurrent exhibitions including ECO-B (Eco Building & Design Exhibition), while debuting is FACIMEX (Facilities Management & Cleaning Exhibition) and ENGINEER (Mechanical, Electrical & Civil Engineering Exhibition). The former exhibits concepts that unveils the latest solutions and innovations in facilities management while the latter showcases the latest in engineering related to building, construction and design projects.
On-board as a Premier Partner, Larsen debuts at the exhibition this year to present innovative, functional and luxurious quality designs that combines traditional manufacturing methods with cutting-edge technology crafted from high quality materials for both residential and commercial lighting.
Additionally, Strategic Partner, Artwright, unveils the "Office of Tomorrow" together with ARCHIDEX at the Innovation Hall. Reimagining workspaces for the future, the Office of Tomorrow is a space of shared economy, technology and resources that goes beyond the physical workspace to address the various aspects of work life — from the seamless connectivity from office to home, softening of the boundaries between work and recreation, office spaces that takes into account of childcare, and spaces where one can retreat to have personal time to recharge or hold confidential discussions.
Revealing Malaysia's next generation of architectural talent, is another Premier Partner, Roca, who will run the "One Day Design Challenge", an International Design Competition that provides visibility to young Malaysian designers and architects. Having marked its presence in 15 countries around the world, the challenge makes its debut in Malaysia for the creation of original solutions and innovative products for the bathroom
PAM President Ar. Lillian Tay added, "ARCHIDEX will empower industry players to think about the future and adapt to fast approaching changes. We will have to work hand in hand with disruptive technology that will inevitably change the way we think and design things. I am hopeful that this year's exhibition will drive two strong outcomes — to build for tomorrow, yet to be able to sustain today for the future.
A long list of other activities and events have also been lined-up and highlights include the continuing annual ARCHITALENT student design competition, Focus Forums that will feature speakers on the topics of Green Buildings and Integrated Building System (IBS) and the eagerly anticipated ARCHIDEX New Product Award (NPA) and Green Dot Award (GDA) that is held annually to recognise the best products in terms of design, innovation and sustainability.
Acknowledging its partners for their kind support and contributions: Premier Partners — Shoplight Germany Sdn Bhd (Larsen Global) and Roca Malaysia Sdn Bhd. Strategic Partners — Vitally Group, Jaquar Group, Kast Construction Sdn Bhd (Suzuka), Techtronic Power Tools (M) Sdn Bhd (Milwaukee), Nam Heng Safety Glass Sdn Bhd (NHG) and AHB Technology Sdn Bhd (Artwright Group) and Register & Win Sponsor — Lyreco Office Supplies (M) Sdn Bhd for the Nespresso Professional Zenius Machines when you preregister and visit ARCHIDEX.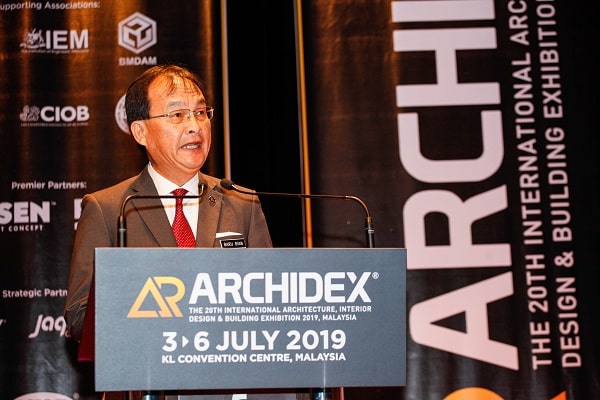 Driving into the future, and under the theme of "Tomorrow" by the Kuala Lumpur Architecture Festival (KLAF), the event today also unveils the winners of the First Colony on Mars competition where the ideas of this competition extends the theme to architecture and design of the physical manifestations of the colony, enabling architects, designers and just about anyone to dream about how life in a colony away from Earth could or should be like.
Experience ARCHIDEX as it takes place from 3 – 6 July. For more information, log on to www.archidex.com.my.
About ARCHIDEX
South East Asia's most successful annual industry trade event for the architecture, interior design and building fraternity, ARCHIDEX (International Architecture, Interior Design and Building Exhibition), has continually been reaping phenomenal success and garnering steady growth through strategic planning and partnerships since its introduction in 2000.
Held annually at the Kuala Lumpur Convention Centre, Malaysia, the exhibition is widely recognised as a leading event that draws together South East Asia's fraternity of architects, interior designers, developers, urban planners, engineers, academicians, students and various related industry professionals. ARCHIDEX is jointly organised by the Malaysian Institute of Architects (Pertubuhan Akitek Malaysia or PAM) and C.I.S Network Sdn Bhd, a leading Malaysian trade and lifestyle exhibitions organiser.
Awarded the MyCEB/MACEOS — rAWr Award 2013, 2015 and 2017 for Best Trade Exhibition and also the 2015 AFECA Award for Outstanding Trade Exhibition in 2015.
About KLAF
The Kuala Lumpur Architecture Festival is the main event of the architectural calendar in Malaysia. Organised by the Pertubuhan Akitek Malaysia (PAM) — Malaysian Institute of Architects — the festival began in 2011, building from the success of the annual Datum:KL conference which begun in 2003.
Themed, "Tomorrow", KLAF 2019 will be held from 21 June to 7 July 2019 with an overarching focal theme on the future of shelter, food security, technology, and architecture and art. These will be showcased through Shelter, Future Food, Architecture+Art and DATUM:KL+ARCHIDEX.
KLAF 2019 will see an inclusive engagement with communities from all over Malaysia and the region, encouraging open participation, where the general public and the architectural + ID community can immerse themselves and collaborate in all the experiences the Festival will encompass.
KLAF is organised in conjunction with the yearly ARCHIDEX building trade show, a key event under KLAF.
For more information on KLAF2019, visit www.klaf.my or Facebook: /klaf2019, Twitter: klaf2019 and Instagram: KLAF.2019. Keep updated with the latest news with the official KLAF app, available on the App Store and Google Play.
About C.I.S Network Sdn Bhd — Joint Organiser
An award-winning organiser, C.I.S is an established trade and lifestyle exhibition organiser based in Kuala Lumpur, Malaysia. Founded in 1994, it has built a strong reputation for organising award-winning trade and consumer exhibitions, and continues to grow and innovate in its field. C.I.S is now a leading professional exhibition organiser in Malaysia with a mission to promote new trends and cater to emerging markets through its exhibitions.
The acronym of its name stems from Concept, Innovation and Strategy. Its vision is to deliver its commitment to its clients through a shared vision and strategic partnerships in creating high powered, multi-pronged exhibitions and events. Over the past 20 years, C.I.S has charted steady growth as a leading trade and lifestyle exhibition organiser in the Business Events (BE, which includes Meeting, Incentive, Conference, Exhibition, or MICE) industry.
About Pertubuhan Akitek Malaysia (PAM) — Joint Organiser
Pertubuhan Akitek Malaysia (PAM) is the main national professional institute representing architects in Malaysia. Founded in 1920 as the Institute of Architects Malaya, its name was changed in 1948 to the Federation of Malaya Society of Architects (FMSA), then allied to the Royal Institute of British Architects (RIBA). Another change to its current name to reflect national sovereignty came about on 20th January, 1967 when PAM was registered with the Registrar of Societies. PAM's mission statement then and now is to "to promote the advancement of architecture and the architectural profession for the betterment of society".
PAM currently has approximately 5,000+ members consisting of professional architects, graduates and students. Apart from its registered address in the capital city, PAM membership is also represented across Malaysia with member chapters in Sabah, Sarawak, Penang (Northern chapter) and Johore Baru (Southern chapter). In September 2016, PAM completed an important milestone by moving into its own headquarters building in Bangsar, Kuala Lumpur, in a GBI Platinum-rated building the result of an open architectural competition.
The institute organises the annual PAM Architecture Awards and the Kuala Lumpur Architecture Festival, as well as undertaking various initiatives like organising public lectures, advocacy programmes, architecture competitions, student awards, youth projects as well as championing conservation and heritage issues. PAM maintains a regular extensive programme of publications and programmes on architectural matters relating to its members, the public and the environment.