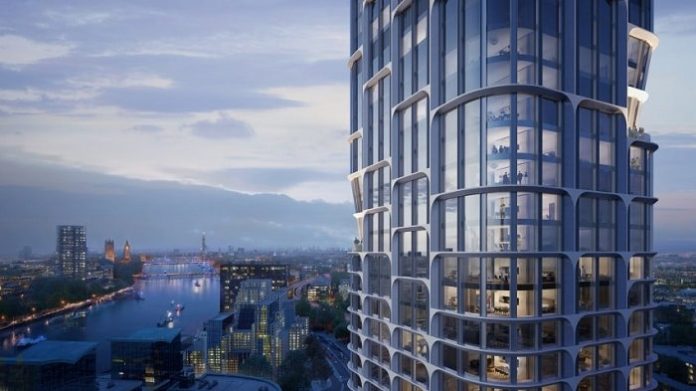 Zaha Hadid Architects' Vauxhall Cross Island towers, which caused controversy at the planning stage, have received planning approval in south London.
Designs for the 53 and 42 storey towers connected by a shared podium were approved by the local council this week. The Vauxhall Cross Island towers will be the first major project undertaken by Zaha Hadid Architects in the UK for a private client.
Vauxhall towers by Zaha
The mixed-use project for developers VCI Property Holding will have 257 apartments in the shorter tower, and a 618-room hotel in the other. Offices and shops are planned for the 10-storey foyer, along with a new public square at the base.
Opponents of the scheme were angered by the height of the towers, which were several storeys higher than revised designs by Squire & Partners that were approved in 2012.
Lambeth Council's planning committee approved the development, praising it as a "very high design quality that responds appropriately to its context".
Planning officers noted that the taller 185 metre tower would be above the 150 metre limit set for the area, but supported the scheme on the basis that benefits such as the land swap and the developers contribution to affordable housing "justify the departure". The level of sunlight blocked by the towers was also deemed acceptable.
Vauxhall Cross Island will provide 23 "intermediate" homes on-site, and contribute £30 million towards homes at affordable rent in the borough, equivalent to providing 30 per cent off-site affordable housing.
Zaha Hadid Architects' towers will replace the Arup-designed bus station that currently occupies the site. The £4.5 million project with its distinctive ski ramp roof was only completed in 2005. Lambeth Council had already agreed a land swap with VCI Property Holdings to change the path the Vauxhall roundabout back into a two-way road.
Zaha Hadid Architects has completed several public projects in the British capital, including the London Aquatics Centre and the Serpentine Sackler Gallery. The international architecture firm, headed by Patrick Schumacher, is currently completing the Al Wakrah Stadium for the FIFA World Cup 2022 in Qatar