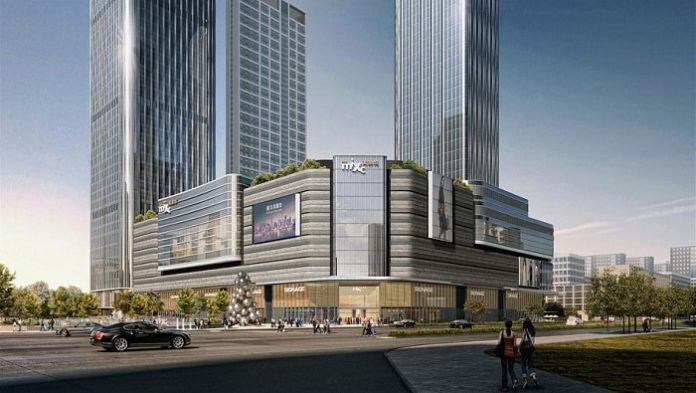 Lead8, the international award-winning firm of Architects, Masterplanners, Interior and Graphic Designers, has announced the start of construction for Changchun CR Center, a major mixed-use complex with a striking 300-meter-tall tower in Changchun, the capital city of China's northeastern Jilin Province.
Designed by Lead8 with the globally renowned architecture firm Goettsch Partners (GP), the project represents the third collaboration of the two design firms with developer-owner China Resources Land Limited, the previous two efforts leading to new city-making projects with multiple buildings and significant civic and economic impact in the Chinese cities of Wuhan and Hangzhou. In Changchun, Lead8 is designing the retail and entertainment center, and GP is designing the main tower.
Plans for the development of the eight-acre (34,000-square-meter) parcel in Changchun comprise multiple towers, including office space, high-end residential units, and fully furnished serviced apartments. In addition, new "signature spaces," including a 66th-floor observation deck at the tower's luminous crown, are designed to draw visitors to the site overlooking the adjacent Mudan Yuan park and lake. The Changchun CR Center will be anchored by an innovative, 1.8 million-square-foot (170,000-square-meter) retail and entertainment complex. CR Land will occupy the 63-story, 1.5 million-square-foot (140,000-square-meter) office tower with its own regional headquarters, with direct connection to the subway.
"The design team seeks to create a development in close harmony with the surrounding environment," says Paul De Santis, LEED AP, Design Partner with Goettsch Partners, based in Chicago and known globally as GP. "The project will be an identifiable cultural icon and memorable destination for visitors from across the city, region and world."
Slated to open in 2021, the complex and signature tower for Changchun CR Center will bring a distinctive façade and a highly visible illuminated crown to the city's skyline–a bold statement that will define a landmark in the developing metropolitan area, which is home to about half of the region's total population of 7.7 million.
Anchoring the development at the tower's base is the MixC RDE Center, Lead8 introduces a new innovative concept "MixC+1" for CR Land's popular MixC brand: a retail and entertainment complex that elevates the traditional RDE center. Inspired by Changchun's culture and influenced by the temperate climate, the dynamic, experiential lifestyle center features an integrated retail street where visitors will enjoy luxury brand stores, pop-up exhibitions, and fine-dining functions year-round. The glass facade featuring the "Eye of Changchun" establishes a visual connection with the street, enhancing the MixC RDE Center's impact on Changchun's urban life.
"The new Changchun MixC RDE Center is purposefully designed to blur the lines that define indoor and outdoor spaces," says Claude Touikan, Co Founder & Executive Director of Lead8. "It not only creates a new dimension to China Resources Land's MixC brand, it expands on the concept of urban retail design."
The third major project and another large-scale collaboration for Lead8, GP and China Resources Land, Changchun CR Center reflects the design prowess of the two architecture firms and a highly successful tripartite, transcontinental partnership.
About Lead8
Lead8 is an international architecture and design practice driven by creativity, integrity and excellence in design. We are a diverse, passionate group of architects and creative explorers who take pride in our global experience across our worldwide studios to create new horizons in design thinking. We deliver bespoke masterplanning, architecture, interiors, and graphic design services to create world-class, cutting-edge design solutions tailored to the needs of our clients and our community. Constantly striving towards greater creativity and innovation makes us agile, savvy and ever relevant in the global marketplace. Visit www.lead8.com for more information.
About Goettsch Partners
Goettsch Partners (GP) is an architecture firm with a global perspective. Based in Chicago, with additional offices in Shanghai and Abu Dhabi, the firm brings a singular approach to design that combines seasoned experience with a passion for exploration and innovation. Completed projects span five continents and represent a diverse range of types and sizes. Every project design begins with multiple concepts that are evaluated for intrinsic value, constructability and environmental impact. GP projects share a consistent visual language of bold clarity that celebrates highly crafted technical solutions delivering optimal performance. Visit www.gpchicago.com for more information.