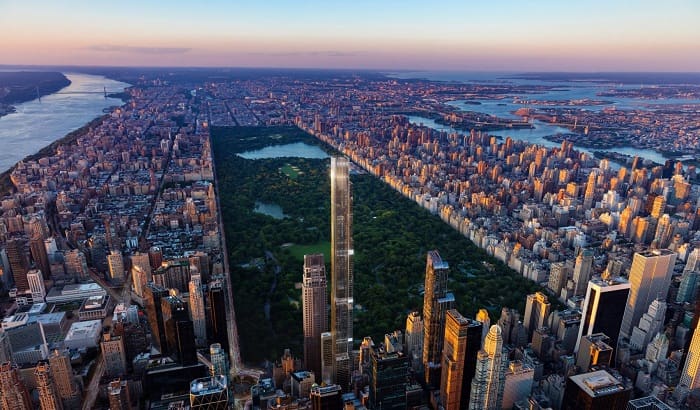 Extell Development Company has announced that it's Central Park Tower, located in New York's 57th street with a height of 1,550 feet has become the world's tallest residential building. With Central Park Tower, Extell has pioneered the development of Manhattan's billionaire row and has, in fact, solidified its position as the premier developer in the corridor. Founder and Chairman of Extell, Gary Barnett calls this Central Park tower as the pinnacle of development in New York. He also goes on to add that had it not been the world's most talented architects, engineers, and designers, we wouldn't have been able to offer such level of design, quality, and service.
The tower has been designed by architectural firm Adrian Smith+Gordon Gill Architecture, a firm that has a reputed past of designing high-performance, energy-efficient, and striking architecture. The façade of the structure features elements of glass, satin-finished stainless steel and light-catching vertical and horizontal details that intensifies the interplay of texture and light. One is sure to get a breathtaking view of the iconic Central Park from this impeccable piece of structure.
The interiors of the building are designed by Rottet Studio who also happen to be the designers of St. Regis Hotel, Aspen and the Loews Regency Hotel, New York. The company is expecting sales of $4bn out of this sprawling 131-storey building. One can own 179 luxury 2 to 8 bedroom residences which will be spread from 1,435 to 17,500 square feet. It will also have three full-amenity floors spanning 50000 square feet. You name the amenities and there are high possibilities that you could find them here.
At the base of the tower will be Nordstrom's first full-line departmental store. The store marks the culmination of a 25-year search for a perfect site which the Nordstrom was seeking. Also, it is Nordstrom's largest single investment in its over 100-year history.