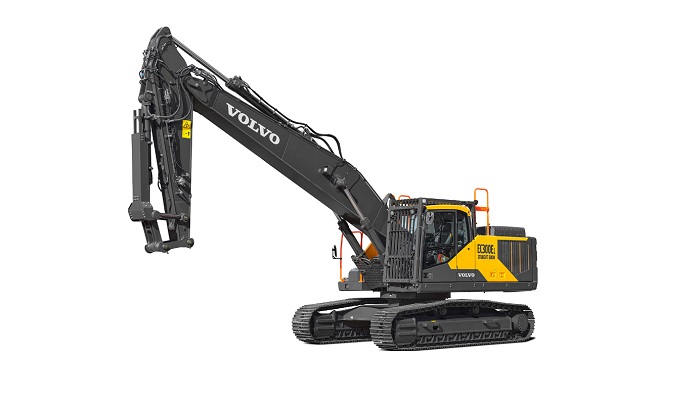 Volvo Construction Equipment, with North American offices in Shippensburg, Pennsylvania, has launched its 30-ton EC300E Straight Boom demolition excavator. The company also announced what it says is an industry-first feature called Lifting Mode for Multi Demolition Boom that allows a high-reach demolition excavator to serve as a safe carrier for lifting machine components from a trailer to the ground, adding versatility to these specialized machines.
"The demolition segment is ever-changing, and we are proud to keep up with it by offering products and solutions that will keep operators safe and productive," says Tony den Hoed, key account director of demolition equipment at Volvo CE.
The EC300E Straight Boom crawler excavator joins the EC380E Straight Boom model in the Volvo CE demolition lineup. Rather than the traditional boom-and-stick approach of digging-biased excavators, Volvo says this crawler is fitted with a 23-foot-long straight boom and purpose-built arm.
The company says the extra-long straight boom on the EC300E provides significant height and reach advantages over the standard machine it is based on. The cab is protected against falling debris with a frame-mounted falling objects guard while providing clear views of the work site. The roof window and front one-piece glass are made from P5A, which is resistant to high impact.
The EC300E Straight Boom has a reinforced frame made of heavy-duty plate steel with bolt-head protection. There also is heavy-duty undercover protection, a belly guard and a full track guard. A slew ring cover and heavy-duty side doors with screens and shutters offer added protection. Volvo CE has also added protection on the bucket and boom cylinders.
Volvo says the new Lifting Mode for Multi Demolition Boom, designed for Volvo high-reach excavators, offers improved flexibility, reduced emissions and lower total cost of ownership. It can be factory-fitted to any of the company's three high-reach excavators: the EC380E HR, the EC480E HR and the EC750E HR. The company adds these models are already compatible with various extensions and booms to carry out a wide range of applications.
This mode can simplify transporting equipment to job sites because it allows the excavator to safely lift components such as cradles and digging or high-reach booms from the trailer to the ground, at which point can be safely installed on the machine.
"Total cost of ownership is reduced by eliminating the need for a mobile crane or second excavator, and flexibility is increased thanks to the time savings," den Hoed said. "Emissions are also reduced due to fewer vehicles being on-site."
The solution consists of machine software specifically designed for the controlled lifting of the equipment's visual warnings outside the cab, to warn bystanders that a lifting process is underway. The software also controls hydraulic pressure and engine speed, ensuring optimum safety throughout.
This lifting mode includes a certified lifting accessory designed to fit the patented modular joint design from the multi demolition boom and can be connected to its lower pin. The company says when all components are safely unloaded, switching to the high reach or digging boom is simple due to its modular hydraulic joint.
To learn more about Volvo CE demolition products, visit volvoce.com/united-states/en-us/products/high-reach-demolition-equipment/.