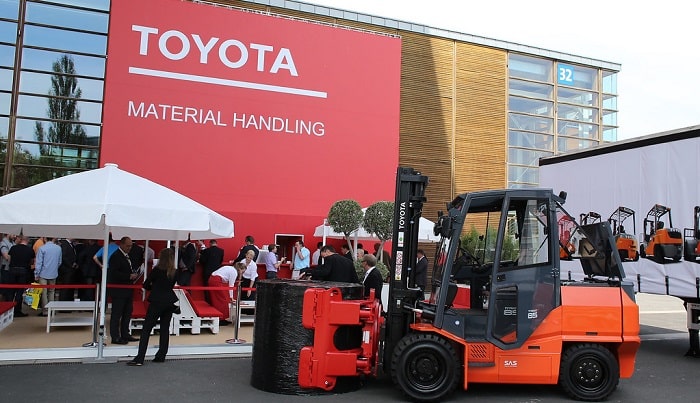 Toyota Material Handling has launched a new electric walkie stacker under the brand Tora-Max, adding to the company's portfolio of material handling products and solutions. The Tora-Max Walkie Stacker offers versatility, accessibility and load stability.
"The Tora-Max Walkie Stacker is perfect for customers who need a fast, turnkey solution for their material handling needs," said Tony Miller, Toyota Material Handling senior vice president of engineering, operations, and strategic planning. "This product launch is the latest example of Toyota's mission to provide versatile and valuable solutions for any type of customer."
The Tora-Max Walkie Stacker is designed with the versatility to handle light-duty loads and includes pinwheel capability to navigate tight aisles and compact spaces with control. The six different mast options and adjustable base legs provide stability and allow operators to fine tune the equipment to stack a variety of load sizes within the model's 2,600-lb. capacity. The machine features ergonomic hand grips, fingertip controls and directional thumb wheels.
The Tora-Max Walking Stacker also includes a 24V lithium-ion battery and a built-in charger. The charger works with standard wall outlets and regenerative braking keeps operation running.
Additional features available with this model include an LCD battery indicator screen, which shows battery usage and fault codes, and a PIN code access or RFID access panel to reduce the likelihood of unauthorized use.