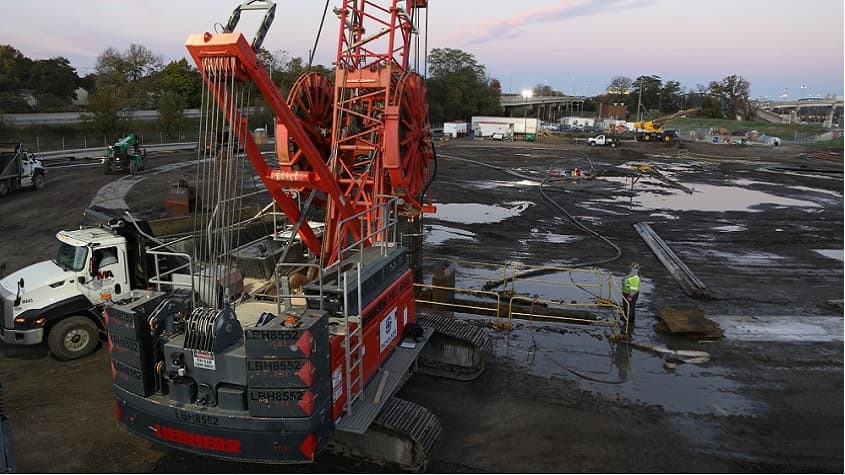 Pittsburgh-based geotechnical general contractor Nicholson Construction was recently awarded a support of excavation contract for two diaphragm walls as part of the Westerly Storage Tunnel project in Cleveland, Ohio.
The $135 million project, which is owned by the Northeast Ohio Regional Sewer District (NEORSD,) includes approximately 9,600 lf of combined sewer overflow (CSO) storage tunnel excavated in rock and three shafts. The Westerly Storage Tunnel is part of NEORSD's Project Clean Lake, which is a 25-year program designed to reduce pollution in Lake Erie by four billion gallons per year.
Nicholson's portion of the work includes the construction of a 42-inch thick, 152-foot deep unreinforced diaphragm wall shaft for support of excavation at the drop shaft, as well as a two-foot thick, 71-foot deep steel reinforced diaphragm wall for support of excavation of the connecting gate structure and a three-foot thick, 175-foot deep unreinforced diaphragm wall for support of excavation for the 20-foot diameter drop structure vent shaft.
The company has an extensive tunneling history in Ohio, having just finished the Dugway Storage Tunnel in Cleveland (also for NEORSD) in 2016 and several projects for the Olentangy Scioto Interceptor Sewer (OSIS) in Columbus in 2012.
About Nicholson Construction Company
Nicholson has been both a leader and an innovator in the geotechnical construction industry for more than 60 years. With regional offices across the country and headquarters located in Pittsburgh, Nicholson is a nationally renowned specialty contractor, offering proven expertise in the design and installation of deep foundation elements, earth retention systems and ground treatment solutions. We pride ourselves on our ability to consistently provide our clients with innovative, high-quality design-build options for projects of varying size and complexity. Nicholson is the North American subsidiary of Soletanche Bachy, one of the world's leading geotechnical contractors, and is part of a global network of unparalleled geotechnical resources and expertise.