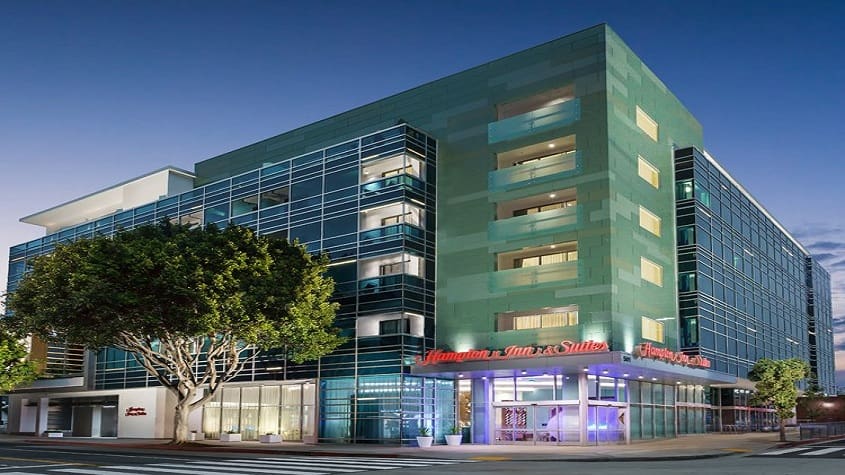 OTO Development has been named Hilton Developer of the Year in the Focused Service category for the second consecutive year. The 2017 award was announced earlier this month during the NYU International Hospitality Conference.
OTO Development, part of The Johnson Group, earned this national recognition for a Hampton Inn & Suites by Hilton in Santa Monica, California — a city that hadn't seen a new select-service hotel in nearly 30 years. The innovative project showcases OTO's ability to bring top-shelf quality and design into high-barrier-to-entry markets; indeed, the South Carolina-based company was able to overcome the myriad entitlement hurdles and construction challenges that had stymied other developers' previously proposed projects.
Click HERE to view images of the project that earned OTO the Hilton Developer of the Year Award.
"Our niche is developing well-designed hotels in difficult-to-build but highly desirable locations," says Corry Oakes, President/CEO of OTO Development, noting that while all construction projects have challenges, core urban markets present inherent obstacles that many developers simply cannot overcome. "Some jurisdictions make the process longer and more difficult, but our strategy is all about taking a pragmatic — and patient — approach to real estate, design, entitlement and construction."
It's not an easy strategy, according to Oakes, but it's definitely rewarding. "It's gratifying to have brand partners recognize our proven results," he says. "To be honored as one of Hilton's best — not just once, but twice in a row — is an incredible acknowledgement of the talent of the entire OTO team."
It's this creativity and innovative spirit that Hilton honors with its Developer of the Year Awards (see complete list of winners here).
"We are excited to recognize our developers after a tremendous year of growth, innovation and success," said Matt Wehling, Hilton's Senior Vice President/Development, US & Canada, noting that winners are selected based on distinct criteria such as total number or quality of hotels developed and in operation; commitment to quality of projects; impact on local community; and early adoption of newer brands. "Our team is proud to work with our dedicated partners on world-class projects that create an everlasting impact on our guests, communities and the hospitality industry."