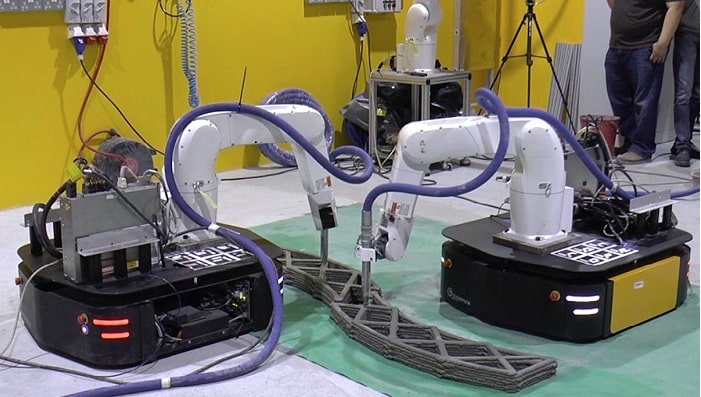 The scientists at Nanyang Technological University (NTU) in Singapore have spent a lot of time and energy over the last few years researching construction 3D printing with concrete materials. Two years ago, the NTU Singapore Centre for 3D Printing (SC3DP) team, led by Assistant Professor Pham Quang Cuong with NTU's School of Mechanical and Aerospace Engineering, published a paper about their work developing concurrent mobile 3D printing construction robots. The idea was that multiple robots working together to build a concrete structure wouldn't be held back by common issues like volume constraints and long lead times.
Adoption of concrete 3D printing is limited because of problems like lack of mobility and small size, and the use of synchronized, mobile robots is an excellent place to start working on the issue of scalability. But now, Professor Cuong and his team are taking things to the next level. They're still using mobile robots for a print-while-moving approach, but instead of a pair systems, they've developed a single-robot industrial AM platform that can complete large-scale construction printing all by itself.
"Our system is mounted on a mobile robot. The ability to move the robot base in space allows our robot to print structures that are larger than itself," Professor Cuong explained. "Also, having a mobile base makes it easier to bring the robot into the construction site and move it around inside."
The NTU team—comprised of Mehmet Efe Tiryaki, Xu Zhang, and Professor Cuong—published a paper about their new system, titled "Printing-while-moving: a new paradigm for large-scale robotic 3D Printing."
This system only needs one robot to print differently sized single-piece structures, which also helps to ensure better structural properties
Typically, construction materials wider than the construction 3D printing system's gantry foothold distance can't be printed. That's because a printed structure's dimensions are constrained by one of three things: the robot arm's reach, the gantry's restricted volume, or the framework which enables the printhead to move along a particular axis. But the NTU researchers have enabled their system to move in any direction, so long as it's on a flat surface, by mounting an industrial robot manipulator to a wheeled base. Then, a hose is used to connect the platform's manipulator flange nozzle to a pump.
The robot manipulator's motions, and those of the mobile platform, are painstakingly planned out in this new system in order to achieve a coordinated effort. It uses feedback motion control, and highly accurate robot localization, to make sure that the nozzle deposits the concrete material at the right pace in the correct location. By placing a camera on the back of the mobile base, its "localization system" works better over a larger surface area.
The NTU research team claims that their printing-while-moving system can increase the size of structures that one robot can fabricate. To prove it, they used the platform to 3D print a single-piece 210 x 45 x 10 cm concrete structure, which is definitely larger than the robotic arm's 87 cm reach. This system could significantly increase the effectiveness of 3D construction printing. But, their work is not yet done, as the system does still have some limitations, particularly in terms of uneven work areas.