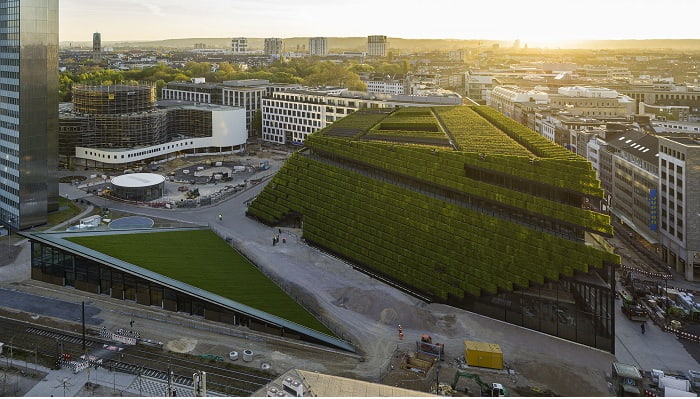 As part of an extensive urban renewal project in the heart of Düsseldorf, Kö-Bogen II concludes an urban intervention that marks a departure from the automotive era and a turn towards people-oriented planning. Europe's largest green facade, covered in 8 kilometers of Hornbeam hedges, offers an urban response by ingenhoven architects to climate change.
The hornbeam was chosen intentionally as it is a native hardwood species that keeps its leave in the winter. Ingenhoven architects developed a comprehensive phytotechnological concept in collaboration with Prof. Dr. Strauch from Beuth University of Applied Sciences in Berlin.
The hedges protect against the sun in the summer, reduce urban heat, bind dioxide, stores moisture and dempens noise. The ecological benefit of the green facade is equivalent to 80 fully grown trees.
The two-part commercial and office building forms an entrance to the Gustaf-Gründgens-Platz. Where once an elevated motorway dominated the landscape, now the area is injected with greenery.