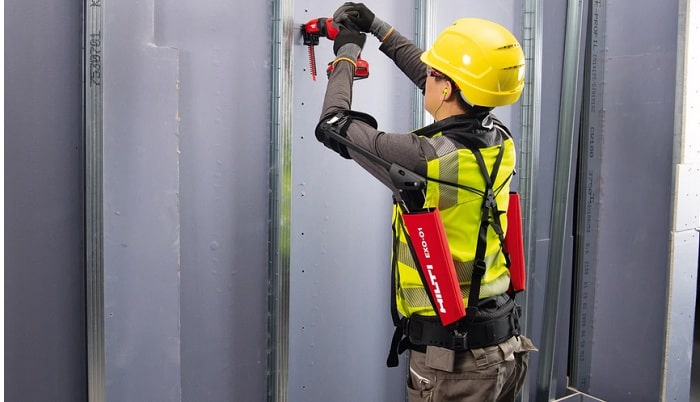 Hilti North America unveiled the EXO-O1 wearable exoskeleton, a new human augmentation device to help commercial contractors, tradesman and management tackle health and safety as well as labour shortage challenges.
To create the EXO-O1, Hilti Group has entered a technology partnership with Ottobock SE & Co. KGaA, supplier of prosthetics, orthotics and exoskeletons that help people increase and retain their physical independence.
According to a report from RoboticsTomorrow.com, as many as 44 million workers in the European Union (EU) are affected by workplace-related musculoskeletal disorders. Workers in the construction and industrial manufacturing industries are particularly prone to severe health issues due to the heavily physical work they perform.
"There is a great deal of potential for solutions that reduce the physical strain on workers in the construction industry," explains Dr. Sönke Rössing, head of Ottobock Industrials. "This division has been developing industrial exoskeletons from the Paexo product range since 2012 to create healthier workplaces. The EXO-O1 is a passive model that does not require an energy supply. The weight of the arms is transferred to the hips via the forearm supports using mechanical cable pulling technology. Independent studies and Ottobock research have shown that this reduces the peak load on the muscles and relieves shoulders by up to 47%."
Hilti is currently in real-world jobsite testing and will be bringing the exoskeleton to global markets later this year.
"We want to improve the health and safety of our customers, directly impacting jobsite productivity – so they can stay on time and on budget," says Johannes Huber, head of business unit diamond systems at Hilti Group, parent company of Hilti North America. "Customers that embrace innovation and invest in the latest health and safety technology will be better able to attract and retain the best people as well as keep their job sites productive."
The EXO-O1 is Hilti's first foray into exoskeletons for the construction industry. There will be more human augmentation developments to come from the brand, the company announced during an online product launch on 23 July 2020.