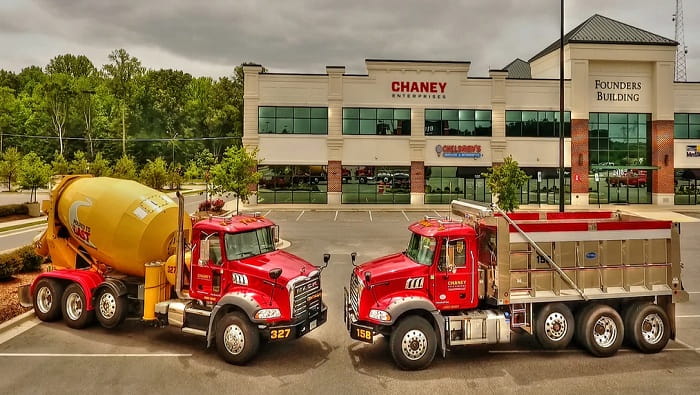 Chaney Enterprises, headquartered in Gambrills, MD, has trucks delivering materials to construction clients throughout the Mid-Atlantic region. The company provides ready-mix concrete, sand, gravel, stone, blended soils and related construction supplies to concrete contractors, general contractors, developers and others from more than 30 locations throughout Maryland, Delaware and northern Virginia.
"Concrete is what we're known for," says Erica Magdelinskas, marketing manager for Chaney Enterprises. "We have the red and yellow mixers that are driving around town everywhere."
Sand and gravel is a core part of the company's business, so the company owns a sizable amount of land to harvest this material. It also has a construction supply retail division, a truss manufacturing plant and more.
Delivering this wide range of materials to customers throughout the East Coast requires a sizable vehicle fleet and sound logistics management. Effective communication is essential to ensuring satisfied customers, and to ensure drivers to their locations and back in a safe and timely manner.
A Communications Transformation
Until recently, Chaney Enterprises had used what Magdelinskas refers to as an "old school" communications platform – a private, closed-loop, 800-megahertz channel system similar to those used by fire departments and EMS units. "But the tower rental got to be exceedingly expensive," she notes. "There's a lot of new technology out there and we wanted to take a look at that – see what would make sense for us. We just saw the need to transform to a new platform."
After doing some research, the company came across the Zello push-to-talk, live voice solution. Modeled on walkie talkies, the solution enables users to speak to each other at the push of a button anywhere there is an Internet or data connection. The feature-rich mobile app transforms smart devices into "Internet walkie talkies" that can also share photos, send text messages, track locations and trigger emergency alerts in mission critical situations.
Push-to-talk Technology Company Gaining Ground in Construction
Zello offers a free (Zello) and a subscription-based (Zello Work) solution. The driver interface is based on a mobile app that can be downloaded to a smartphone or tablet. The user simply taps on a contact name or channel, presses and holds the push-to-talk button to communicate and releases the button when done.
"We needed something user friendly. We were looking for something that had an app," Magdelinskas explains. "Our drivers are already using iPads because we are a paperless company, so that gave us the option to use that feature with the iPad. And then we wanted something that had a connection for a Bluetooth microphone for the communication aspect. Zello just had everything we needed.
To facilitate communication across all aspects of its business, Chaney Enterprises is utilizing the subscription-based Zello Works solution. It allows users to create a private network on a dedicated server and use a web-based management console to configure the system to the company's needs, including showing user status and tracking drivers. Available features include premium maps and emergency alerts, a message vault and a Dispatch Hub to connect drivers and dispatchers.
Drivers are using the Zello app in two of the three main regions in which Chaney Enterprises does businesses; use in the third region is limited due to a lack of infrastructure to ensure connectivity. Communication is now both simpler and safer.
"[Drivers] don't have to touch the iPad. They just hit a button on the mic and then it opens up the designated channel so they can communicate, and they can still stay DOT-compliant with the no handheld devices law," says Magdelinskas.
This ability is critical to the company's operations. "There is a lot of communication that needs to occur in our business. There are a lot of last-minute questions and customer needs that pop up, and obviously traffic issues," Magdeslinskas states. "So, it really helped us to have that communication piece… while allowing drivers to focus on the road and their main job, which is delivering our products on time and in spec."
Ongoing Evaluation
Chaney Enterprises continues to evaluate the various options and accessories offered with the Zello solution – for example, lapel-mounted mics. "Drivers just have it on their shirts. That's been very convenient because they don't have to take their eyes off the road – they can just hit a button," says Magdelinskas.
With various options and accessories available, Chaney Enterprises continues to identify which ones work best for its operations. "We have a mixture of the mics that use the Bluetooth through the iPads and then we tried using some of the bolt-in radio tone, CB-style units… to see how that works. We really like that feature, so I think we're going to be eventually moving to that," says Magdelinskas. "That way, they're ready to be used at any time and [drivers] can really stay connected. We don't have to worry about recharging anything and… about people losing the Bluetooth."
While the evaluation continues, overall, Chaney Enterprises has been very pleased with the results.
"It's just kept our drivers safer and compliant and also still able to do their jobs," Magdelinskas states. "I can't stress enough how important communicating with them is to what we do. Some people don't understand how the construction industry changes day to day, hour to hour. There are all kinds of issues that our [drivers] face on the road, whether it's traffic or road work or an accident.