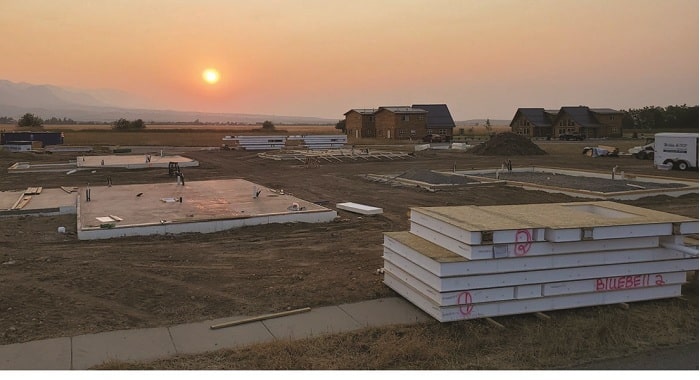 Helix Steel is coordinating delivery of its Helix® Micro Rebar™ concrete reinforcement to help build durable homes for families in high-need communities across America. The move is being done in partnership with Habitat for Humanity and Build with Strength, a coalition of the National Ready Mixed Concrete Association.
This inspiring community-focused initiative will involve constructing highly durable, affordable and sustainable homes at 16 locations across the U.S.A.
Helix Steel's concrete reinforcement will help to make the homes the best that they can be. The science behind the product is in its proprietary design: a one-inch piece of twisted steel that's combined with thousands of others, mixed with concrete and poured in place. From slabs, walls and footings to foundations and infrastructure projects, Helix® Micro Rebar™ has been used in thousands of projects and applications, and is proven to improve concrete resiliency, ductility, and strength.
"We're proud to support Habitat in furthering its mission to build homes, communities and hope," Luke Pinkerton, Helix Steel's President and Chief Technology Officer. "Our contribution of materials and expertise will help to ensure faster construction and lower costs for 16 communities across America. Our support will help to create homes that are built to last many lifetimes."
Helix Steel Partners with Habitat for Humanity International in National Affordable Housing Initiative – Helix Steel
The first project in the partnership will break ground in April with the construction of three homes in Paradise, California. This town was devastated by wildfires in recent years. Building the homes of concrete will provide families with a durable home that resists fire.
"Residents have had their lives turned upside down," said Nicole Bateman, executive director of Habitat for Humanity of Butte County. "We are grateful for our partners in the concrete industry for stepping in to help with the rebuilding process. Their generous donations will not only provide affordable housing but also resilient homes that will resist destruction from future wildfires."
Other industry groups involved in the collaboration and contributing to the projects include the Insulating Concrete Forms Manufacturing Association (ICFMA) and the American Concrete Pumpers Association (ACPA).
"We are extremely proud to be a part of the partnership with Habitat for Humanity. It gives us a great opportunity to set an example for how we should be building resilient communities across the country," said Mike Kennaw, Board Chairman, ICFMA. "ICF construction can help hard-working families by providing safe and strong homes, and we are really grateful to be a part of that."
"Habitat for Humanity is an incredible partner for these projects. It's an amazing feeling to know that the industry will help to provide affordable homes that are comfortable and safe for those living in them," said Christi Collins, Executive Director of ACPA. "Concrete can provide great peace of mind for homeowners."
About Helix Steel
Helix Steel the innovative manufacturer of Helix® Micro Rebar™ reinforcement, used in more than 20,000 concrete applications across America to provide structures with quantifiably better resiliency, ductility and elasticity to concrete structures. Since 2003, Helix® Micro Rebar™ has been used in more than 20,000 structures around the world and continues to support American by manufacturing its products in Grand Rapids, Michigan.