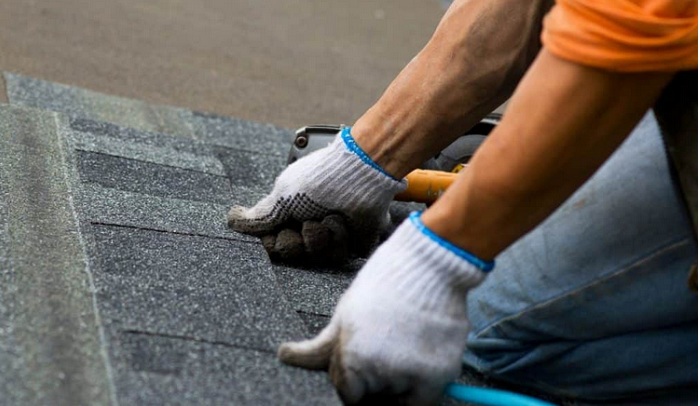 The average asphalt shingle roof lasts about 20 years, with fiber cement shingles typically lasting 25 year, 30 years for a wood shake roof, and up to 50 years for metal, slate, copper, or tile. Since the most common roofing type is asphalt shingle, 20 years is time to start considering a roof replacement. Every homeowner should find out what type of roof material they have and what condition it is in when they move into a home.
When does a Roof Need Replacing?
Deciding when to replace a roof is important. If the homeowner waits too long, the roof will start leaking and cause damage to the basic structure or interior of the house. The roof decking might be damaged. Homeowners who have lived in a home without any roof maintenance should hire a professional from A to Z Construction to inspect the roof and give them a report.
If the roof needs repairs, the owner can decide whether to hire the roofing company to provide those repairs or to do them as a DIY project. If the roof is due for a replacement, it is time to decide whether to tackle that huge project alone or hire a professional roofing company to do it.
The decision about roof replacement will depend on the homeowner's skill level, physical abilities, time available to do this large project, and their willingness to take on the project.
Should a Person Do The Roof Replacement Themselves or Hire Professionals?
A roof replacement is a major home improvement project and has a high price tag. Much of the cost is in the labor and installation, so it might be tempting to save money by installing the roof without professional help. Some roofing jobs can be accomplished by experienced DIYers, such as damage from wind or storm events. The following considerations are important.
Do you have the experience and ability to do roof work?
Are you physically able to do this hard labor and climb up and down a ladder repeatedly? Are you comfortable on the roof where a fall can be fatal?
Are the tools available or will they need to be purchased?
Will help be available?
It is important to start and finish a roofing job quickly. Do you have a sufficient block of time available, and can you work quickly?
It is important to have someone home as you work to check up on you in case of falls or injuries. What if the ladder falls and you are trapped on the roof?
What steps will you take to protect the open roof if a rainstorm approaches?
Before Deciding to Do the Job Yourself, Know What Is Involved
The common steps to install an asphalt shingle roof include:
Move all portable things away from the house, and put heavy tarps over immovable plants, shrubs, etc.
Remove all the old roofing and the asphalt sheet underlayment. Be sure to remove all nails.
Repair any damage or rot in the roof deck.
Roll on new roofing underlayment. Self-stick options are more convenient. Follow the manufacturer's instructions.
Cover the roof with felt paper and staple in place. Overlap the roof ridge.
Use metal flashing to waterproof roof valleys, around chimneys, and other breaks in the roof.
Begin with the starter shingles at the bottom edge of the roof, and nail in all the rows of shingles with a pneumatic roofing nailer. Get the spacing and nailing right or the roof will fail.
Cover the whole roof and roof ridge, and trim the edges properly.
An improperly installed roof will fail and need to be replaced sooner. If you have any doubts, hire professionals to install the home's roof properly and provide a warranty.