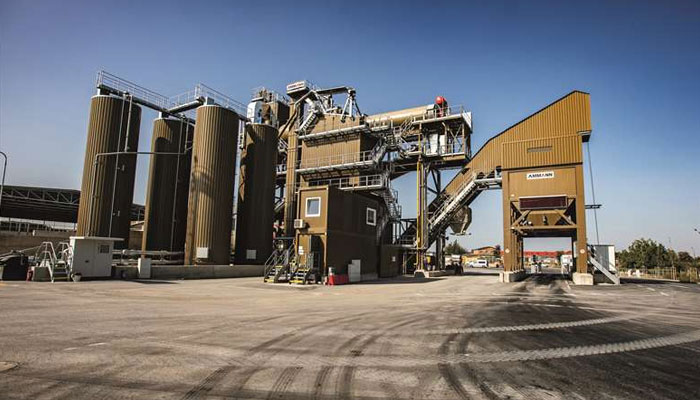 World Construction Today – As pressure mounts on the industry to utilise the greenest materials possible, particularly asphalt and concrete, companies that supply building materials are being obliged to develop their technological capabilities.
Since businesses have become more conscious of their environmental responsibilities and learned that using recycled aggregates has a number of major benefits, the use of recycled materials has increased.
According to a paper from the UBC School of Engineering at Okanagan campus from 2020, recycled concrete can occasionally outperform ordinary concrete.
Researchers at the School of Engineering compared recycled and regular concrete in two typical applications: a building foundation and a public sidewalk, side by side. After five years of use, they determined that the recycled concrete had equivalent strength and toughness.
The argument for recycling grows stronger given that earlier studies have projected that waste products from construction and demolition comprise up to 40% of the world's garbage.
Exactly how is asphalt evolving?
The manufacturing of asphalt mixes for the construction market is evolving swiftly, according to Ammann, a company that provides mixing units, equipment, and services to the sector. This shows the tendency to reduce the environmental impact of asphalt manufacturing by using as much reused material as possible.
Praská Obalovna Herink s.r.o. in the Czech Republic just acquired an Ammann ABP 240 HRT (POH). POH delivers 90% of its mix to its two parent firms, with the remainder 10% being consumed by individual clients.
They acquired the HRT facility with the hope that it is more ecologically friendly, has more dependability, and is a more energy-efficient operation, said Roman Kadlec, plant director for POH. The plant's ability to create asphalt mixes with larger percentages of recycled asphalt pavement (RAP) and mastic asphalt was another deciding factor.
The machine's primary area of production at the moment is the modernization of a highway close to Prague, the Czech Republic's capital and largest city. The RAH100 drum used by the ABP HRT enables indirect heating of RAP, preventing the recycled material from coming into contact with the flame. Ammann said that since there aren't many emissions and the binder isn't degrading, it's possible to create asphalt mixtures that are 100% RAP.
Though the company previously created a mix with 90% recyclables, POH wants to generate a wider range of asphalt combinations with a higher level of RAP.
Construction

emissions

reduction
Jan Thomschke, commercial manager and manager of customised special orders for the Ammann Group, says that it is difficult to discover prospects for more reductions because a significant deal of headway has been made, which is obviously wonderful news. Asphalt-mixing operations are increasingly found in business and occasionally residential areas, which raises concerns about some non-traditional types of emissions, such as noise, dust, and odour.
Ammann initially provides technology that enables the use of biofuels to overcome this obstacle. This fuel lessens reliance on mineral oil while promoting climate protection. Examples of these fuels are sugar cane and rapeseed. One can also use tall oil, a byproduct of the manufacturing of cellulose sulphate.
The usage of these renewable energy sources and, in some situations, the conversion of a waste product into fuel are both made possible by Ammann technology, according to Thomschke. This lowers the cost of landfills and conserves natural resources. As part of the effort to cut emissions, reduced-temperature asphalt is a well-established technology for use in road building.
For instance, ULTILOW, a line of warm-mix asphalts for more environmentally friendly road surfacing, is offered by Tarmac, a company that deals with sustainable building materials, road contracting, and building products. ULTILOW warm mix asphalts are produced and delivered at temperatures that are lower than those of traditional hot mix asphalts.
As a result, according to Tarmac, they provide notable savings in carbon pollution of up to 15% and frequently between 8% and 10%. They also provide a number of advantages for site efficiency and safety. Breedon, a UK-based manufacturer of building supplies, provides Lower Temperature Asphalt (LTA), which it claims has a number of advantages.
These benefits include the lack of specialised equipment needed because it is installed similarly to hot mix asphalt. Almost all bituminous hot mix materials, including road bases and thin surface course systems, can be created at lower temperatures because the technique doesn't need any water.
Environmental effects of construction
Earlier this year, the building materials manufacturer CEMEX introduced VIALOW, a new line of low-temperature, low-carbon asphalts. The manufacturer noted that VIALOW is produced at temperatures up to 40°C lower than typical asphalt mixes thanks to a specifically formulated bitumen component. According to reports, embodied carbon emissions can be reduced by up to 20%.
The company asserted that the asphalt's durability and long-term performance can both be enhanced by the manufacturing process's lower temperature. This is due to the fact that standard mixtures at high temperatures induce bitumen to oxidatively stiffen more than they do at lower temperatures.
With the launch of VIALOW, CEMEX seeks to make it simple for consumers to opt for more sustainable and environmentally-friendly asphalts that have lower CO2 emissions, offset residual emissions, and help drive vital change, said Carl Platt, CEMEX's director of asphalt, paving, and building products for Europe. Using this new range, he said, will result in shorter building periods, less interruption, lower road maintenance costs, and a lower carbon footprint as an added bonus.
The world's first carbon-neutral cement plant will be created by HeidelbergCement, a German international building materials firm with its headquarters in Heidelberg, when it upgrades its Slite plant on the Swedish island of Gotland. The Cementa installation at the HeidelbergCement subsidiary's Slite factory is designed to absorb up to 1.8 million tonnes of carbon dioxide yearly, which is equal to the plant's entire emissions.
In keeping with the group's aim to significantly expand the amount of biomass in the fuel mix, Slite will use more bio-based fuels to produce cement. By 2030, it is intended to fully capture all carbon dioxide emissions from the plant.
At the Brevik cement mill in Norway, HeidelbergCement is now constructing what is allegedly the first full-scale carbon capture installation in the world, collecting 400,000 tonnes annually, or 50% of the plant's emissions starting in 2024. According to the company, the planning for the factory in Slite will greatly benefit from the knowledge obtained at Brevik.
Green

elements for

Fayat
In relation to road pavement, vice president of sales and marketing for Fayat Mixing Plants, Luca Camprini, said the capability to create mixtures with lower carbon dioxide emissions and energy savings are all crucial aspects for those who want to produce asphalt that respects the environment. In particular, the reuse of milling process material comes from road infrastructure pavements subject to wear.
This is also true for clients who choose batch plants or continuous plants since they require less complicated transportation and installation, lower maintenance costs, and flawless quality.
He referenced the company's Marini-Ermont RF400 Highway hypermobile asphalt unit as evidence of its commitment to environmental sustainability. The machine is environmentally friendly due to its low height, which allows it to blend perfectly behind small trees. It can go as close to sites as feasible thanks to its high mobility. Additionally, there are extremely few emissions, in part because clean fuel (LPG) is used instead of heavy fuel, and there are elements, such as the substitution of gas fuel for fuel oil, that reduce the risk of soil contamination.
The Wirtgen Group, which is based in Germany and is the world's top provider of asphalt mixing facilities, equipment, and services to the construction industry, comprises the leading firm in this area, Benninghoven.
Reduced-temperature asphalt has economic advantages since it uses less energy to make it, according to team lead for bitumen systems at Benninghoven, Matthias Lenarz. Less energy use always results in fewer emissions, particularly CO2 emissions, and could result in substantial savings for clients. Reduced-temperature asphalt is a top priority of authorities worldwide because it is crucial that the sector continues to become more environmentally conscientious.
According to the German Asphalt Association, a temperature decrease of 30 °C alone can save 0.9 litres of heating oil or perhaps a fuel equivalent every tonne of completed asphalt. A daily output rate of 2,000 tonnes of mix translates to a savings of 1,800 litres of oil, or up to 75% of the energy needed to heat a single-family house for a full year, according to Lenarz. Additionally, this equates to a daily decrease in CO2 emissions of 6,000 kg.
The drop in temperature frequently approaches 50°C or more, so "the values that can be obtained in the current world are significantly higher.