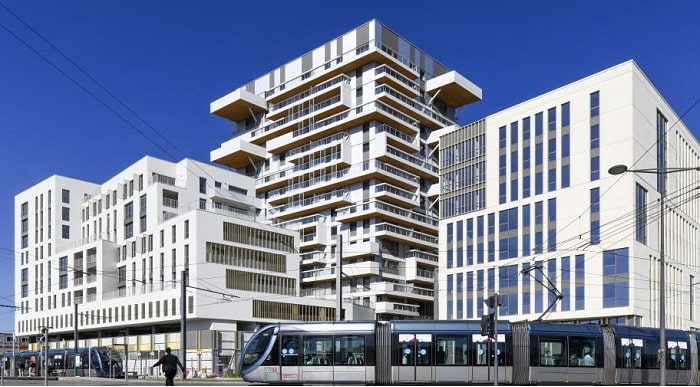 Eiffage Construction has completed France's tallest timber tower in the southwestern city of Bordeaux.
The Hypérion tower, with 17 storeys reaching 50m in height, was designed by Jean-Paul Viguier & Associates and developed in the city centre by public agency Bordeaux Euratlantique. It will be part of a complex of 182 homes, car parks, shops and offices spread across four buildings.
The project was begun in 2015 as part of a project to demonstrate ways of building a sustainable city.
Eiffage combined a concrete base on the lower three storeys and a concrete core, and made up the remainder with "glulam" beams, made from cross-laminated sheets of wood.
Its construction used more than 1,500 prefabricated components, including facade panels made in the factory owned by a subsidiary of Eiffage.
Building Hyperion required 1,400 cubic metres of solid wood sourced in the Nouvelle-Aquitaine Region. Waste timber was recovered at the Noé shared inter-site services platform, the first of its kind, opened by Eiffage and Suez in 2018.
Hypérion was recognised at the BIM d'Or awards 2019 for its BIM design.