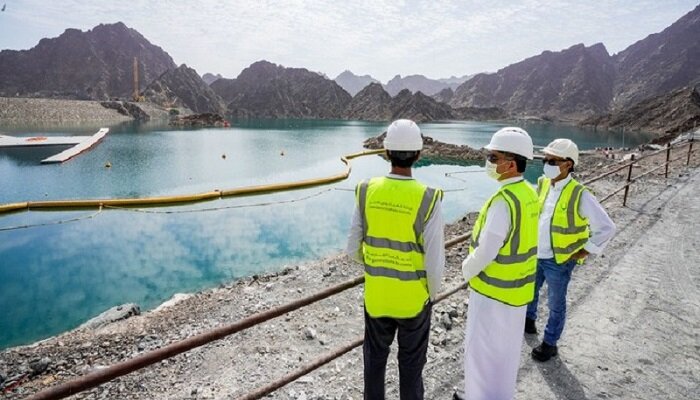 World Construction Today – The Dubai Electricity and Water Authority (DEWA) has announced that construction has begun on the US$12.5 million Hatta Sustainable Waterfalls project.
MD & CEO of DEWA, Saeed Mohammed Al Tayer, launched the initiative, which will be a component of the organization's social and investment obligation to create Hatta as a unique tourist destination, according to a statement from DEWA.
Based on the statement, the Hatta Sustainable Waterfalls project is an inventive architectural concept that was motivated by the hexagonal honeycomb design because Hatta is well-known as a centre for premium honey.
Bridges across the water canal connect the project's oasis, creating a busy and gorgeous area where people can hang out and snap lovely pictures.
As per Vice President and Prime Minister of the UAE and Ruler of Dubai, HH Sheikh Mohammed bin Rashid Al Maktoum, DEWA is implementing ground-breaking initiatives in Hatta in line with the vision and directives of HH Sheikh Mohammed bin Rashid Al Maktoum, for comprehensive and sustainable development throughout Dubai, and to reshape Hatta into a tourism and investment hub, while preserving its heritage, Al Tayer said.
With these initiatives, they hope to improve Hatta, offer the locals cutting-edge employment options, and foster a happy community. In addition to improving the area and transforming it into recreational areas and a tourist destination in the UAE, the Hatta Sustainable Waterfalls project seeks to preserve the surrounding natural ecosystem. Making a natural water stream that blended in with Hatta's surroundings was the initial concept.
Four oasis with coffee shops, restaurants, playgrounds for kids, as well as stores offering natural honey, regional goods, and souvenirs, offer a wealth of investment prospects. The shops will be handed over to the people of Hatta as grants from HH Sheikh Mohammed bin Rashid Al Maktoum to address the requirements of social, economic, and environmental development and to create more work possibilities.
A natural waterfall will be produced by the project using the ramp of the upper dam of the Hatta plant. The water utilised in the waterfall will be gathered at the end of the stream, reused, and piped back to the top of the dam through a channel that will be constructed below the dam. Restaurants and leisure areas will be built in the vicinity.
In order to safeguard the Hatta Mountain Reserve and harmonise the project with its surroundings, they are keen to use the newest, most cutting-edge, and safest technologies to match the geological conditions of the Hatta region. They will also take into account the strictest international environmental standards.
The project will provide tourists with a distinctive experience and highlight the grandeur of the hilly regions of the UAE. DEWA is keen to employ environmentally friendly materials that blend in with the surroundings at every stage of the project. The water channel empties into a lake, which supports a healthy natural aquatic life and creates a diverse biological habitat.