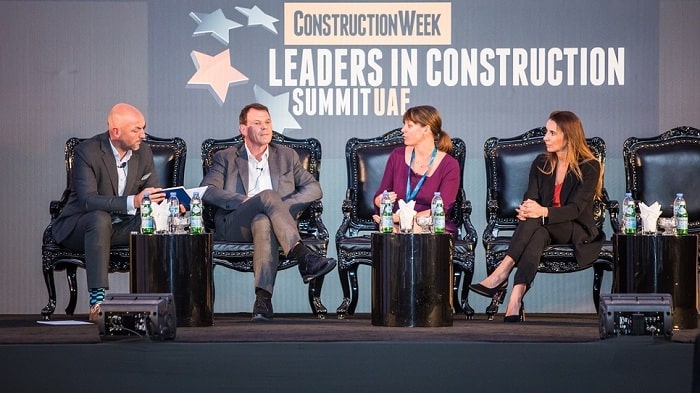 Construction Week's Leaders in Construction Summit UAE 2019 at Le Meridein Dubai Hotel & Conference Centre, and was attended by leaders from some of the UAE's top construction, engineering, design, and real estate entities, such as the UAE's Ministry of Infrastructure Development, ALEC, Deloitte, Reed Smith, CSCEC ME, and Mag Lifestyle Development.
Eng Anwaar Al Shimmari, chief innovation officer and director of design at the UAE's Ministry of Infrastructure Development, opened the conference with a keynote speech explaining how the construction industry was witnessing a paradigm shift in terms of technology requirements, and the changing parameters that would impact the industry in the future.
She explained that for AI adoption to be a success in the construction industry, staff training and an understanding of data were important pillars to do business.
Al Shimmari said that China, the US, India, and Japan would lead AI adoption in the sector, with China comprising around 22% of the global market share in construction.
Also speaking at the event was audit director of operations for the Middle East and Middle East construction industry leader at Deloitte, Cynthia Corby, who said during her presentation that oil reliance remained a key trend despite GCC countries steadily investing in diversification.
She added that VAT had raised some uncertainty in spends, and a number of companies were still choosing to wait and watch on how to deal with VAT and the ultimate cost to the end-users.
Corby said that so far in 2019, contract awards worth $67-billion were recorded in the GCC, while the value of the projects for which these contracts were awarded was estimated at $25-billion, adding that both valuations were significantly lower than in previous years.
She concluded her presentation saying that the construction industry remained an important economic barometer in the GCC.
The first panel of the event was moderated by Reed Smith's managing partner, Sachin Kerur, with panellists at the Controlling Costs When Cash is King panel agreeing that financial awareness was key to cutting costs and achieving optimal valuations for a project.
Panellists at the Attracting Accomplished Leaders to Drive Expansion panel agreed that remote working and internal training were a step ahead, but the construction industry's recruitment practices could still improve.
Experts speaking at the panel dedicated to Payments, Insolvency and Dispute Resolution, discussed about the recent updates to local laws that could help avoid payment delays, and facilitate easier dispute resolution for contractors and employers.
Key topics discussed by the legal experts comprising Addleshaw Goddard's partner, Andrew Greaves; director at HKA, Conrad Bromley; partner at Al Tamimi & Company, Ahmad Ghoneim; and partner at Pinsent Masons, Nesreen Osman included the issuance of Abu Dhabi Executive Council's circular in March 2019, instructing government departments and state-owned companies to pay construction contractors and suppliers within no more than 30 days of receiving a receipt of invoices.
One of the panels at the conference saw leaders from industry giants ALEC, Arada, and China Stat Construction Engineering Corporation Middle East share their views on how construction companies in the region could diversify.
Chief executive officer of contracting heavyweight ALEC, Kez Taylor said training and development of the workforce must be among a construction company's top priorities at present. Taylor added that companies risked becoming antiquated if they did not keep up with evolving market dynamics.
CSCEC ME's senior vice president Grigoris C Christofides said that companies should find ways in which diversification efforts could be implemented to benefit their own business as well as the new sector or geography they entered.