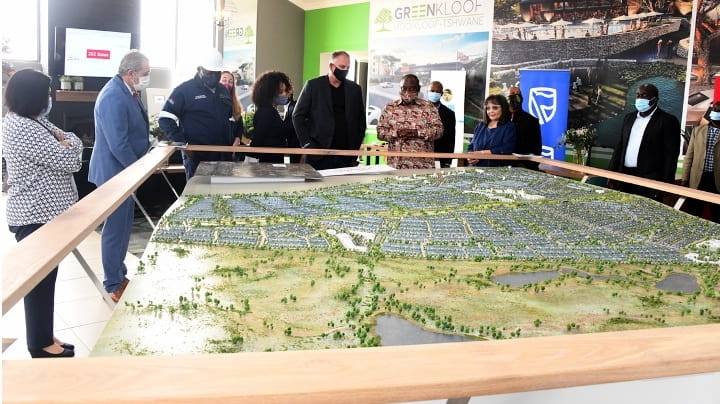 South African president Cyril Ramaphosa has announced the launch of Mooikloof Mega City residential project. The project will be constructed in east of Pretoria.
JSE-listed Balwin Properties will spearhead construction of the project that has been billed as the largest housing project in the country to date. Completion of the project has been set for 2030.
Mooikloof Mega City is located off Garsfontein Drive and is approximately six kilometres from the junction with De Ville Bois Mareuil Drive where Woodlands Boulevard Mall is located and eight kilometres from Solomon Mahlangu Drive which gives access to the N4 and other main arterial routes.
In a media briefing on Sunday, the president said that the development has a total project value of over R84 billion and is one of the 62 Strategic Integrated Projects (SIPs) that were gazetted at the end of July.
"The first phase of the project is residential developments, and some 50,000 sectional title units are planned," he said.
The project will also feature schools, shops and offices.
Steve Brookes from Balwin Properties says that Mooikloof Mega City will be as green as possible making it more affordable.
"Our buildings are fully green-classified, and we are managing to get solar in there, water, black-water harvesting among other green features. We have worked with the top people in the industry to ensure that the project is as sustainable as it can," says Brookes.
Balwin said it plans to build an initial 16,000 apartments at a present value of approximately R9.6 billion in phases over the next few years in what it describes as the one of the world's largest sectional title development.
This may be extended to up to 50,000 apartments with a total development value of approximately R44 billion in today's terms, the group said. Apartment prices will range from R499,000 to R799,000.
But South African Institute of Black Property Practitioners (SAIBPP) now wants black-owned companies are involved in the construction of multibillion-rand infrastructure plans such as the Mooikloof Mega City housing.
Commenting shortly after the launch of the project, SAIBPP president Tholo Makhaola said that black companies need to get into the entire value of supply chain management.
"The government should have spelt out transformation imperatives to Balwin Properties to allow it to partner with black companies in delivering such huge projects," he said.