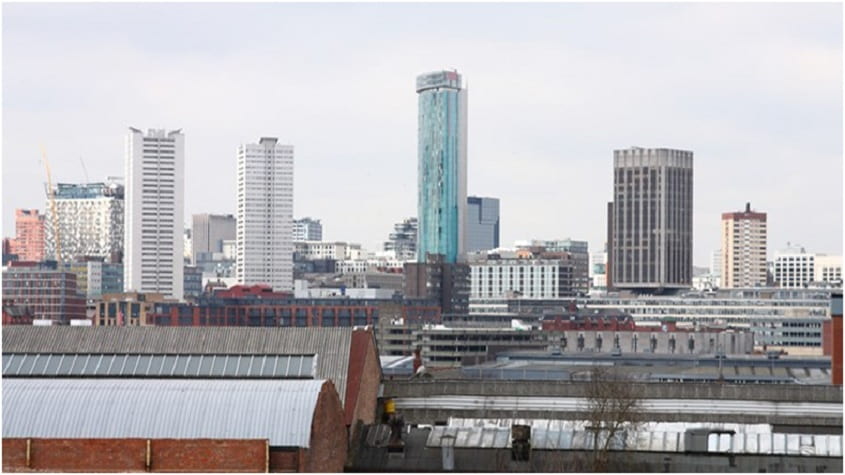 BAM Construct UK has been awarded an £80m contract by Rockspring Property Investment Managers (Rockspring) and Sterling Property Ventures (Sterling) to construct office building in Birmingham, UK.
The new development, 103 Colmore Row, will comprise 223,631ft2 of office space over 20 floors, and 7,665ft2 of restaurant space on the ground and top floors.The building, designed by architects Doone Silver Kerr, will feature a winter garden, 18th floor terrace and multi-purpose lobby business lounges.
At 346ft/105.5m high, with the apex 246m above sea level, it will be the highest new office building under construction outside London.BAM will commence the main substructure works in early June after the completion of the site survey and pre-construction design.
The 26-storey building is expected to be completed in the third quarter of 2020.Joint agents Cushman & Wakefield and Knight Frank will market the office space at 103 Colmore Row. Average floorplates are 12,000ft2 and will be BREEAM excellent rated.Partner and Rockspring fund manager Michael Pryer said: "Birmingham is the UK's most exciting regional
city. The investment in transport infrastructure and its youthful demographics have made it a magnet for occupiers and inward investors.Sterling Property Ventures managing director James Howarth said: "It has been a long haul to get to this day but it is undoubtedly a proud one."103 Colmore Row will be a simply stunning addition to Birmingham's skyline, reflecting the aspirations of the city."Our top floor bar and restaurant mean the doors of this building will be open not just to commercial occupiers.
Anyone wishing to enjoy the fantastic panoramic views of the city and surrounding areas will be welcome inside."BAM Construction Midlands regional director Rod Stiles said: "We've been working with our partners at Sterling and Rockspring already and are keen to start what will be a memorable addition to Birmingham's real estate."