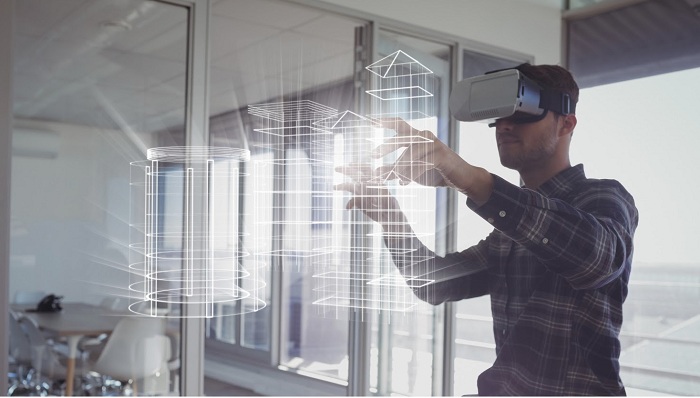 AECOM, a premier, fully integrated global infrastructure firm, announced that it has signed a MOU with HTC Corporation , technology pioneer in innovative, smart mobile and virtual reality (VR) technologies, to jointly develop and extend the reach of VR technology to benefit the architecture, engineering and construction (AEC) industry.
"Virtual reality has the potential to be the biggest paradigm shift in history for architects, engineers and designers, providing incredible efficiencies and cost savings while empowering professionals to design with previously unmatched levels of precision," said Mr. Sean Chiao, AECOM's president, Asia Pacific. "Developing these technologies into practical tools we can use is a powerful demonstration of AECOM's relentless commitment to drive innovation for our industry and our world."
The MOU establishes a cooperative, long-term relationship reflecting AECOM's leadership in delivering transformative infrastructure projects of scale and consequence around the world, and HTC's emphasis on developing next-generation innovations including Vive, a first-of-its-kind virtual reality platform, built and optimized for room-scale VR and true-to-life interactions.
"We are very excited to partner with the world's leading AEC company," said Raymond Pao, Vice President of VR New Technology, HTC. "We have seen enterprises using Vive for employee training, product ID design, review and showcasing in the past 18 months. With the collaboration with AECOM we now can jointly bring the AEC industry to a new era by providing immersive visualization during designs, plan and build/construct stages.
Vive unveiled the VIVE FOCUS , its highly anticipated premium standalone VR headset for the China market at its Vive Developer Conference 2017 (VDC2017) today, which will be the inaugural product under the MOU to go into beta testing in a newly established VR laboratory in Taiwan. The laboratory will be expected to incubate a host of future innovations, such as content demonstrating the full array of possibilities and benefits that VR presents to AEC professionals planning, constructing and maintaining physical structures. This content will be showcased on a special service portal dedicated for the AEC sector and used to promote widespread adoption of VR technologies across professional communities.
About AECOM
AECOM is built to deliver a better world. We design, build, finance and operate infrastructure assets for governments, businesses and organizations in more than 150 countries. As a fully integrated firm, we connect knowledge and experience across our global network of experts to help clients solve their most complex challenges. From high-performance buildings and infrastructure, to resilient communities and environments, to stable and secure nations, our work is transformative, differentiated and vital. A Fortune 500 firm, AECOM had revenue of approximately $18.2 billion during fiscal year 2017.
About HTC
HTC Corporation aims to bring brilliance to life. As a global innovator in smart mobile devices and technology, HTC has produced award-winning products and industry firsts since its inception in 1997, including the critically acclaimed HTC One and Desire lines of smartphones. The pursuit of brilliance is at the heart of everything we do, inspiring best-in-class design and game-changing mobile and virtual reality experiences for consumers around the world.
About HTC VIVE
VIVE is a first-of-its-kind virtual reality platform, built and optimized for room-scale VR and true-to-life interactions. Delivering on the promise of VR with game-changing technology and best-in-class content, Vive has created the strongest ecosystem for VR hardware and software, bringing VR to consumers, developers and enterprises alike. The Vive ecosystem is built around the best VR hardware in market, supported by Vive X, a $100 million accelerator for VR and related technology start-ups, Viveport, a global platform and app store with the world's first VR subscription model that operates in more than 45 countries, and Vive Studios, its VR content development and publishing initiative.