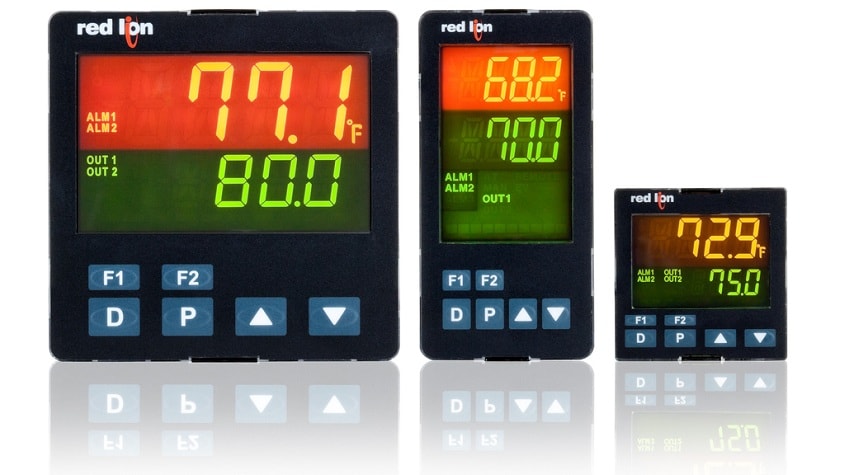 Red Lion Controls, the global experts in communication, monitoring and control for industrial automation and networking, announced additional features for its PXU series of proportional-integral-derivative (PID) controllers, including Ramp/Soak, CT Input, 2nd Analog Input and 2nd Analog Output.
The PXU series is designed to enable tighter, more reliable control over a wide range of processes, including temperature, flow and pressure, from a single model.
Production engineers and machine builders now have the opportunity to select from a wide range of controllers with varying capabilities and in three sizes (1/16, 1/8 and 1/4 DIN models). Integration with Red Lion's Crimson enabled hardware provides a complete indication, data acquisition & control solution for virtually any application.
The additional features allow customers to use one source for their process control needs. For example, for processes requiring different temperatures, the Ramp/Soak capability allows timeline vs. temperature programming for the process that will automatically be run by the PXU. With CT input, high current signals can be transferred to lower ones in order to be safely accepted by a PID controller or panel meter. For remote changing of a PID controller's setpoint value, the 2nd Analog Input allows modification from an external device.
"By offering PID controllers with a range of different features, plus the ability to easily integrate with an HMI, customers have the advantage of purchasing one solution to handle whatever their applications require," said Jeff Thornton, product manager at Red Lion Controls. "Many users have applications that need specific features and functions, and our offerings provide the flexibility to simply tailor a complete solution from one manufacturer."
For more information, please visit www.redlion.net.
To download Crimson 2.1 and begin configuring a PXU device today, please visit www.redlion.net/crimson-21
About Red Lion Controls
As the global experts in communication, monitoring and control for industrial automation and networking, Red Lion has been delivering innovative solutions for over forty years. Our automation, Ethernet and cellular M2M technology enables companies worldwide to gain real-time data visibility that drives productivity. Product brands include Red Lion, N-Tron and Sixnet. With headquarters in York, Pennsylvania, the company has offices across the Americas, Asia-Pacific and Europe. Red Lion is part of Spectris plc, the productivity-enhancing instrumentation and controls company. For more information, please visit www.redlion.net