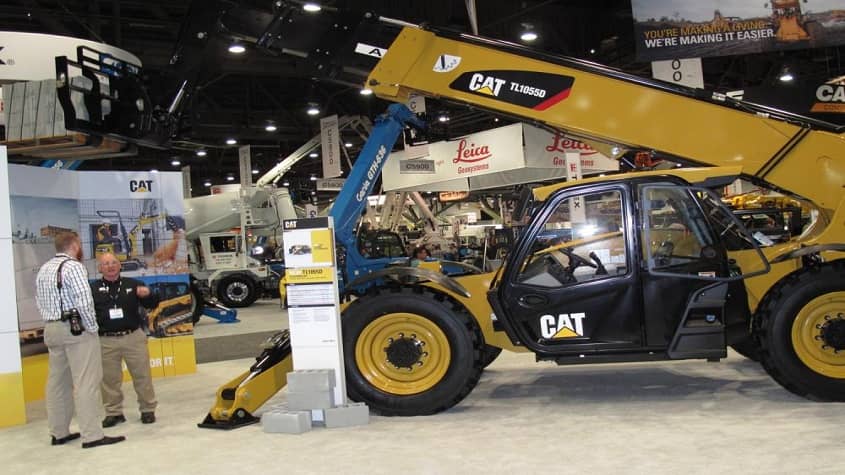 The new Cat® 953K track loader builds on the solid design of its predecessor model with engineering refinements that increase fuel efficiency, provide greater control of implement and steering response, deliver smoother shifts from the 953K's hydrostatic transmission, and enhance the operator's safety and comfort.
The 953K is powered by a 132 kW Cat C7.1 ACERT™ engine that meets EU Stage IV emission standards. An Eco Mode automatically reduces engine speed, but maintains selected ground speed when the machine is under light load. The more efficient engine and the Eco Mode combine to deliver up to 22 percent better fuel economy (material moved per unit of fuel)  compared with  the 953D.  Also, efficient use of Diesel Exhaust Fluid (DEF) – typically 2.5 to 3 percent of fuel consumption provides excellent overall fluid efficiency.
An optional high capacity Performance Series bucket moves up to 10 percent more material per hour.  For added versatility, an optional Fusion™ Quick Coupler (available mid-2017) to allow easy use of work tools such as buckets and forks from wheel loaders and other Fusion compatible machines. Purpose-built Waste and Ship Hold arrangements equip the machine for optimal performance in special applications.
The Caterpillar telematics system, Product Link™ is deeply integrated into the 953K, and provides timely access to information like machine location, hours, fuel usage, idle time and event codes via the online VisionLink® user interface.
Performance enhancements
A new power train management system ensures smoother implement and steering performance, and power is delivered to the ground more efficiently, for fast acceleration and shorter cycle times. Load-sensing hydraulics and position-sensing cylinders add to the machine's precision and response.
Selectable electro-hydraulic mapping allows adjusting implement response to fine, normal, or coarse settings to match operator preferences and to tailor the machine to individual applications. In addition, the wide selection of transmission gear ranges, six forward and six reverse, allow further adjusting the machine to the application.
The updated cab provides operator-comfort refinement, such as a suspension seat, adjustable armrests and controls, and a more efficient air conditioning system.
Engine noise is reduced compared to the 953D, resulting in a quieter environment both for the operator and for bystanders. Safety is enhanced as well, with added handles and steps that assist with safer cab ingress/egress, from either the front or the back of the tracks.
Cat emissions reduction technology is designed to be transparent – with no action required from the operator and no need to stop for regeneration.  The Diesel Exhaust Fluid (DEF) fill point is located at ground level, next to the fuel tank, for convenient access when refueling.
The 953K maintains its reputation for ease of service too, with a tilt cab and convenient service access points. In addition, the demand fan provides efficient cooling, and features a swing-out grill door and fold-down fan to help make cleanout quick and easy.For more information, please contact your Cat dealer or visit www.cat.com.
Caterpillar rolls out products and services in each of its territories at different time intervals. Although every effort is made to ensure that product information is released only after Caterpillar has received confirmation from our dealer network, our plants, and our marketing subsidiaries that products and services are available in the relevant region, editors are kindly requested to verify with their local dealer for product availability and specifications.