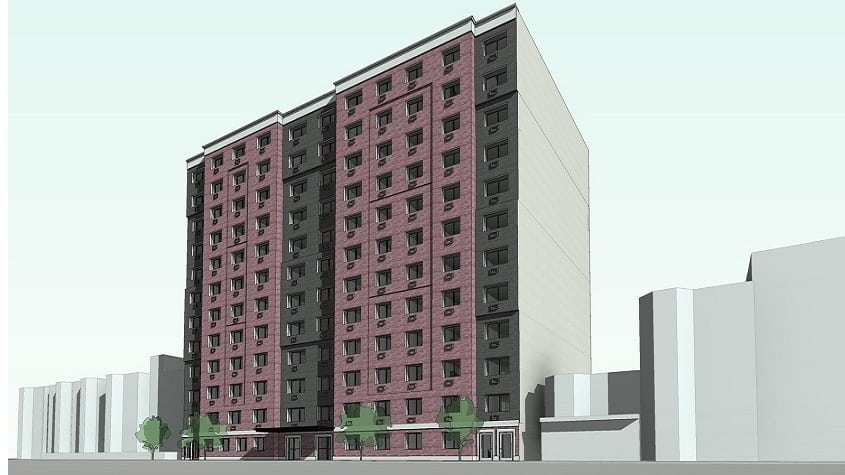 UA Builders Group, a privately held national construction firm headquartered in NYC, announced it was awarded Propco Holdings' ground-up development project located in the West Bronx neighborhood of New York City at 2061-2065 Ryer Avenue.
The 12-story residential building totals approximately 120,000 SF."We're thrilled to take on another exciting development project with Propco Holdings and Badaly & Badaly Architects," said Albert Gjonbalaj, CEO of UA Builders Group.
"We'll leverage our entire line of services for this project, from our design, pre-construction concepting and constructability reviews, to our expertise in scheduling, estimating and subcontractor management."
UA Builders Group Awarded Propco Holdings' Latest Bronx Development Project
UA Builders Group Awarded Propco Holdings' Latest Bronx Development Project
UA Builders Group Awarded Propco Holdings' Latest Bronx Development Project
UA Builders Group Awarded Propco Holdings' Latest Bronx Development Project
Project details:
Address: 2061-2065 Ryer Avenue, Bronx, NY 10457
Lot Area: 120′ x 15,464 SF (combined)
Max Building Height: 115 feet
Zoning: R8
Construction Classification: 1B
We are working extensively with UA Builders Group on other projects, and are supremely confident in their ability to provide us with a start-to-finish approach for this Ryer Avenue project," said Alfred Popaj, Asset Manager at Propco Holdings. "We continue to see significant value in The Bronx, and look forward to a smooth planning and construction process." UA Builders Group was awarded several other ground-up construction developments for Propco Holdings in NYC, totaling a combined 200,000 SF.
UA Builders Group occupies the intersection of design technology and progressive construction.
The firm extensively utilizes Building Information Modeling (BIM), a tool used to create 3D building computer models that accurately display all the building components and systems. BIM technology condenses project schedules and reduces costs by optimizing coordination among all trades, while increasing efficiency and communication.
About UA Builders Group:
Founded in 2004, UA Builders Group is a national Design-Build firm headquartered in NYC. The 200+ person organization offers a complete range of BIM-enabled Integrated Project Delivery (IPD) services that include: site selection analysis, architectural design, MEP engineering, general contracting and on-site, comprehensive construction management. The company also provides long-term green building solutions that focus on sustainably-built construction projects. Visit www.uabuildersgroup.com for more information.
About Propco Holdings:
Propco Holdings is among the leading private sector in the ownership, management and development of residential and commercial real estate across the New York metropolitan area, Chicago and other markets. The firm is a fully integrated, highly diversified industry leader with expertise in every aspect of development, acquisitions, management, finance, marketing and sales. Propco Holdings owns and operates a premier portfolio of high quality developments valued at over $60 million. With offices in NYC, Propco Holdings manages an operating portfolio that includes residential, affordable and workforce apartments, commercial, retail and mixed-use developments.
Media Contact: 
Jonathan Gluskin 
Interdependence PR 
847-308-1314 
163666@email4pr.com