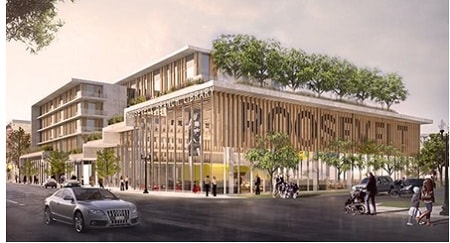 Chicago Housing Authority, and Chicago Public Library announced the winners of a design competition to realize the city's first co-located housing and public library branches.
The initiative forms part of Mayor Rahm Emanuel's vision to bring the two vital civic services under one roof. Skidmore, Owings & Merrill LLP (SOM), working in collaboration with architect-of-record NIA Architects Inc., was selected to design one of the three co-located branches on a site in Little Italy on Chicago's Near West Wide. The project aims to provide a crucial new community space for the neighborhood, while creating new mixed-income housing and library space in Chicago.
Located at the corner of West Taylor and Ada Streets, the development includes a one-story public library branch and two four-story mixed-income residential buildings, with additional retail and community spaces at street level. Designed to activate the street while reflecting the scale and texture of the neighborhood, the buildings are set back and staggered across the site, creating a new public space while preserving the Taylor Street Gardens.
Now in the conceptual design phase, the project will be realized through an iterative process, during which the community, civic officials, and stakeholders will be engaged to provide input and feedback as the design evolves.
Conceptual design for the project was led by SOM Design Partner Brian Lee, lead designer of the award-winning, SOM-designed Chicago Public Library, Chinatown Branch. Drawing on the firm's experience in Chinatown, the new library is a welcoming, open-concept space. "From the Chinatown Library, we learned how visible, accessible public space could add to the vitality of the neighborhood," said Lee. "On the Near West Side, we aim to foster that same spirit of community with welcoming, flexible spaces that can respond to the needs of residents both now and in the future."
Designed to create a synergy between the two distinct programs, the building is envisioned as a new hub for the neighborhood. Positioned prominently at the corner of the site, the Roosevelt Branch Library welcomes the community inside, with soaring open spaces designed for kids, teenagers, and adults located adjacent to centralized work spaces for librarians and staff. Upstairs, a landscaped public rooftop is envisioned as an outdoor reading room for use by the public and residents alike.
Overlooking the library and community garden, residential units feature balconies and floor-to-ceiling windows that will create bright, daylit interiors. Indoor corridors are segmented to create additional communal spaces, which flank a central circulation staircase at the building's core. Minimizing noise from the street, the residential buildings are set back and buffered by the library and rooftop greenspace. At street level, a covered walkway intersects the development, connecting the residential buildings to the library, Taylor Street, and community gardens, creating a new pedestrian thoroughfare for the neighborhood.
About Skidmore, Owings & Merrill LLP
Skidmore, Owings & Merrill LLP (SOM) is one of the leading architecture, interior design, engineering, and urban planning firms in the world. Since its founding more than 80 years ago, SOM has earned a reputation for design excellence with a portfolio that includes some of the most important architectural accomplishments of the 20th and 21st centuries, and has been a leader in the research and development of specialized technologies, new processes and innovative ideas, many of which have had a palpable and lasting impact on the design profession and the physical environment. The firm's longstanding leadership in design and building technology has been honored with nearly 2,000 awards for quality, innovation, and management. The American Institute of Architects has recognized SOM twice with its highest honor, the Architecture Firm Award—in 1962 and again in 1996. The firm maintains offices in New York, Chicago, San Francisco, Los Angeles, Washington, D.C., London, Hong Kong, Shanghai, and Mumbai.
About the Chicago Housing Authority
Under the leadership of Mayor Rahm Emanuel, the Chicago Housing Authority (CHA) helps build vibrant communities across the city. By using housing as a platform, the agency works with a host of key stakeholders to sustain strong neighborhoods to best prepare CHA residents for the global economy on their road toward self-sufficiency. CHA also provides stable, decent, safe, and affordable housing to more than 62,000 low-income families and individuals, while supporting healthy communities in neighborhoods throughout Chicago.
About the Chicago Public Library
Since 1873, Chicago Public Library (CPL) has encouraged lifelong learning by welcoming all people and offering equal access to information, entertainment and knowledge through innovative services and programs, as well as cutting-edge technology. Each year, Chicago Public Library offers 100,000 computer help sessions, free online and in-person homework help citywide, supports 2.9 million computer sessions, and draws almost 10 million visitors per year. CPL now offers many Chicago neighborhoods multimedia collaboration spaces designed for teens, Maker Labs that allow patrons to do 3D design and printing, and a website that allows patrons online access to a plethora of library materials, including eBooks, audiobooks, and periodicals. CPL has seen double digit increases in reach and demand for these high-quality services. Demand for these services continues to grow in Chicago neighborhoods, and investment in current and new library buildings is necessary meet these demands.