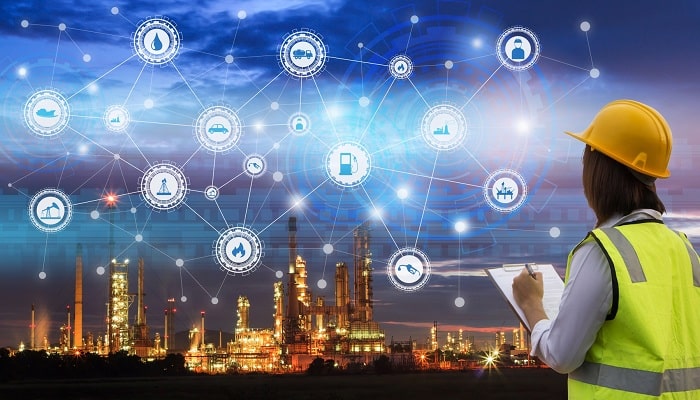 Internet of Things is fast becoming a norm today. Manufacturing or Services sector, its presence can be felt almost everywhere. When we discuss, the construction industry, in particular, it wouldn't be an overstatement to say that IoT's future will know no bounds. Just imagine a superfast broadband service at a construction site right from day one. IoT has in it to transform the way the construction industry has been operating for a long time. And it is not only about communicating with the head office or ordering supplies at the site location; there is much more which can be expected out of IoT in the days to come.
There are immense opportunities which most of the time go unnoticed at the place of construction. IoT is made up of devices which connect to the internet and share data with the departments concerned. Devices not necessarily mean computers or laptops or smartphones but varied objects that come fitted with chips to gather data and transfer it through the internet platform. There is a lot of promise which a device with built-in sensors is offering at construction sites regardless of their magnitude. According to the IoT analytics, there were round about 4.7 billion devices connected to the internet in 2016 and the figure will shoot beyond 21 billion by 2025. This data brings along with it innumerable opportunities which IoT has in the offing such as increased safety, efficiency, and ability to work more smartly.
Due to IoT, construction machinery with a wireless connection can be managed from elsewhere. This means that sites which have dangerous patches where human life can be at risk can be approached through this piece of wireless equipment and hence the task can be accomplished. Workers can also be alerted to situations where equipments are about to drive by.
Another important feature coming with IoT is curbing equipment loss. It happens innumerable times especially at the construction sites that we get to hear of machinery being stolen or lost. In comes IoT with its sensors to track machinery wherever it is. Besides, sensors in the machinery can also help in prolonging its work life. The supervisors and the handlers can easily get to know in advance if the machine requires any maintenance. Timely resolution of issues concerning big & complex as well as small equipments is well taken care of due to the influx of IoT. As far as the technical elements of the materials used at the construction site are concerned, one can get to know how they are performing in different temperatures.
It is all about data these days. How usefully that data can be incorporated to our liking is completely on us. In the construction industry, the data which is gathered via these sets can be of great help for future projects. More accurate predictions can be made with the use of this data right from the finances to the resources required. It is well to be considered that if one needs to lay down a strong foundation of IoT at the construction site, reliable broadband holds the key. With the 5G connectivity advancement, data worries can be kept at bay at construction sites where IoT is prioritized among everything else.
With centralized software, wearable technology giving out loads of data, the supervisors are bound to have a lot more control over the functioning at the site than before. What makes IoT at these complex sites click is a central control system which monitors, records and disseminates tones of data which is not only reliable but also has the capacity to become a yardstick for the future. Increase in the worker's productivity leads to a quick resolution of issues which in turn helps in quick completion of sites.
Construction, by all means, is a very taking industry where time plays a key role and directly impacts the finances. More the time is taken; more it has implications on the bottom line. Besides, with competition growing up in this industry by the day, it may not be long enough before one gets to see the door. The advent of IoT especially in this vertical has started to gain a lot of popularity because of the tangible benefits it offers to the builders. Just imagine the loss the companies incur due to a mishap at complex construction sites. With proper implementation and knowhow of IoT, one can reduce this risk to almost zero. With this technology, one does not have to wait until eternity for supplies to commence the work. Through appropriate systems in place, if you are running low on a product, you can get to order the same beforehand itself. This all seems easy nowadays but come to think of it had humungous negative implications on the industry before.
In developing countries especially in Asia, the smart city concept is doing a lot of rounds these days. Building a smart city is no cakewalk as it requires all the systems and mechanisms to be in place before commencing the construction. The leverage IoT can give to the architects and builders of these cities is beyond imagination as it can help them at each and every stage right from the inception till the culmination point. We may have the thought process, the infrastructure for IoT, but what matters is how efficiently it can be managed.
For that to take place, the site must have a trained workforce which is well equipped to handle IoT in the first place. Unless that happens, everything else will go for a toss. Moreover, there is a financial element which is involved in the implementation of modern technology as equipped as IoT. This financial element might look like a burden initially but in the long run is sure going to fetch returns that have a positive effect on the company's future. So effective use of IoT in construction is the need of the hour and once that's done everything else is bound to fall in line.