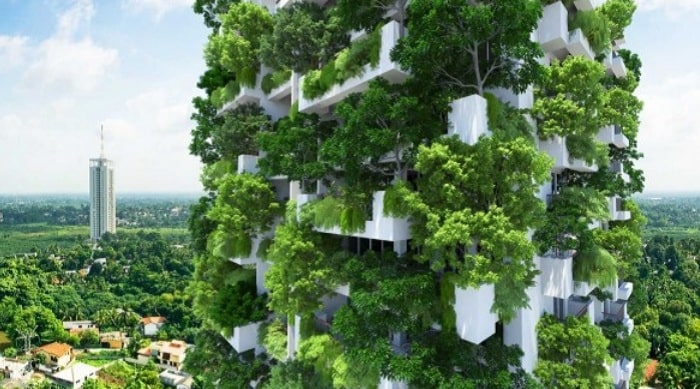 Green Structure or Green Building is an essential tool to mitigate ecological issues in order to create a healthy and eco-friendly life. It is a sustainable structure which aims to optimize the natural resources, minimize the usage of water, use less amount of energy, produce less waste and the list of endless benefits goes on. Any building can be a green building, whether it's an office, a school, a community center, etc. which holds the above attributes. The traditional way of construction requires huge quantities of building materials that generate a considerable amount of waste which makes the environment rusty, whereas green buildings encourage healthier and comfortable living.
Site selection, energy efficiency, water efficiency, environment material, and resources are the key parameters for designing the green building. They not only reduce the bad impact on nature but also save money by lowering the operating costs.
Switching to renewable energy resources like solar energy, managing the available water resources efficiently, waste management and using recyclable material are the important factors for becoming cost-efficient. Solar energy is being accepted widely in residential, industrial and commercial sectors. Recently a small village called Odanthurai in South India was in news for its exemplary work in solar power generation. The people there have become self-dependent on the energy front and are not only meeting their energy requirement but have also started earning significantly by selling the surplus units. Such kind of awareness can turn the things in favor of a better, cleaner and greener environment. Also, managing the available water resources is a vital factor in green infrastructure. Green buildings have a provision for collection of rainwater through the installation of a water harvesting system to recharge the groundwater level.  It also encourages a reduction in consumption of water through managing the water resources efficiently by making the plumbing system smart. Builders use eco- friendly and recyclable construction materials that are non-toxic, sustainable and ethical which in turn leads to a lesser material-waste.
One can create a green zone by developing multiple green buildings in proximity which will result in healthy and comfortable living for the inhabitants. Having multiple green zones will boost ecology immensely. It would ultimately help the entire nation in reducing energy cost and heavy dependency on electricity. Choosing an appropriate geographical location is a prerequisite, hence the selection of site location is an extremely important step or a deciding factor to erect a sustainable structure. Guidance from civil engineers while choosing sites helps us evaluate the location by listing different parameters like soil quality, cost, layout, availability of material, etc.  Selection of an apt location provides scope for preserving open space, minimizing sprawl, safeguarding of endangered species development of brownfields which helps in restoring damaged environments. To be fair to the architects and builders, not all buildings need to be same as countries and regions have varied climatic conditions, wide-ranging economic and social priorities, etc. The tweaking can always take place as per the site judgment but within the green norms. Good site location gives ample scope to design to make the most of natural sunlight in such a way that during the daytime one does not have to depend heavily on electricity consumption. It emphasizes on having on-site power generation to meet the required energy consumption and similarly is designed to have natural air which keeps the temperature in check. The builders are using triple glazed windows which are super-efficient as they stop the heat from entering the building.  It results in a reduction in operating costs on power and saving the money.
The construction of a green building is costlier than the conventional methods as it requires high-performance appliances, light controllable systems, low-emitting materials, etc. which have a higher procurement cost.  A green building utilizes the open space for better air in such a way that the natural heating and ventilation complement the high-performance cooling and ventilation appliances, which would improve the cost efficiency and the overall indoor environmental health. Adopting the greenway would improve our health which in turn will minimize the medical bills.  It will also boost our financial health that leads to achieving a better lifestyle.
We all know about the various benefits of constructing green buildings however there are some challenges which we come across while adopting it. The main hurdle is the initial cost of construction which is very high as compared to the conventional building, but if we see the return on investment in the longer run, we will be surely ready to compromise on the cost. The lack of availability of construction material is a big challenge as the kind of sustainable material which is required for construction is not easily available at the desired location. So, one needs to keep the material availability in mind while selecting the site. The green structure consumes more time to construct than the conventional method of construction, so most of us are not willing to incur that extra money and an additional amount of time for it but having said that we have to see the value it gives our life in the longer run.
Now that we know the benefits of going green, so it's time for us to act and implement the corrective measures and overcome the aforesaid challenges towards establishing a healthier ecosystem. A lot of awareness, education, and training is needed to create skilled workers. More research needs to be done in terms of inventing easily available eco-friendly construction materials, changes in construction techniques, new water, and energy preserving methods, etc. Even from the industry perspective, adopting green norms can help in improving the productivity of workers and enhance the efficiency of machines. We all must understand our responsibility towards the planet and contribute to ensure better environmental conditions in the future. We are worried about our environmental health but are afraid of compromising our comfort. The fact remains that we must raise the bar in order to attain the ultimate goal of protecting our ecosystem.