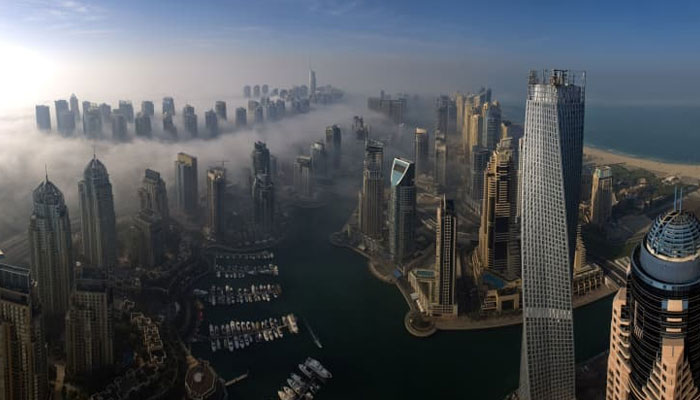 World Construction Today – The workforce at Mira Estate, a real estate company in Dubai, has grounds to cheer. The first half of 2022 saw a 100% year-over-year surge in sales to purchasers from Russia and other former Soviet states, according to the luxury real estate business.
According to a company news release, real estate sales to these nations for the firm, which caters to Russian-speaking clients, doubled year over year to 2 billion dirhams, or $500 million.
In May, Russian real estate agents from another firm popped champagne bottles in a posh nightclub in Dubai to celebrate earning record fees on sales to fellow citizens purchasing their first homes in the oasis of the desert. According to a co-worker, one saleswoman earned 4 million dirhams in commission in just three months.
Additionally, it has been rumoured that billionaire tycoon Roman Abramovich, a former owner of the Chelsea football club and a close friend of Russian President Vladimir Putin, is looking for a home on Dubai's Palm Jumeirah, the renowned artificial island chain shaped like a palm tree. Since the U.S. Justice Department approved its confiscation, the tycoon's $350 million private plane has been stranded in the emirate for around four months.
Following Russia's invasion of Ukraine and the ensuing Western sanctions, an upsurge of buyers from Russia and the Commonwealth of Independent States, a group of nine former Soviet nations spanning Eastern Europe, the Caucasus, and Central Asia, has boosted the real estate market in the United Arab Emirates.
The UAE has continued to conduct business as many nations enforced restrictions and seized assets on affluent Russians and individuals associated with Putin. As a result, many of them lost their multi-million-dollar residences in locations like London and Paris.
According to the Dubai Land Department, the real estate market in Dubai is currently at its hottest point in recent memory, with sales in the area rising by 51% in May and by 45% annually in April. The UAE, whose 90% expat population, social standing as a tax haven, and public image for financial secrecy make it highly attractive to many of the world's high-net-worth individuals, has benefited especially well from the decision to remain impartial as much of the rich and powerful world shut its doors to Russians following Putin's brutal invasion of its neighbour in late February.
In a ranking published in April by Dubai brokerage Betterhomes, it was discovered that Russian buyers of real estate in Dubai rose two spots to take fifth place during the first quarter. In addition, a survey from the London-based citizenship-by-investment company Henley & Partners, which anticipated that 4,000 new billionaires would move to the UAE this year, forecasted that the UAE would be the No. 1 destination in the world for the ultra-wealthy.
Those who work in the industry claim that there is also a distinct pattern in the kinds of properties that Russian purchasers prefer. According to the managing partner at Dubai-based Prime Capital real estate, Tahir Majithia, primarily luxury houses, especially anything along the sea. He mentioned prestigious locations like the Palm Jumeirah, plush Emaar Beachfront and La Mer villas near the city's coast. Although the majority are for investments, buyers are looking for a variety of homes to retain and rent both as investments and for personal use, according to Majithia. Block deals, in which a buyer buys a floor or multiple floors, are quite popular. According to him, the average price for a floor in a luxury apartment complex is between $7 million and $10 million, though the price obviously varies depending on the location and size. According to Majithia, among the top 10 nations investing in Dubai real estate were always Russians. He said that what they also discovered was that some of these buyers were also selling their properties in other countries and shifting that cash to Dubai, noting that there had been an increase since February.
He claimed that since several of Dubai's leading real estate companies have begun taking payments in digital currency, many Russian purchasers also make their purchases in cryptocurrency.
According to a statement from the UAE's Executive Office for Anti-Money Laundering and Countering the Financing of Terrorism, several government ministries have outlined specific regulatory standards to which the industry must conform in order to combat money laundering and terrorist financing as well as ensure that applicable local and international embargo protocols are executed.
Russian concerns and issues are probably being addressed by many people, but any crisis would ultimately be beneficial for Dubai, said Emirati real estate mogul Hussain Sajwani.These sanctions caused a lot of people to get anxious, and they will do business with anyone who moves money via the financial system lawfully and competently.