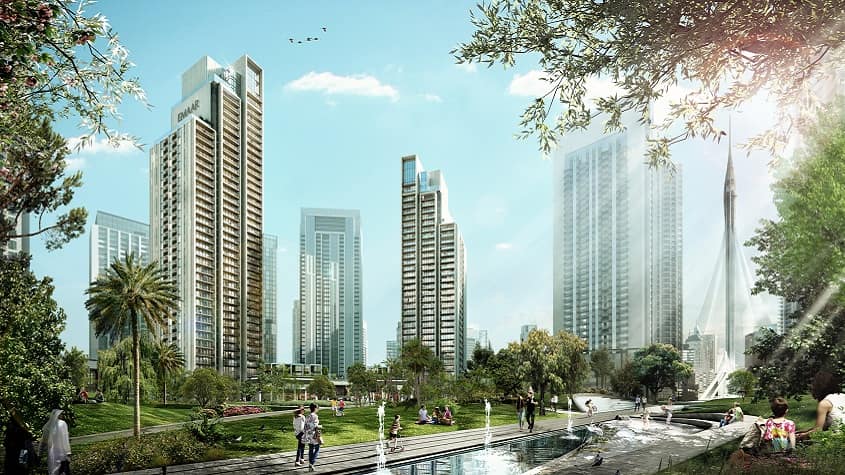 The Harbour Gate residential development by Emaar on Creek Island Dubai in Dubai Creek Harbour, the one-of-its-kind modern master-planned destination located along the historic Dubai Creek in the heart of the city, is making substantial progress on site foundation works.
Located on the eastern side of Creek Island Dubai and accented with waterfront and park views, the project will be a high-rise development consisting of two towers with a connecting podium along with retail and townhouse opportunities.
Emaar appointed leading architecture and engineering consultancy SSH to carry out full design and construction supervision services on Harbour Gate.
With heights of ground + mezzanine + 37-storeys for Tower 1, and ground + Mezzanine + 29 for Tower 2, Harbour Gate has significant opportunities to maximise on its surrounding views. The project will overlook the nearby marina and a central park, as well as benefit from a clear panorama of Dubai Creek Tower, the upcoming icon.
The property is integrated within the Dubai Creek Harbour district and is positioned to become a much sought-after development on completion. Dubai Creek Harbour is a new project by Emaar in a joint venture with Dubai Holding that is focused on building urban island residences onto the contours of the creek.
Acting as a gateway to Creek Island Dubai, the Harbour Gate property will provide an Island lifestyle with an urban twist for its residents, who will be housed in one- two- or three-bedroom units. Private pools, a gym, a children's area, private parking and a landscaped leisure deck are among the amenities available, in addition to robust retail, and food and beverage components.
SSH is one of the leading master planning, infrastructure, building design and construction supervision firms in the Middle East, with a reputation for design integrity and a portfolio that includes landmark projects throughout the region. The firm maintains offices in Abu Dhabi, Algeria, Bahrain, Dubai, Iraq, Kuwait, London, Oman, Qatar, Saudi Arabia and South Africa.
Founded in 1961, we employ approximately 1,400 high-calibre local, regional and international experts in their individual fields, most of whom are from globally renowned international consultancy firms. We ranked 3rd architecture company in the Middle East among the top 100 Architects in the world and number 1 design firm in the cultural sector in the world by World Architecture Magazine in 2015 and 2016.
We were also ranked in 91st place among ENR's Top 225 International Design Firms for 2018.
SSH's multifaceted practices include architecture, urban design and planning, landscape architecture, structural and civil engineering, MEP/building services, interior design, highway and bridge engineering, stormwater drainage, utility design, sanitary engineering, marine engineering and district cooling, in addition to high-profile project management and construction supervision services