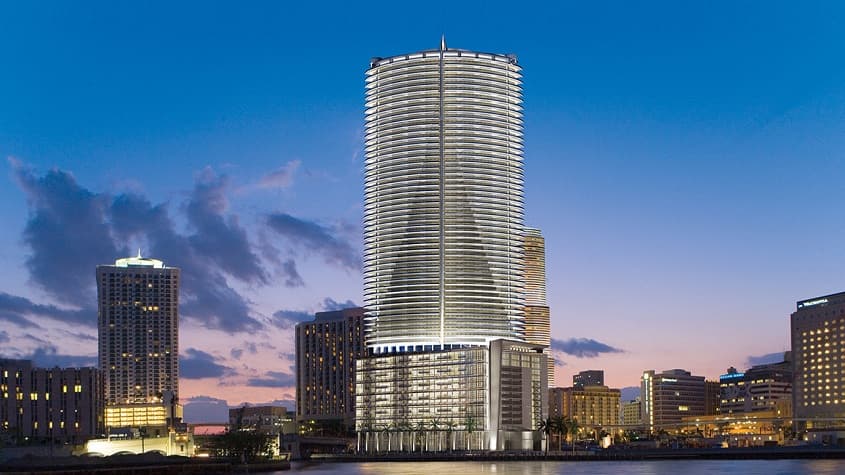 CMC Commercial Realty Group has completed Modena, a luxury apartment building in Dallas that represents an exciting step in the developer's diversification of its portfolio into multi-family housing.
 "Historically we've done commercial work," said Steve Huff, Senior Vice President of CMC / Commercial Realty Group. "We felt like we needed another arrow in our quiver and began looking at other ways to ply our resources. Multi-Family Housing had an immediate appeal to it, and we set out to give ourselves a master's degree in multi-family development. Now we are not only capable of developing our traditional commercial properties, but we build multi-family as well."
Modena Apartments in Dallas Texas by General Contractor Bob Moore ConstructionFollowing Following the completion of their first multi-family property in Austin, CMC was presented with an opportunity to create a new luxury apartment building – in Dallas.
"One of our broker friends had a relationship with Bank of Texas who were interested in downsizing their Walnut Hill location by building a smaller, more efficient bank and adding an apartment project to the same site," Mr. Huff explained. "It was close to a DART station and Presbyterian Hospital, and we knew that more retail was coming to the area. It was a strong location, growing with commercial and medical business."In 2017 CMC opened the doors on Modena apartments.
Modena Apartments in Dallas Texas by General Contractor Bob Moore ConstructionThe podium-styled building features 230 units over five floors.The interior celebrates a stylish contemporary design, with porcelain ceramic tile, luxury vinyl plank and carpet flooring, multi-color accent walls and modern artwork, mosaic tiles and dramatic lighting fixtures.Tenant amenities include indoor parking, swimming pool, social lounge and more.
"Modena offers a dramatic new home for people in north Dallas," said Michael Michalski, Director of Multi-Family Housing for Bob Moore Construction. "CMC gave this building the kind of luxury finishing and tenant amenities that Dallas professionals will love. Modena is a showpiece in the Bob Moore Construction portfolio."
Mr. Huff is pleased with the new property as well. "We were able to get the features we needed for a Class A resort-style building," he said. "Michael Michalski and Superintendent Pat Robinson did a great job. The project was finished on schedule, which is unusual in the apartment business. Now it's leasing well, right on track, and we owe a lot of that to Bob Moore Construction getting the building finished on time."
Modena Apartments in Dallas Texas by General Contractor Bob Moore ConstructionModena is the latest in a long history of buildings Bob Moore Construction has completed for CMC.
"It's remarkable for two businesses to sustain such a successful partnership for three decades," said Ed McGuire, President of Bob Moore Construction. "Our relationship with CMC is based on a shared focus on quality and professionalism in every project we do together. We've enjoyed our many opportunities to work with Subash Gaitonde, Salil Gaitonde and Steve Huff at CMC and we're always impressed with their expertise in commercial, and now multi-family, development."
"We have built more than 30 separate projects with Bob Moore Construction and there is not one project that we're not extremely pleased with," said Mr. Huff. "Whether it's an apartment, office or warehouse, we've done it all. We're friends, and we know Bob Moore is a company we can trust. That has been the foundation of our relationship and key to us working together for 30 years."
About Bob Moore Construction
Now Celebrating 70 years of construction excellence in Texas and around the United States!
A recipient of the QUOIN / AGC General Contractor of the Year Award, the TEXO / AGC Summit Award for Construction Excellence and the Texas Building Branch-AGC Outstanding Construction Award, Bob Moore Construction has been one of the most respected commercial construction companies in Texas since 1946. An industry leader in tilt-up construction, the company was the first general contractor in the United States to be formally certified as a TCA Certified Company by the Tilt-up Concrete Association (TCA). Bob Moore Construction was also one of the first general contractors in North Texas to be accepted into the OSHA Local Partnership program in recognition of its superior safety program. The company's portfolio includes a wide range of commercial buildings, from warehouses and distribution centers to office buildings and retail stores. Whether it is providing general contractor, design / build or construction management services, Bob Moore Construction's goal remains the same: to deliver quality construction projects on time and in budget. Bob Moore Construction is a member of TEXO / Associated General Contractors of America, American Concrete Institute and a sustaining member of the TCA. 
Contact:
Bob Moore Construction, Inc.
Jeff Schaefer Marketing Communications Manager
1110 North Watson Road
Arlington, Texas 76011
Phone: (817) 640-1200
Fax: (817) 640-1250