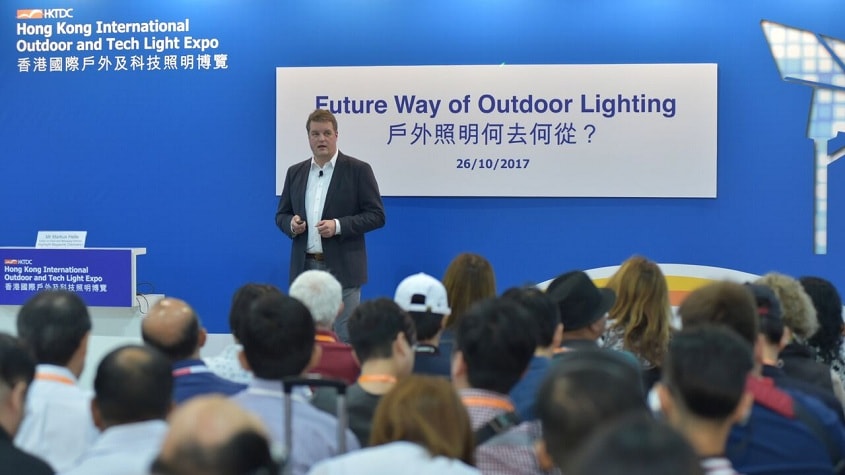 Smart Home and Horticultural Lighting Under Spotlight
The Hong Kong Trade Development Council (HKTDC) will stage the 3rd Hong Kong International Outdoor & Tech Light Expo from 26 to 29 October 2018 at the AsiaWorld-Expo and the 20th Hong Kong International Lighting Fair (Autumn Edition) from 27 to 30 October 2018 at the Hong Kong Convention and Exhibition Centre.
The twin fairs anticipate a total of close to 3,100 exhibitors from around the world, forming the world's largest lighting marketplace for traders to tap into global markets. In 2017, the fairs attracted close to 69,000 buyers from 151 countries and regions.
Lighting Fair Spotlights Smart Home Devices
The famed Hall of Aurora at the Lighting Fair (Autumn Edition) returns to bring top-notch branded lighting collections under one roof, leading brands include BJB, LEDUS, MEGAMAN and VIRIBRIGHT. The popular LED & Green Lighting zone will display a wide array of energy-efficient lighting for commercial uses, whereas the Residential Lighting zone will gather functional and decorative domestic lighting products.
In recent years, the industry has been developing smart lighting systems powered by the Internet of Things, connecting multiple lighting devices in a single platform. A commissioned survey conducted in April during the Hong Kong International Lighting Fair (Spring Edition) this year shows 72% of interviewed buyers and exhibitors were optimistic about the market potential of smart lighting, and smart lighting systems for home automation were expected to be the most promising (27%) among other smart lighting applications in the next two years.
In response to acute industry demand, the Smart Home Gallery will make its debut at the Lighting Fair (Autumn Edition) to display smart home lighting products from such renowned brands as Yeelight/Xiaomi, Philips, Opple, Tmall Genie AI Union and Tuya. The Smart Lighting & Solutions zone is also home to the latest smart lighting designs, software, management systems and control panels.
Horticultural Lighting Zone Debuts at Outdoor & Tech Light Expo
The Outdoor & Tech Light Expo showcases lighting products by various applications to facilitate sourcing for buyers. A new Horticultural Lighting zone will be established this year, showcasing grow lights for plants in farms, domestic landscaping and public parks.
The Exterior Lighting Solutions & Systems zone will highlight high-performance and energy-efficient lighting systems and technologies. The Outdoor & Public Lighting and Outdoor Advertising Lighting zones will be home to lighting solutions for outdoor public spaces and promotional uses respectively. The Technical & Professional Lighting zone will cover lighting equipment for warehouses and studios.
Multi-faceted Programme for Professional Exchange
During both fairs, diverse fair events such as networking receptions and buyer forums will be held for industry players to expand their professional networks and learn first-hand about market developments. Seminars on smart street lights, testing and certification services as well as horticultural lighting will also be held to reveal the industry's latest trends.
About HKTDC
Established in 1966, the Hong Kong Trade Development Council (HKTDC) is a statutory body dedicated to creating opportunities for Hong Kong's businesses. With more than 50 offices globally, including 13 on the Chinese mainland, the HKTDC promotes Hong Kong as a platform for doing business with China, Asia and the world. With 50 years of experience, the HKTDC organises international exhibitions, conferences and business missions to provide companies, particularly SMEs, with business opportunities on the mainland and in international markets, while providing business insights and information via trade publications, research reports and digital channels including the media room. For more information, please visit: www.hktdc.com/aboutus.