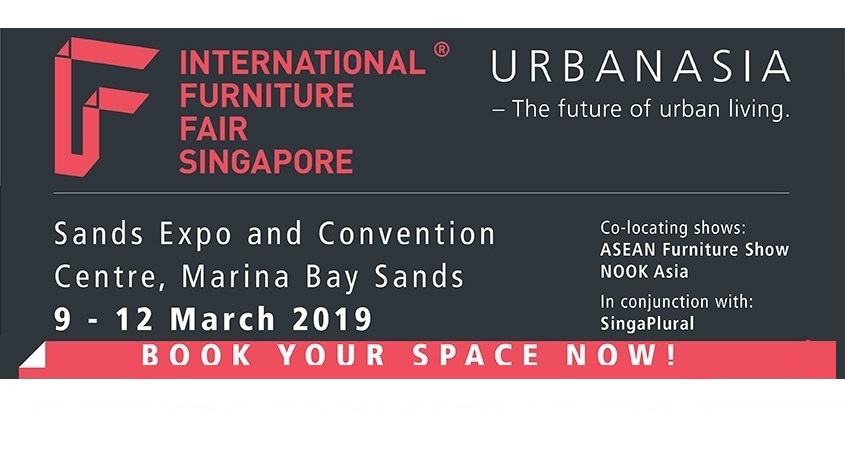 The International Furniture Fair Singapore [IFFS] presents  a new theme for IFFS 2019, UrbanAsia – the Future of Urban Living. Co-located with the 36th ASEAN Furniture Show and NOOK Asia, IFFS 2019 will be making its debut at the Sands Expo and Convention Centre, Marina Bay Sands [MBS]. from 9 to 12 March 2019.
Future lifestyle solutions that will cater to modern tastes and evolving aspirations will be congregating at the IFFS 2019. As a regional hub strategically located in the heart of Asia, IFFS is the perfect platform to experience the latest and best solutions from across the  world.
Urban Living Showcases
Southeast Asia's urban areas are home to one-third of its total population today,  but generate over two-thirds of the region's GDP. Fuelling economic growth at an  unprecedented rate, urban dwellers are now increasingly well-travelled, design-savvy, digitally inclined and house-proud. Mention 'urban living•, and well-connected living spaces with minimalist yet sophisticated furniture, sleek, multi-functional appliances  and  smart home technology come to mind.
Mr Ernie Koh, Chairman of IFFS Pte Ltd, shared, "Today's consumers are looking for more than just a statement piece. Growing affluence, increasing disposable income and prevalence of travel, have whet their appetite for sophisticated and well-rounded living solutions that reflect their lifestyle choices. Singapore stands at the intersection of criss­ crossing global trade between China and North America. Given the global context, it is more important than ever to enable the aspirations of Asian designs."
With our international cosmopolitan urban landscape, and stature as a UNESCO Creative City of Design, Singapore has become the standard-bearer of urban living. To illustrate emerging urban living trends, and drawing inspiration from the rich heritage, culture and diversity of neighbouring densely populated ASEAN countries, IFFS 2019 will unveil three signature showcases from the Philippines, Thailand, and Singapore. Partnering renowned interior designers, and design-inspired and innovation-driven brands, each signature showcase will be elegantly designed and luxuriously furnished.
 
These showcases will offer compelling visitor-centric experiences and appeal to both the aesthetic senses and individualised needs of urbanites. Visitors can further expect these showcases to address different desired lifestyles and aspirations, from  speculative scenarios to tangible solutions, with each signature showcase reflecting the unique flavour  of an ASEAN country.
New Venue, New Experience
To cement its industry-leading position as Southeast Asia's premier sourcing platform, IFFS 2019 will be making its debut at Sands Expo and Convention Centre. Occupying two levels and spread across six well-curated halls, visitors can expect a comprehensive portfolio of almost 400 quality international exhibitors from over 30 countries.
An award-winning event venue, Sands Expo and Convention Centre is strategically located at the heart of Singapore's Central Business District, and is Asia's leading destination for business, leisure and entertainment.
Visitors also can expect a host of luxurious benefits, including special discounts at MBS­ owned restaurants and exclusive room rates at MBS.
Online registration for trade visitors and buyers will open on Friday, 28 September 2018. For more information, please visit www.lFFS.com.sq and www.NOO KAsia.com.sq
About International Furniture Fair Singapore, NOOK Asia, and ASEAN Furniture Show
The International Furniture Fair Singapore, held in conjunction with the ASEAN Furniture Show [IFFS/AFS] and NOOK Asia, is regarded by industry experts as Asia's premier sourcing platform and design-led exhibition. With almost four decades of experience since its inaugural event in 1981, IFFS/AFS remains the most distinctive channel for regional and international companies to penetrate the global market.
Together, the events – IFFS/AFS and NOOK Asia – will feature a comprehensive range of furniture, furnishing, decorative accessories, interiors and fittings by a diverse portfolio of quality exhibitors, and attract a healthy and well-represented attendance of  trade  buyers and visitors from the entire furniture ecosystem and value chain.
To make it a holistic trade event, the various design initiatives – SingaPlural, Design STARS, International Design Showcase, and Design Seminars – offer added depth and dimension to this Singapore-anchored trade event, raising its profile as a show not-to-be-missed in the industry calendar.
IFFS/AFS is supported by the ASEAN Furniture Industries Council [AFIC]. DesignSingapore Council, Enterprise Singapore, and the Singapore Exhibition and Convention Bureau.
 
For more information, please visit:  www.lFFS.com.sg