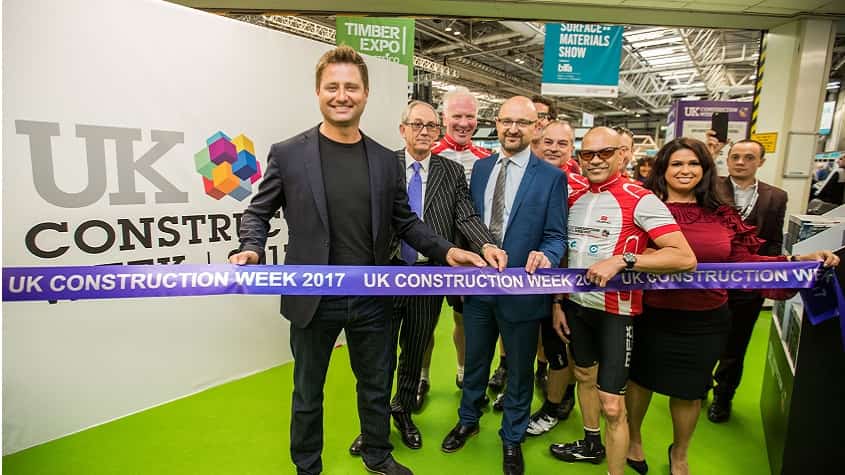 UK Construction Week opened its doors this morning to thousands of visitors who are all here to see the largest free construction trade show in action. Nine separate events, over 650 exhibitors, hundreds of product launches, and hours of seminars from the biggest names in the industry will take place over the next few days.
The opening ceremony was hosted by architect and broadcaster, George Clarke, who was also on hand to welcome a group of cyclists who made the trip from London to Birmingham to raise more than £5,000 for Construction Youth Trust, a charity helping young people build better futures by giving them access to training, education and employment opportunities in the construction industry.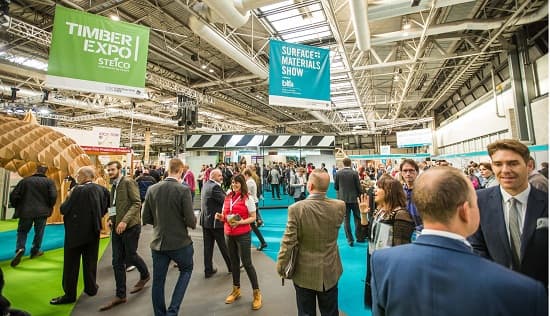 Boasting more UK-first new product launches than any other show, visitors to UK Construction Week can expect to see over 10,000 innovative product launches, while networking and participating in learning events. Here are some of the reasons to attend, and what to expect over the next few days.
1. Post-Grenfell: The latest advice. Over 100 free CPD workshops will cover everything from safety legislation and product safety guidance to fire prevention strategies.
2. A stellar speaker line-up. UKCW 2017 boasts an impressive line-up of speakers, including George Clarke, Mark Farmer, Tom Dyckhoff and Steph McGovern.
3. Emerging trendsetters. Head to The Material Lab Hub to discover the rising stars and cutting-edge brands shaping the world of surfaces.
4. Offsite. UKCW will contain hundreds of offsite innovations, with more exhibitors in this field than any other event.
5. If you are looking to further your career or for a job change, UK Construction Week is a must attend event. Find out about career opportunities and roles with leading UK construction firms at the event where the whole industry gathers. Meet recruiters, recruitment agencies, gain invaluable career advice and take up free CPD accredited education
6. UKCW recognises the brilliant work the industry is doing and wants to reward it. This year will see a number of new, specialist awards. These include: Low Carbon Vehicles Awards, BIM Awards, and WAN Awards.
7. And finally, it's not all just work. Why not take the chance to show off at the Dodgeball tournament, relax at the Beer and Ale festival or place your cards at the Casino night alongside key industry professionals.
Among the exhibitors are some of the industry's best-regarded specialists, including Easy-Trim, Rockwool, Velux, BAXI, Kit Miles, Steico, CAT, Cemex, Gripple, Screwfix, Npower, plus HS2, HP, and a long list of international names, such as Bisen Smart Access Co, Hauff-Technik, Kessel, Randek and the Jiangxi Songtao Bamboo Industry Company. There will also be international pavilions from Turkey, China, Belarus and Poland.
Consisting of Build Show, sponsored by EasyTrim, Timber Expo, sponsored by Steico, Civils Expo, sponsored by Finning CAT, Plant & Machinery Live, sponsored by AutoTrader Plant, Energy 2017, sponsored by G2 Energy, Smart Buildings 2017, sponsored by KNX, Surface & Materials Show, sponsored by BLFA, HVAC 2017, sponsored by Flakt Group, and Grand Designs Live, UK Construction Week caters for the entire spectrum of the industry from builders, architects, innovators and consultants, each show provides exhibitors with the opportunity to network alongside decision makers and purchasers while showcasing their services and products to thousands of visitors.
For additional information on the full programme of events, please visit www.ukconstructionweek.com
Notes to Editors:
For more information or additional quotes, please contact Lisa Northcott / Kim Taylor from Holistic. Tel: 07885 980 154 / 07718 158 800 Email: lisa@holisticgroup.co.uk / kim@holisicgroup.co.uk

UK Construction Week (UKCW) is the UK's largest construction trade show. Free to attend it consists of nine shows:
• The Build Show runs from 10-12 October and is dedicated to the building and contracting areas of the construction industry – www.buildshow.co.uk/register
• Timber Expo runs from 10-12 October and is the only event on the UK construction calendar dedicated exclusively to timber – www.timber-expo.co.uk/register
• The Surface and Materials Show (featuring Kitchens & Bathrooms Live www.kitchensandbathroomslive.co.uk/register) runs from 10-12 October and will showcase the latest surface and material solutions for specifiers, developers and industry professionals looking for cutting edge innovations within the materials sector – www.surfaceandmaterialsshow.co.uk/register
• Civils Expo runs from 10-12 October and is the UK's leading event dedicated to civil engineering and construction, bringing together leading suppliers of the latest technologies, systems and products in the civil sector – www.civilexpo.co.uk/register
• Smart Building 2017 runs from 10-12 October and is the UK's leading event dedicated to integrated building technology – www.smartbuildingslive.co.uk/register
• Energy 2017 runs from 10-12 October and is the industry trade event dedicated to renewables, innovation and power solutions – www.energyliveshow.co.uk/register
• HVAC 2017 runs from 10-12 October and is the UK's dedicated exhibition for the heating, ventilation and air conditioning industries – www.hvaclive.co.uk/register
• Plant & Machinery Live runs from 10-12 October and will showcase the latest earthmoving, lifting, handling & demolition products – www.plantandmachinerylive.co.uk/register
• Grand Designs Live runs from 11-15 October. Presented by design guru Kevin McCloud it is based on the hugely popular Channel 4 series. Grand Designs Live will be free to attend for trade on 11-12 October via UK Construction Week – www.granddesignslive.com/register