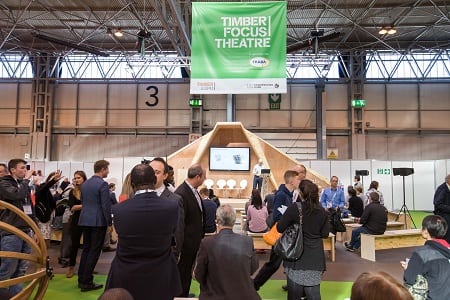 Timber Expo, the UK's only event dedicated exclusively to Timber, announces its return to Birmingham NEC from 10 – 12 October 2017.
Covering a wide range of timber applications, from timber frame through to plywood, CLT and timber cladding, the show will explore the latest developments across the industry as well as new products and innovations from around Europe, for all in the built environment.
Exhibitors from across Europe will be at the show including fastenings and fixings provider, Schmid Scrauben Hainfield; manufacturer, Intumescent Systems, a leader in fire containment technology; Czech distributor of plywood and packing, Orlimex; Latvian sawmill, Vudlande Sawmill, which will showcase the newest form of sawmilling technology at the show, and Gaujas Koks Ltd, which has 25 years of CLT manufacturing and will operate two major sawmills with a total output of 300,000m3 of finished products. This top quality product is not one to be missed.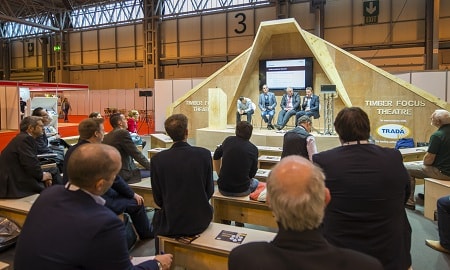 This year, collaboration with TRADA, the leading authority dedicated to informing best practice design, specification and use of wood and timber in the built environment, will see the Timber Focus Theatre introduce speakers who will explore how the industry is pushing the boundaries on the use of wood, wood for good health, technical timber an how designers are working directly with fabricators.
Students from the Emergent Technologies and Design Programme at the Architectural Association are also developing an innovative timber installation, co-ordinated by TRADA and sponsored by Hanson Plywood. The design derives from extensive research on plywood composite material systems, focused on the integration of doubly curved plywood forms and tensile cables. The design is a development from an initial understanding of 'tensegrity' (or floating compression) systems and departs from a pure tensegrity through a three-dimensional structure, where doubly-curved plywood members coexist in equilibrium.
There has never been a more important time to learn about building materials and regulations, which is why the show has introduced a series of free CPDs bringing together leading authorities to deliver advice and guidance on key issues including:
Up to date advise on fire prevention in all types of buildings
Changes to Legislation on Safety
Advice and guidance on construction product safety
Your responsibilities in the construction process and protecting you and your employees
Nathan Garnett, Event Director at Media 10, which runs the show, said: "In addition to showcasing the latest products and innovations across the timber sector, the Timber Expo will deliver the latest information on safety and quality in buildings for all in the built environment, from architects, contractors, local housing authorities, and developers. This is crucial in the current climate and only by coming together, through shared knowledge and learning, will we be able to tackle the issues surrounding building safety head on."
Consisting of Build Show, Civils Expo, Plant & Machinery Live, Energy 2017, Smart Buildings 2017, Surface & Materials Show (featuring Kitchens & Bathrooms Live), HVAC 2017 and Grand Designs Live, UK Construction Week caters for the entire spectrum of the industry from builders, architects, innovators and consultants, each show provides exhibitors with the opportunity to network alongside decision makers and purchasers while showcasing their services and products to thousands of visitors.
For more information and free registration visit www.ukconstructionweek.com.
For more information or additional quotes,
please contact Lisa Northcott / Kim Taylor from Holistic.
Tel: 07885 980 154 / 07718 158 800
Email: lisa@holisticgroup.co.uk / kim@holisicgroup.co.uk
Timber Expo runs from 10-12 October and is the only event on the UK construction calendar dedicated exclusively to timber – www.timber-expo.co.uk/register