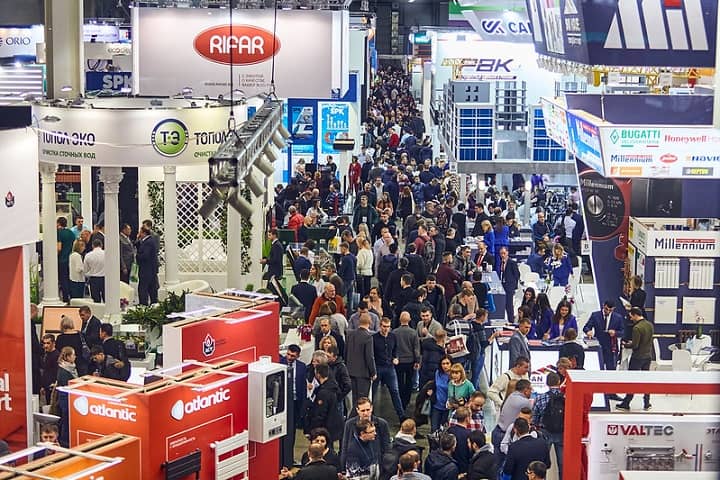 On February 11-14, 2020, the 24th international exhibition of domestic and industrial equipment for heating, water supply, engineering and plumbing systems, ventilation, air conditioning, swimming pools, saunas and spas -Aquatherm Moscow 2020 ran successfully in Moscow. The exhibition confirmed its status as the most popular and a large-scale industry event and an efficient B2B platform for meetings and interaction between developers, manufacturers, suppliers of advanced technologies and effective solutions.
Aquatherm Moscow2020  results:
28 902 professionals from 80 regions of Russia and 55 countries
782 exhibitors from 27 countries, including Brazil for the first time
233 new exhibitors
37 000+ sqm -total exhibition area
17 events of the business program which brought together over 90 top speakers and 1
471 participants?
The premiere of the season –Aquatherm Moscow Awards
The exhibition was attended by representatives of companies specializing in wholesale (31%) and retail (15%) trade, installation of engineering systems(23%), manufacture of equipment (10%),building and construction, engineering systems design, property management and other related areas. According to the visitor survey data, more than 90% of professional visitors influence purchase decisions in the company.
The share of new visitors at the exhibition increased and accounted for36%, the number of visitors from Europe, Asia and the CIS increased, as well, which confirms the high importance of the exhibition in the international arena.
A lot of Industry leaders exhibited this year, including: ABN Pipe Systems, Afriso-Euro-Index, Agaflex, AIC Europe, Al Aziz Plastics Pvt, AquaFlex, Atlantic Neman, Atlas Filtri, Ayvaz, Bänninger Kunststoff-Produkte, BAXI, Berke, BINDER, Blizzard Lufttechnik , Blue Ocean, BWT, Codital, Comisa, Comparato Nello, Craft, Daesung, De Dietrich, ELBI, Elios, Emec, Evan, Fd Plast, Ferroli, Flowcon International, Forte, Fränkische Rus, Frisquet, Genebre, General Fittings, Giacomini, Gibax, Grandis, Grando, Gurai, GWT Gesellschaft Für Wasser + Verfahrenstechnik, Hansa Energietechnik, Herz Armaturen, Hubert Marketing, Heisscraft, Hummel, Imaginox, Ivanci, IVR, Jeelex, K-Flex, Kan, Kiturami, Konordosh, Krats , Meibes, Mitsubishi Electric, Normais, Novaplast, Nowatech, Nupi Industrie Italiane, Omzit, Otmo, Oventrop, Pahlen, Pedrollo, Pentair, Plastik Pvk, Pooltronic, Reflex, Rehau, Riello, Rifar, Ritmo, Rollo Solar Melichar, Rols Isomarket Rothenberger, Seal Tech, Sfa, SpinTools, Tece, TESY, Thermex, Topol Eco, Unical, Unigb, Unipump, Valtec, Vatti, Wavin, Viessmann, Watts, Weishaupt, Wika Mera, Wilo Rus, Zilmet, Zota, Alterplast, Breeze Climate Systems , Ventar, Vodeko, Dvin, Markopul, Navien Rus, RTP, Rusklimat, Siemens,Teplov I Sukhov, Terem, Hogart, Ego Engineering and many others. Exhibitors2020
Local and international suppliers and manufacturers presented their equipment in the following product groups:?
Heating;
Water supply,
sanitation and sewage;
Pipes, fittings, valves;
Control and measuring equipment, automation systems;
Pools, saunas and spas;?Air conditioning and ventilation;
Tools for installation of engineering systems;
Design and installation services for heating, water supply and climate control systems
This year, over 30 companies presented their achievements in the specialised section of equipment for pools, saunas and spas "World of Water & Spa",including both regular participants and companies that exhibited in Aquatherm Moscow for the first time: dinotec, EMEC, Grando, Grunbeck, KENAZ, Litoshop, ONLY, OSPA, PAHLEN, Rollo Solar Melichar, SPECK Pumpen, Aquapolis, Marco Pool, Fire Stone and others.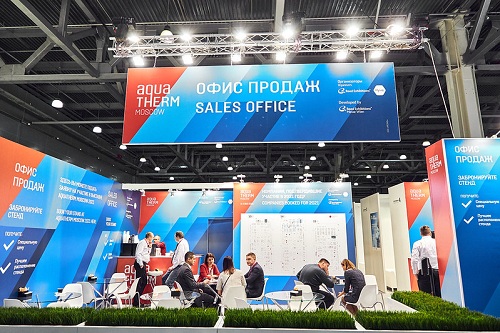 The exposition included national pavilions with state support of Germany, India, Italy, China, Japan and the Czech Republic.
Exhibitors' novelties presented at the exhibition
Traditionally, Aquatherm Moscow shows a wide range of innovative equipment and efficient solutions for your business in the field of heating, water supply, engineering and plumbing systems, ventilation, air conditioning and pools
This year, NAVIEN presented at the exhibition its Smart Wi-Fi remote control for monitoring any boiler –NAVIEN-NR-40D. A smart remote control will help you significantly save on heating by reducing gas consumption. You can set the required room temperature in the weekly programming mode using your smartphone or tablet or turn on the boiler remotely when you need it. The smart NR-40D remote control is capable of transmitting service messages, reports on changes in boiler operation parameters and errors online to the owner. Additional functions of the remote control allow not only to spend resources on heating economically, but also to monitor the safety of the facility and instantly notify of emergency situations. You can download the application forthe smart remote control for both the Android platform and iOS.
UNIPUMP also demonstrated2 great new products. The first novelty is submersible pumps from theirown factory in Russia! This is an incredible event for the domestic pump market, because the full manufacturing cycle of engines for domestic submersible pumps is extremely rare for the Russian manufacture. The first ready-made models were shown at the stand, and UNIPUMP plans to start mass manufacturing of submersible pumps in Russia from the middle of 2020. The second important novelty isa new engineering solution -TURBIPRESS M, a control unit for domestic pumps of Russian manufacture with various protections and convenient settings.
REHAU presented many novelties, including the NEA smart 2.0 automatic temperature control system with integration into the cloud services, the RE.SOURCE smart water purification system and the RE.GUARD smart water control and leak protection system. The NEA SMART 2.0system monitors house owners' preferences in heating mode and automatically adapts to them.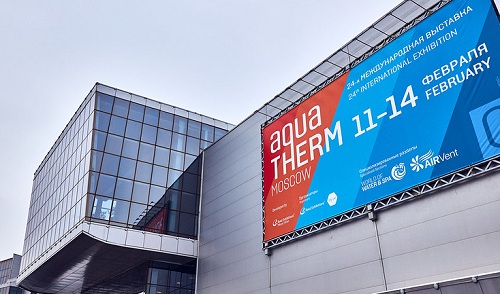 The system can be controlled both from home and using a mobile application from anywhere in the world. This wireless technology allows service technicians to diagnose equipment remotely, significantly reducing the number of visits to the facility. The smart RE.SOURCE water purification system gives an opportunity to get from one mixer not only tap water, but also filtered, chilled, sparkling and hot water. RE.GUARD consists of a water control unit, water leakage sensors, a network gateway and a remote control application. System components have high corrosion resistance and durability, comply with the strict European hygienic requirements for water supply standards.
Valvosanitaria Bugattiis a brand that has been synonymous with high quality for over 70 years. Therefore, this time again, itwas in the spotlight, presenting a unique ball valve that surprised everyone! BDR Thermea Group showed the world's first hydrogen boiler.
Pure hydrogen is used as fuel for a highly efficient condensing boiler, warmsthe central heating system of a residential building. The hydrogen boiler was developed at the BDR Therme a Group Research and Development Center in Italy (BAXI S.p.A.)
Aquatherm Moscow 2020 business program
On February 11, the business program of the exhibition was opened by the conference "Hot water: rationing, preparation, transfer, regulation and accounting"on topical issues of water treatment, sanitation and water supply. It was organised by the non-profit partnership "Engineers in Heating,Ventilation, Air Conditioning, Heat Supply and Building Thermal Physics" (NP ABOK). Participants reported on the design of modern systems, on automated metering of energy resources and smart data transfer technologies for interaction with utilities, on the latest trends in the heat-insulating segment. A.N. Kolubkov, S.S. Korneev, A.M. Bondarev, E.R. Khaziahmetova and others were speakers at the conference.
The event was followed by the next ABOK conference "Bioenergy"on the specific features of generating thermal and electric energy from biofuel, circuit solutions for energy generators using various types of fuel, energy and resource-saving technologies for industrial and agricultural enterprises.
The seminar "Warm without heating"on trends and current issues in the segment of heating systems,a panel session "State standard is just around the corner" on changes in requirements for the manufacture  of heating equipment and on the prospects for harmonization of standards and the conference "Advanced equipment and the best engineering projects for buildings and structures"also ran within the business program on February 11
The key international events of the exhibition were holdon February 12:
-3rd AirVent International Ventilation Congress
supported byFederation of European Heating, Ventilation and Air Conditioning Associations (REHVA), Europe's Industry Association for Indoor Climate, Process Cooling, and Food Cold Chain Technologies (EUROVENT), Federation of German Heating Industry (BDH), Industry Association of German manufacturers of equipment for air conditioning and ventilation (Gebaude-Klima eV), China Heating, Ventilation and Air conditioning Association (CCHVAC), Moscow Architectural Institute (State Academy).The most relevant topics such as creative and intelligent solutions for systematic improvement of the living environment,global trends in the development of HVAC, strategies and methods for measuring parameters of such vital systems as ventilation of facilities; general and customized digitalization were discussed with in the congress Congress Program
International Symposium of the BDH Association "Efficient heating systems. The latest developments and prospects"with the most important issues of the heating marketraised by the association of German manufacturers of heating equipment. The focus was on energy-efficient systems and renewable heat sources;-Conference "PoolMarket Today";-Seminar "Promotion of engineering systems in social networks";-Panel session "The Russian market of radiators and convectors. How to avoid a crisis of overproduction?
An important strategic announcement was made on February 12. Elena Zelen in a and Olga Egorova (Reed Exhibitions and Hyve Group, Aquatherm Moscow companies-organisers) announced plans for the development of the Aquatherm Moscow exhibition for2021: a new section "ventilation and air conditioning" will appear, the exposition will include one more hall (Hall 12), new opportunities will be added for the collaboration of exhibitors and business program speakers. In 2021, the AirVent International Ventilation Congress will be heldfor the fourth time and it will run within February 2 -5, 2021 in a specially built-up conference zone in Hall 12, in the center of the exposition.
On February 13, the discussion of high technologies and achievements was continued by:-The 2nd Conference "BIM-and BEM-modeling in the design of engineering systems of buildings and structures",attended by technical specialists and contractors in the field of engineering arrangement of buildings and structures;-The conference "Heating without gas", highlighted the features of the design, installation and operation of heating appliances and energy efficiency, environmental friendliness and safety;-Panel session "Mandatory Certification. Problems and prospects of assessment of heating appliances conformity", collected important expert opinions;-Panel session "And who are the judges?Notification of conformity assessment departments",presented interactive assessments of procedures performed by accreditedde partments.
The ceremony of awarding winners of the international industry award "Aquatherm Moscow Awards"run for the first time of the Aquatherm Moscow history. Aquatherm Moscow Awards is an authoritative global assessment of the quality of products, services and projects that have a reasonable quality argument
The organizers express their gratitude to the expert council of the international industry award "Aquatherm Moscow Awards", which included technical directors and company leaders, chairmen of the board and executive directors of specialised associations, heads of departments in educational centers and other recognizable market professionals.
Expert council Aquatherm Moscow 2020 ended with a breath taking professional skill festival organised by APRO "Thermo Stand-Up"and a conference of the Guild of Gas Equipment Engineers on the trends in the formation of a market of the operation, repair and maintenance of gas-powered equipment in Russia.Business program2020.
Exhibitors' testimonials"The number of visitors is exciting. A huge number of installation companies and designers visit our stand. We are very glad to cooperate, and despite the fact that we are in Moscow, a lot of clients come from other regions"Roman Kurchanov, Technical Director, REFLEX"The first day was very active. The impression of the exhibition is absolutely positive. A large number of visitors who come up,ask questions, and today is the second day, which is probably the busie stone.
A huge number of customers visited ourst and during the day. We are very glad that we are exhibitingthis year. From the point of view of the future development, Aquatherm Moscow is a truly important event in the life of any company that works in the field of heating, water supply and water disposal"Konstantin Shinkoruk, Business Development Manager in Buildings and Facilities Sector, WILO"We really like the exhibition, we exhibitin it every year.
I urge all suppliers to participate in it because if we refuse it, then there will be now where to meet"Sergey Grechishchev, Managing Director of AQUAPOLIS"The emotions from the exhibition are the most pleasant. It was impossible to squeeze at our standat some time. We have a huge number of partners, friends who come here from year to year. For us, the exhibition, first of all, is akind of holiday" Elena Mikhaseva, Head of Marketing, BDR-Thermea RUS "
This is our first experience at Aquatherm Moscow. It was interesting for us, we were able to present our equipment here and show that we can compete with traditional heating systems"Sergey Novikov, Product Manager for equipment under the Climaveneta and RSC brands represented by MITSUBISHI ELECTRIC"I did not expect to see so many visitors. This is arealB2B exhibition. We register about 200 contacts per day, for us this is a very good result"Andrey Beloedov, Sales and Marketing Executive Director, REHAU in Russia and Eastern Europe"
The exhibition is very active this year. A lot of visitors, many partners come every day. Very lively exhibition, indeed"Ilya Frolov, Commercial Director, CRAFT"
We are new-comer to the Russian market, so it was very important for us to participate in the exhibition last year, make a stand and say: "Look, we've arrived! TESY has come to the Russian market!" It would be strange for us to make such a statement last time, and not to appear this year. I would say that last year it was more to showcase, and this year the focus is to establish business contacts"Emmanuel Totev, Chief Commercial Officer, TESY"
We are very pleased with the exhibition this year. We did not regret that we are here today. The third day of the exhibition is coming to an end, but the flow of visitors is growing every minute. A lot of interesting contacts, so we are 100% satisfied that we are participating in the exhibition"Vasily Korobuta, Head of Development, VIESSMANN Russia
Official support
The organisers are grateful for the support of the exhibition to global and state industry associations:
Association of manufacturers of heating radiators(APRO)
Federal Ministry for Economic Affairs and Energy (BMWi), Germany;?Association of the
German Trade Fair Industry (AUMA), Germany;
Federation of European Heating, Ventilation, Air Conditioning Associations (REHVA);
Federal Association for Swimming Pool and Wellness (bsw), Germany;?Association of Steel and Metal Processing Industry (WSM), Germany;
Spanish Association of Manufacturers of Bathroom, Sanitation and Ventilation Equipment (Amec Ascon), Spain;?Federation of German Heating Industry (BDH), Germany;
Federation of Indian Export Organisations (FIEO), India;?Engineering Export Promotion Council of India (EEPC India);
Czech Water Alliance (CWA), the Czech Republic;
Czech Trade Promotion Agency (CzechTrade), the Czech Republic;?Fachverband Gebaude-Klima (FGK) Germany;?China National Hardware Association (CNHA), China;?ShunDe Gas Appliances Chamber of Commerce (SGACC), China