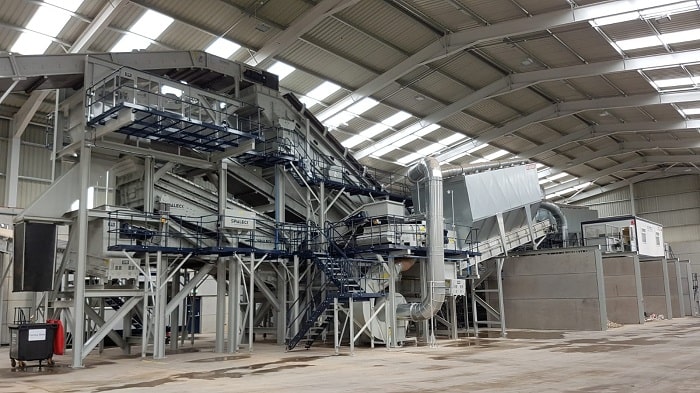 As Remondis celebrates the first anniversary of Official Opening Day for its UK Kiverco recycling solution, MD Steve Patterson said he had no idea how much the company would come to rely upon the plant in its first 12 months as a result of the COVID-19 crisis.
"Our Kiverco plant, which has just passed its first anniversary, has kept us going through this entire lockdown. The plant has been the backbone of us getting through this critical time and we have relied upon it to allow us provide an essential ongoing service to our key customers," said  Mr Patterson.
He explained that the reliance on the Newcastle-based construction and demolition plant for the company in the UK had been down not only to the recycling solutions' highly automated design but also its strength of build and unfailing reliability.
"One of the key factors that we focused on primarily using the Kiverco plant during lockdown is because of its highly automated design. There was not one big picking station and, given that few pickers are required anyway, it could be easily adapted for social distancing."
He added: "I had not expected anything so unprecedented to have happened in this our first year and the plant has had to work hard but it has performed. We are certainly running large loads through this system – it has really been put to the test. It has kept us going and kept us going in a way that ensures we can keep up our levels of service."
As he looks back on the inaugural year of the new plant, Mr Patterson reflected: "It has been amazing to us that we have had to have so little contact with Kiverco. We have not really had to contact them about anything which is quite unusual with a new plant so that has been a new experience for me. Usually there are more teething issues."
When Remondis acquired Newcastle-based waste management company JBT, the facility had limited capacity, relied on manual labour and was inefficient.
The brief was to double processing capacity while drastically improving quality and quantity of recovered materials using minimum manual labour to lower operating costs and make quality levels sustainable.
Kiverco delivered a highly automated plant where quality of manual work is less labour intensive, safer and conducted in a healthier atmosphere.
Today Remondis is able to process double previous quantities and achieve over 95 per cent purities  – with only six pickers.
This has allowed Remondis expand its customer base and deliver high quality services to local authorities. Residual waste fraction has reduced by more than 10 per cent and recycled outputs are sent to higher grade end-uses.
The Kiverco recycling solution has integrated a variety of sorting systems including screens, magnets, density separators and near infrared sorting technology and has been built to process a minimum of at least 45 tonnes per hour.
Paul Carolan, General manager at Kiverco, said: "We were delighted to be selected to design and deliver this flagship recycling solution for waste management leader Remondis and that it has performed so well for the company during this challenging time for our industry and people all around the world.
"I think the Kiverco / Remondis inaugural year and Steve's comments demonstrate that at Kiverco we say what we mean and do what we say – we design it right, built it right and will always do the right thing."
About Remondis
Remondis is one of the world's largest recycling, service and water companies. With over 30,000 employees and around 800 business locations on 4 continents, the group serves more than 30 million people and many thousands of companies. The highest levels of quality. Working for the future.
About Kiverco
Combining more than a quarter of a century of engineering know-how with the world's best-in-class technology brands, Kiverco designs, manufactures and delivers dynamic and enduring recycling solutions for any waste stream anywhere. Kiverco static and modular recycling plants are utilised across the world from the Middle East to North America and across Europe to Australasia — with more than 300 installations in the UK alone.