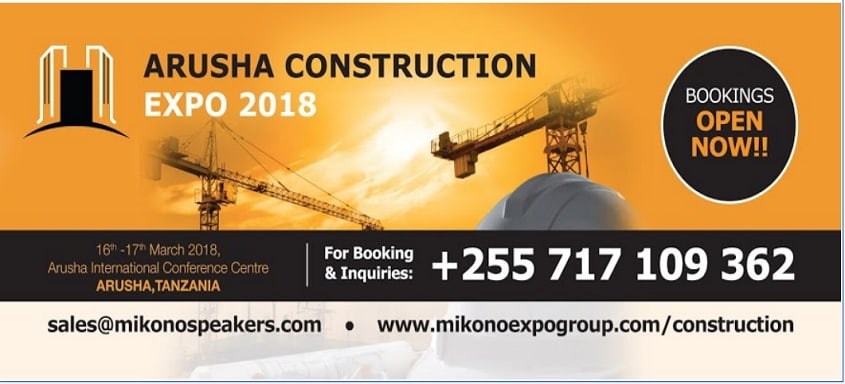 Dar Construction Expo is the region's largest construction, engineering and design conference and exhibition.
In 2017 it attracted over 3,200 visitors, more than 100+ businesses exhibited and many major house builders and contractors attended. For this year 2018, the expo and conference will take place in three major Regions in Tanzania, starting with Arusha in March, then Dar es Salaam in August while the grand finale for EAC will be in Dodoma, the capital city of Tanzania.
Organized by the Mikono speakers and Mikono Expo Group, Construction Expo has been bringing together suppliers, manufacturers, and industry professionals in the construction industry for close to one decade now. On March 16th-17th 2018, it will hold its Arusha edition where visitors can expect to see the latest building materials and construction equipment from 14 countries. As one of the biggest trade event in the country, East and central Africa, Arusha construction will occupy The Arusha International Convention Center and Naura Spring Hotel plus a massive outdoor display of equipment as well.
"We will start with Arusha construction expo this year and the event will be a great venue for stakeholders from both the government and the private sector to see how these products and technologies from our country and other countries can be used to further improve and strengthen the country's various structures and infrastructures through our conference, workshop, exhibition and free seminars''.Deogratius Kilawe, Group C.E.O Mikono Expo Group Africa
Co-located with other expos and conferences/summits which are; The Women in Construction Executive Breakfast Meeting 2018, Arusha Construction and Building Leaders & CEO Summit 2018, East Africa Infrastructure Summit, Fire and Safety Expo,BIM & Online Construction Expo, Tanzania Oil, Gas and Mining Expo, Furniture and Decor Expo 2018-Arusha,East Africa Power and Electricity Expo 2018,Arusha International Property Show 2018,Wire and Cable Expo 2018,Water Tanzania 2018,Kitchen and Bath Show 2018 this major event will see over 200 exhibitors showcasing their products and services. Workshops will focus on social media for the construction industry and BIM as well as two sessions hosted by the events partners. 
90% of Exhibitors in 2017 had positive feedback for the Dar Construction expo 2017 "Construction Expo in Tanzania has been great; it is a focused market space that we came to join and we have found it to be very lucrative," said Paskal Vidal, Country Directo for Ufudu
87 % of Business Directors agree it is easier to communicate face to face than on the phone or email – the assn of event organizers 
The event comprises of a really large meet the buyer event (900 appointments with 50 leading contractors), a comprehensive programme of themed workshops and displays of the latest product innovations.  Construction Expo will provide the industry with a highly focused gateway to learn, network and capitalize on major construction opportunities.
What you can look forward to …
Find out how to take advantage of $billions of projects
Major developments and regeneration projects update from around Tanzania and EAC at large
The latest on digital construction and BIM
How can we develop talent for the construction sector?
FREE Meet the Buyer with over 900 FREE appointments
Esther William from Geared Consulting shared the same sentiments. "Dar Construction is a great place to meet up and coming contractors, whether it is from the sub-contractors, suppliers to the main contractors, we have met everybody in this sphere."
Mikono Expo Group is the Africa's leading events organizer and publisher focused on B2B events with over 75 trade and consumer exhibitions and conferences annually around Africa. Mikono has offices in East Africa, West Africa, South Africa and will open offices in North Africa during the first quarter of 2018, so as to pave way for its growth strategy to Europe ,Asia and America  offices and Market.
Mikono Expo Group Events is where all the influencers from the world and Africa come for meetings, events and incentive travel for two to three electric days of business, innovation and networking.
Here you'll annually find more than 6500 global exhibitors and delegates from different fields like Construction & Real Estate, Life Sciences, Health & Nutrition, Agriculture and Hospitality, Education, technology providers, financial sector, Mining, Oil and Gas, Pop Culture, Courier services, and many more.
Mikono Events attracts more than 150,000 visitors annually for B2B meetings, stand visiting and do business with.
Those interested to visit can pre-register online at  www.mikonoexpogroup.com or www.eventbrite.com and search Arusha construction expo.
Contact                                                        
Tel. +255717109362
Email: sales@mikonospeakers.com