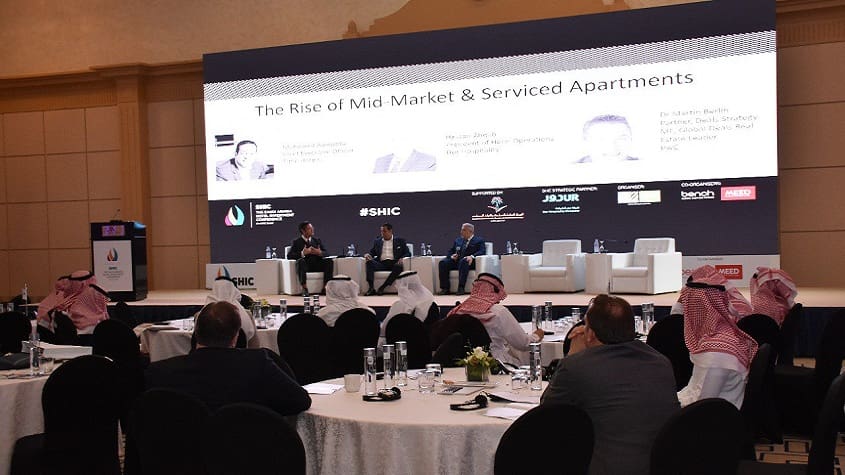 SSH exhibited at the Arabian Hotel Investment Conference Saudi Arabia (AHIC KSA), held this week at the Riyadh Marriott Hotel, and is proud to announce its extended presence within the kingdom with new offices in the Saudi Arabian capital.
With the aim of becoming the leading architectural and engineering consultancy across the MENA region, SSH has been committed to the Saudi market since it initially opened a satellite office in late 2016. A year on, and SSH has become a trusted partner to a growing number of clients within the kingdom and has just expanded into bigger offices.
SSH has extensive experience within the hospitality sector, with its team of experts demonstrating the company's master planning, building design, infrastructure and construction supervision credentials to hotel operators and developers attending the event from across the kingdom and beyond.
"We are very excited to have exhibited at AHIC KSA for the first time," said Danny Warde, Regional Director – KSA at SSH. "Saudi Arabia is a vibrant, growing market where SSH has already made many new collaborations and partnerships with prestigious companies in the kingdom. With our recent expansion into this market, we presented our expertise in delivering hospitality projects and aim to forge new ties with hotel developers and operators."
SSH is one of the leading master planning, infrastructure, building design and construction supervision firms in the Middle East, with a reputation for design integrity and a portfolio that includes landmark projects throughout the region. The firm maintains offices in Abu Dhabi, Algeria, Bahrain, Dubai, Iraq, Kuwait, London, Oman, Qatar, Saudi Arabia and South Africa.
Founded in 1961, we employ approximately 1,400 high-calibre local, regional and international experts in their individual fields, most of whom are from globally renowned international consultancy firms. We ranked 3rd architecture company in the Middle East among the top 100 Architects in the world and number 1 design firm in the cultural sector in the world by World Architecture Magazine in 2015 and 2016.
We were also ranked in 95th place among ENR's Top 225 International Design Firms for 2017.
SSH's multifaceted practices include architecture, urban design and planning, landscape architecture, structural and civil engineering, MEP/building services, interior design, highway and bridge engineering, stormwater drainage, utility design, sanitary engineering, marine engineering and district cooling, in addition to high-profile project management and construction supervision services.