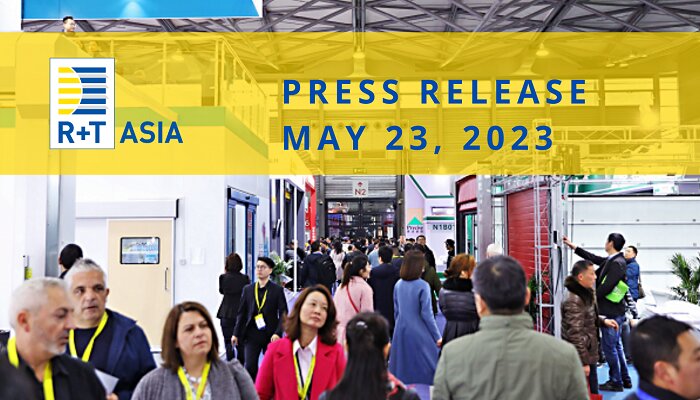 R+T Asia, the annual major trade show returns on 26-28 July 2023 to the National Exhibition and Convention Center in Shanghai to inspire, offer networking opportunities for industry professionals and to strengthen its positioning as the must-attend checkpoint for businesses and the largest industry's international gathering in the Asia-Pacific region for sun shadingand door/gate industries.
China back in business, R+T Asia is international again
China is strengthening its trade ties with the world at a rapid pace after abandoning Covid-19 and travel restrictions in March, resuming regular visa issuance and establishing international flight connections. These are the perfect conditions to make R+T Asia 2023 once again the most important international event. The show will finally host a large number of professionals from all over the world, as access to China is now as easy as in the past. All international attendees planning their trip to Shanghai can get first-hand information directly from the organizer by visiting the event's official website.
Longed-for reunion and accelerated preparations
"For over 1000 days the Chinese borders have been closed to the rest of the world. But now it is time to forget all badexperience, sweep out the ashes of the old times and take a step in a new era with a positive energy. Let's have the newbeginning, a time to start with new hopes, desires, expectations and resolutions. Here, at R+T Asia we are waiting for yourparticipation to present our new developments for the shading systems. Welcome back to China. Welcome back toShanghai" said Ping Wang, sales manager at Zhejiang Xidamen New Material.
The increasingly favourable trading environment since the opening of China, is also reflected in the development of the show, which continues to receive numerous participation requests from national and international companies. More than 500 exhibitors are expected at the 18th edition of R+T Asia. To name a few, brands such as Xidamen, Bofu, YFA, DAAI,Yameite, Xianfeng, Chembo Blinds, Yuehai Taike, MYT Shutters, SCVE Morors, Ronco, Bestex, Deper, Powever, Anlin,Dongwon Industry, Xera Blinds, Ateja, Kirayteks, Wistar, NOVO, Huasheng, HanDe, Elitex, Teh Yor, Winlux, Daedonghave already confirmed their participation in the show and are thrilled to welcoming all visitors. 10 export-orientated German companies will participate in the official German Pavilion, which will once again be part of R+T Asia 2023.
Le lict of exhibitors 2023 can be found here.
Hosted Buyer Programme 2023 will host important global buyers
The programme for international buyers returns in 2023 and will host several buyer delegations from the sun shading anddoor/gate sector. The selected buyers will be supported prior to the show in finding suitable exhibitors that meet their outsourcing requirements. They will also receive free accommodation, shuttle service from the hotel to the fairground, free access to all onsite events and seminars, access to VIP lounge and much more. It is now possible to apply for the programme and, according to the show organizer, there are already numerous enquiries.
#WelcomeBack2Shanghai campaign
To ensure a smooth return to China, the organizer has launched the "Welcome back to Shanghai" campaign, which includes a range of hospitality services such as assistance with Chinese visa applications, discounts for hotels and restaurants, entertainment and much more. Visitors can also combine their business trip to R+T Asia 2023 with a summer holiday to some of Southeast Asia's most attractive destinations and benefit from preferential packages that the organizer has put together with various travel agencies.
More information available here.