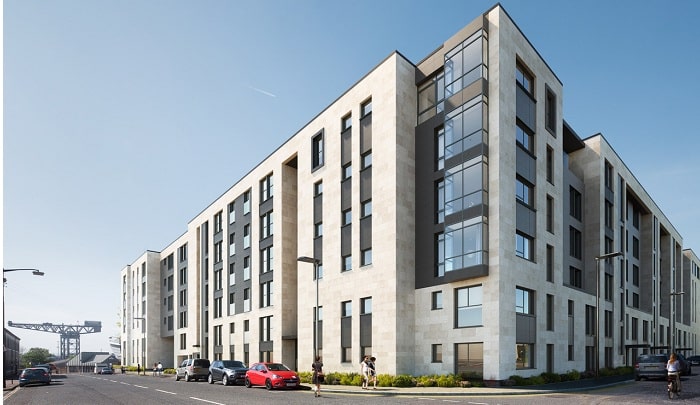 Ogilvie Construction has started site operations to build over 100 apartments in Glasgow's West End for Drum Property Group.
When complete, G3 Square in Minerva Street, Glasgow, will feature 108 apartments and penthouses within a landscaped outdoor space. The development will rise to six stories, with car parking and lift access to all levels.
The architecture echoes the height and feel of nearby traditional sandstone buildings and crescents, while planting will frame around both sides of the south block and flow through the centre, creating leafy spaces for recreation and a place for residents to relax in the heart of the city. Due for completion in 2020, apartments will range in size from one, two and three bedrooms and start at £159,000.
Donald MacDonald, Managing Director, Ogilvie Construction, said:
"It is great to see building work now started on site and we look forward to completing a unique development that will enhance residential living in Glasgow's West End. G3 Square will be constructed to the highest quality standards using modern, sustainable materials. Our site team will ensure minimum disruption in the immediate area during construction, engaging with the community throughout.
Fife Hyland, Communications Director at Drum Property Group said:
"G3 Square represents the perfect combination of stylish properties in a highly sought-after location. We have been greatly encouraged with the level of enquiries and reservations to date and with construction now under way expect that demand to continue to increase over the coming months."
Ogilvie Construction is part of the Ogilvie Group, one of Scotland's most consistently successful family owned businesses. The company is over 65 years old and employs more than 550 people across its various business operations.