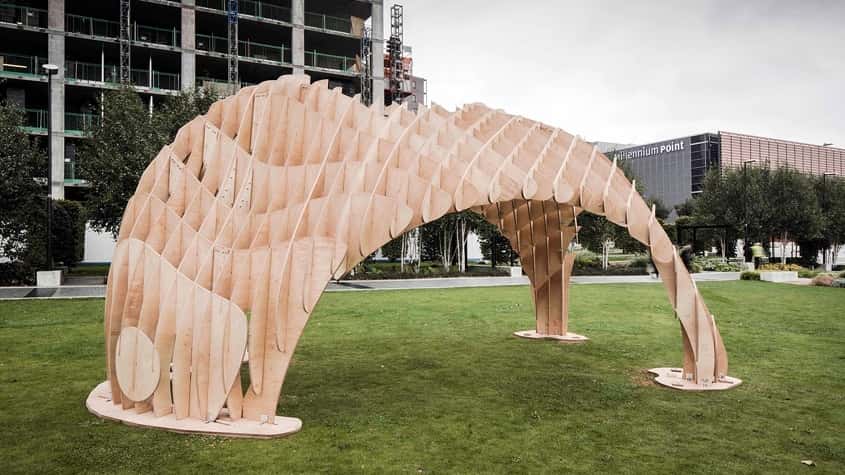 The winning design from the Next Generation Design Brum competition by Scale Rule is set to be displayed at UK Construction Week's Timber Expo from 10-12 October.
Scale Rule is a voluntary initiative that receives funding from the Institution of Structural Engineers and provides a unique insight into the engineering and architecture professions for the next generation of designers – school students. Over a two-day workshop, nine teams were asked to design a 'fun outdoor pavilion' which featured exclusively at Birmingham Weekender Festival last month, and is set to be showcased once again at UK Construction Week's Timber Expo.
Led by a professional team made up of talented engineers, architects and designers from Arup, Curtins, Intervention Architecture and AKSward, the students developed a design concept that consisted of a dome like structure with a number of openings for access and light, while focusing on natural shapes and forms.
Nathan Garnett, Event Director at Media 10, which runs the show, said: "We're proud to welcome Scale Rule to showcase a perfect example of collaboration by students, local authorities and the built environment profession. As a collective they are extremely passionate about inspiring the next generation of designers, something we support wholeheartedly and will be an area of focus at UK Construction Week. We hope that everyone gets an opportunity to see this remarkable structure in person at the Timber Expo."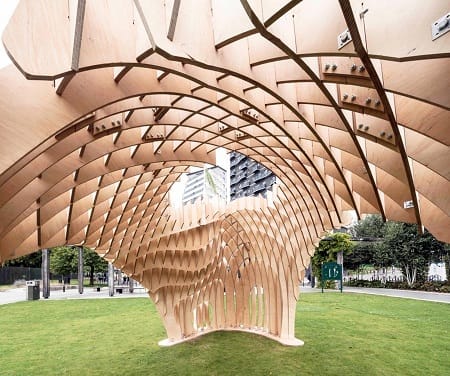 In line with supporting up and coming talent, UK Construction Week will also host Construction Careers Week. This is the perfect opportunity to explore career opportunities and roles with leading UK construction firms, including HS2, Thames Tideway, Morgan Sindall, Sir Robert McAlpine, Taylor Wimpey, Kier, as well as local authorities and housing associations and the UK's leading architectural practices. Meanwhile, visitors can also participate in over a hundred CPD accredited workshops free of charge.
Consisting of Build Show, sponsored by EasyTrim, Timber Expo, sponsored by Steico, Civils Expo, sponsored by Finning CAT, Plant & Machinery Live, sponsored by AutoTrader Plant, Energy 2017, sponsored by G2 Energy, Smart Buildings 2017, sponsored by KNX, Surface & Materials Show, sponsored by BLFA, HVAC 2017, sponsored by Flakt Group, and Grand Designs Live, UK Construction Week caters for the entire spectrum of the industry from builders, architects, innovators and consultants, each show provides exhibitors with the opportunity to network alongside decision makers and purchasers while showcasing their services and products to thousands of visitors.
For additional information on the full programme of events, free registration, accommodation, and discounted Virgin train travel, please visit www.ukconstructionweek.com
Notes to Editors:
For more information or additional quotes, please contact Lisa Northcott / Kim Taylor from Holistic. Tel: 07885 980 154 / 07718 158 800 Email: lisa@holisticgroup.co.uk /  kim@holisicgroup.co.uk
UK Construction Week (UKCW) is the UK's largest construction trade show. Free to attend it consists of nine shows:
• The Build Show runs from 10-12 October and is dedicated to the building and contracting areas of the construction industry – www.buildshow.co.uk/register
• Timber Expo runs from 10-12 October and is the only event on the UK construction calendar dedicated exclusively to timber – www.timber-expo.co.uk/register
• The Surface and Materials Show (featuring Kitchens & Bathrooms Live www.kitchensandbathroomslive.co.uk/register) runs from 10-12 October and will showcase the latest surface and material solutions for specifiers, developers and industry professionals looking for cutting edge innovations within the materials sector – www.surfaceandmaterialsshow.co.uk/register
• Civils Expo runs from 10-12 October and is the UK's leading event dedicated to civil engineering and construction, bringing together leading suppliers of the latest technologies, systems and products in the civil sector – www.civilexpo.co.uk/register
• Smart Building 2017 runs from 10-12 October and is the UK's leading event dedicated to integrated building technology – www.smartbuildingslive.co.uk/register
• Energy 2017 runs from 10-12 October and is the industry trade event dedicated to renewables, innovation and power solutions – www.energyliveshow.co.uk/register
• HVAC 2017 runs from 10-12 October and is the UK's dedicated exhibition for the heating, ventilation and air conditioning industries – www.hvaclive.co.uk/register
• Plant & Machinery Live runs from 10-12 October and will showcase the latest earthmoving, lifting, handling & demolition products – www.plantandmachinerylive.co.uk/register
• Grand Designs Live runs from 11-15 October. Presented by design guru Kevin McCloud it is based on the hugely popular Channel 4 series. Grand Designs Live will be free to attend for trade on 11-12 October via UK Construction Week – www.granddesignslive.com/register