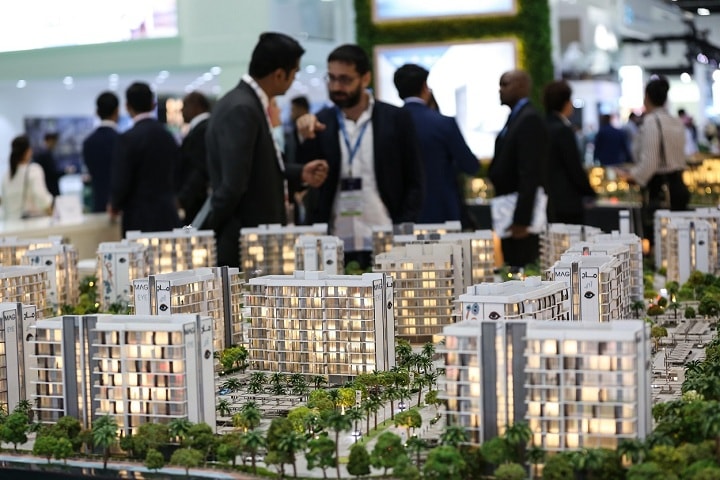 The recent correction in Abu Dhabi's real estate sector has resulted in a buyers' market where investor sentiment is high following pro-active government incentives, according to exhibitors at Cityscape Abu Dhabi 2019 – the 13th in the annual series which runs at the Abu Dhabi National Exhibition Centre (ADNEC) from April 16-18.
Mesab Limited, the Abu Dhabi developer, which specialises in delivering real estate and community projects for global investors, believes thatwhile the ongoing market correction is presenting challenges for developers and landlords, it is a silver lining for potential buyers.
"It is a big win for consumers who are now, more than ever, spoilt for choice," said Mesab's Tariq Allan. "Property prices are now below construction costs so, regardless of what happens in 2019, buying in this market represents fabulous intrinsic value."
Allan says affordable communities are now outperforming more expensive "trophy" properties in Abu Dhabi, which represents the best time for buyers to purchase their own homes.
"Buying is viable for many as in most cases bank installments on mortgages are much lower than monthly rents. This means buyers are immune from rent increases," he said. "The interest rates are quite low, ranging from 2.99% to 5%. The result of these monthly payments, unlike rent, is that people can own the homes they live in."
Allan added that the increasingly competitive Abu Dhabi real estate landscape is delivering creative advantages for buyers, adding that "Apart from competitive pricing, developers are being much more pro-active in attracting new buyers with incentives such as 10-minute mortgage approvals, zero loan processing and property valuation fees, and affordable installment plans."
At Cityscape Abu Dhabi, held under the patronage of His Highness Sheikh Mohamed Bin Zayed Al Nahyan, Crown Prince of Abu Dhabi and Deputy Supreme Commander of the UAE Armed Forces,Mesab is planning to launch a new residential property – the 35-storey Park View – Al Reem, featuring 128 two and three-bedroomed apartments and duplexes. The company is targeting buyers of all nationalities with Allan saying recent government incentives, including the 10-year residency visa and five-year retiree visa have revitalised the market.
Also readying to launch new projects at Cityscape Abu Dhabi is the UAE capital-based IMKAN Properties L.L.C, a wholly owned subsidiary of Abu Dhabi Capital Group, which has a portfolio of 26 developments of residential, retail, hospitality and commercial projects spanning 30 million-square metres across three continents.
The company will showcase four of its projects, AlJurf, a new coastal community, located between Abu Dhabi and Dubai along with Pixel, the first mixed-use development in 'Makers District"- the new heart of Abu Dhabi and Nudra, a luxury beachside villa community located on Saadiyat Island. It will also present on of their international project's, Alburouj, a full mixed-use development in Cairo.
IMKAN also has high hopes for the Abu Dhabi sector,saying it is in "robust health" withsignificant growth potential. "Government initiatives and regulations have led to greater opportunity for investors," explained IMKAN's Walid El Hindi. "These include 10-year residency visas, five-year retiree visas and the decision to allow 100 per cent foreign ownership of onshore companies. Market dynamics have shown us that investors looking towards Abu Dhabi have strong liquidity and retain interest in long-term investments. This complements IMKAN's long-term outlook, as our projects span 10-15 years, meaning we have a positive perspective for the future of Abu Dhabi's real estate market. Another boost for the market is the careful planning the government has in place to turn the city into a cultural hub.
"Active investments and developments such as the Louvre Abu Dhabi and the upcoming Guggenheim Museum, have resulted in the city gaining a firm presence on the global list of culturally important destinations. These and future projects, including the new airport in 2020, ensure a healthy outlook. This market, like any, is subject to highs and lows but we feel confident about the outlook for Abu Dhabi."
El Hindi though admits that Abu Dhabi buyers are becoming more discerning and well informed on market dynamics. "We have seen that buyers are not only interested in just a place to live. Today's buyers are educated about real estate and are making financially informed decisions. This in turn means that developers have to offer what people want: to live in a space that while having aesthetic appeal, also has functional value and will yield capital appreciation," he said.
"At IMKAN, we have incentivised buyers by pioneering a wide variety of alternatives for off-plan and post-payment plans; we are the first developer in Abu Dhabi to introduce post-payment plans that are available up to nine years," explained El Hindi.
Mesab and IMKAN are among this year's developers due to exhibit at Cityscape Abu Dhabi, from April 16-18 at ADNEC. The exhibition is sponsored by Platinum Sponsors: Aldar, Azizi, and ZonesCorpand is open 10am-8pm across all three days and is free to attend. To register or for more information, visit www.cityscapeabudhabi.com
About Cityscape Abu Dhabi:
Cityscape Abu Dhabi is the leading property investment and development event in the nation's capital bringing together key industry decision makers, local, regional and international investors, homebuyers, developers, government and investment authorities, architects, designers, consultants, and senior industry professionals. The event is renowned for being the barometer of the capital's property sector, responsible for fostering partnerships and creating opportunities that drive development and investment across the country through its exhibition, conference and other content features that take place during the three-day event.